Abstract
Background
Keyhole approaches have lately sparked strong interest because these approaches address skull base pathologies as reported by Eroglu et al. (World Neurosurg, 2019); Hickmann, Gaida, and Reisch (Acta Neurochir (Wien) 159:881–887, 2017); Jallo and Bognar (Neurosurgery, 2006); and Poblete et al. (J Neurosurg 122:1274–1282, 2015), minimizing brain retraction and improving cosmetic results. We describe the step-by-step surgical technique to drain a suprasellar arachnoid cyst by a supraorbital approach.
Method
The eyebrow incision is a direct route to expose the supraorbital corridor and even if it is smaller than a pterional approach, it permits to open the cisterns and to visualize neurovascular structures. The arachnoid cyst could be safely drained and a T-tube is placed.
Conclusion
This technique represents a suitable option for suprasellar arachnoid cyst, avoiding more extended and invasive approaches.
This is a preview of subscription content, log in to check access.
Access options
Buy single article
Instant unlimited access to the full article PDF.
US$ 39.95
Price includes VAT for USA
Subscribe to journal
Immediate online access to all issues from 2019. Subscription will auto renew annually.
US$ 199
This is the net price. Taxes to be calculated in checkout.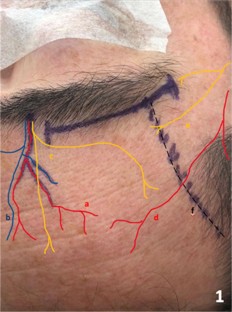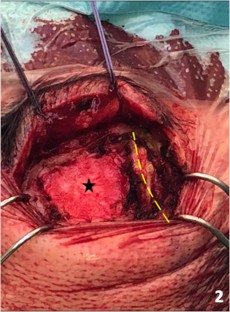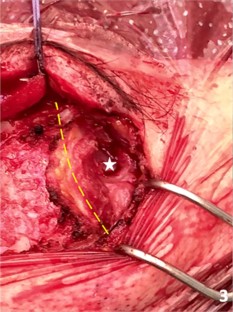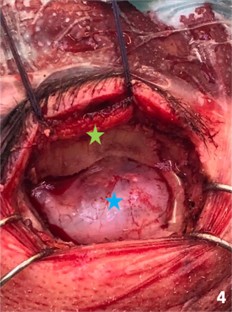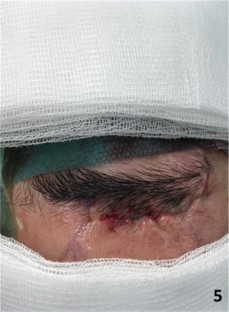 References
1.

Eroglu U, Shah K, Bozkurt M, Kahilogullari G, Yakar F, Dogan I, Ozgural O, Attar A, Unlu A, Caglar S, Cohen Gadol AA, Ugur HC (2019) Supraorbital keyhole approach: lessons learned from 106 operative cases. World Neurosurg doi:https://doi.org/10.1016/j.wneu.2018.12.188

2.

Hickmann AK, Gaida BJ, Reisch R (2017) How I do it: the expanded trans/supraorbital approach for large space-occupying lesions of the anterior fossa. Acta Neurochir 159:881–887. https://doi.org/10.1007/s00701-017-3082-7

3.

Jallo GI, Bognar L (2006) Eyebrow surgery: the supraciliary craniotomy: technical note. Neurosurgery 59:ONSE157–ONSE158; discussion ONSE157-158. https://doi.org/10.1227/01.NEU.0000220045.23743.80

4.

Poblete T, Jiang X, Komune N, Matsushima K, Rhoton AL Jr (2015) Preservation of the nerves to the frontalis muscle during pterional craniotomy. J Neurosurg 122:1274–1282. https://doi.org/10.3171/2014.10.JNS142061

5.

Reisch R, Marcus HJ, Hugelshofer M, Koechlin NO, Stadie A, Kockro RA (2014) Patients' cosmetic satisfaction, pain, and functional outcomes after supraorbital craniotomy through an eyebrow incision. J Neurosurg 121:730–734. https://doi.org/10.3171/2014.4.JNS13787

6.

Reisch R, Marcus HJ, Kockro RA, Ulrich NH (2015) The supraorbital keyhole approach: how I do it. Acta Neurochir 157:979–983. https://doi.org/10.1007/s00701-015-2424-6

7.

Reisch R, Perneczky A, Filippi R (2003) Surgical technique of the supraorbital key-hole craniotomy. Surg Neurol 59:223–227

8.

Tubbs RS, Loukas M, Shoja MM, Cohen-Gadol AA (2010) Refined and simplified surgical landmarks for the MacCarty keyhole and orbitozygomatic craniotomy. Neurosurgery 66:230–233. https://doi.org/10.1227/01.NEU.0000369650.69583.9C

9.

Zumofen DW, Rychen J, Roethlisberger M, Taub E, Kalbermatten D, Nossek E, Potts M, Guzman R, Riina HA, Mariani L (2017) A review of the literature on the transciliary supraorbital keyhole approach. World Neurosurg 98:614–624. https://doi.org/10.1016/j.wneu.2016.10.110
Ethics declarations
Conflict of interest
The authors declare that they have no conflicts of interest.
Informed consent
Informed consent was obtained from the individual participant included in the study.
Additional information
Key Points
1. Anatomical knowledge of superficial neurovascular structures is essential;
2. Only for expert surgeon with an appropriate learning curve to become familiar with narrow corridors and limited workspace;
3. Head extension is important to allow gravity retraction of the frontal lobes;
4. The keyhole location is crucial and should be placed only after fronto-zygomatic suture visualization;
5. The position and the oblique orientation of the craniotomy along the orbital roof have to be the most caudally possible;
6. The drilling of the orbital roof and the lesser sphenoid wing helps to open the supraorbital corridor;
7. Early extended opening of arachnoid cisterns to gain extra space is necessary;
8. Identification of optic nerves, chiasm, and internal carotid artery is critical;
9. Preoperative evaluation of frontal sinus and eyebrow is mandatory;
10. Shorter hospital stays and optimal cosmetic results.
Publisher's note
Springer Nature remains neutral with regard to jurisdictional claims in published maps and institutional affiliations.
This article is part of the Topical Collection on Pituitaries
Electronic supplementary material
Suprasellar arachnoid cyst opening by supraorbital keyhole approach through eyebrow skin incision. (MP4 252139 kb)
Suprasellar arachnoid cyst opening by supraorbital keyhole approach through eyebrow skin incision. (MP4 252139 kb)
About this article
Cite this article
Venier, A., Reinert, M. & Robert, T. Supraorbital keyhole approach for suprasellar arachnoid cyst: how I do it. Acta Neurochir 161, 1709–1713 (2019) doi:10.1007/s00701-019-03965-7
Received:

Accepted:

Published:

Issue Date:
Keywords
Supraorbital approach

Eyebrow incision

Minimally invasive technique

Suprasellar cyst