Abstract
Background
Percutaneous trigeminal nerve rhizotomy is usually performed by free-handed puncture of the foramen ovale under radiographic control with the patient kept semiconscious. The procedure has thus been reported to be highly uncomfortable for both the patient and surgeon. To our knowledge, this is the first description of a technique that includes precise navigated, CT-guided puncture of the foramen with the patient in general anesthesia and confirmation of needle placement by intraoperative CT.
Method
Radiofrequency ablation of the trigeminal nerve was guided by intraoperative CT navigation with neuromonitoring of trigeminal nerve function. The patient was kept under general anesthesia during the procedure.
Conclusion
CT-guided percutaneous trigeminal nerve rhizotomy is a safe and efficient treatment strategy for the management of trigeminal neuralgia without the need of the patient being in a semiconscious state.
This is a preview of subscription content, log in to check access.
Access options
Buy single article
Instant unlimited access to the full article PDF.
US$ 39.95
Price includes VAT for USA
Subscribe to journal
Immediate online access to all issues from 2019. Subscription will auto renew annually.
US$ 199
This is the net price. Taxes to be calculated in checkout.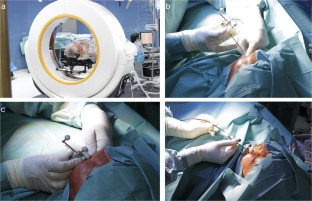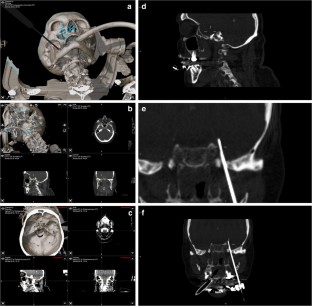 References
1.

Cheng JS, Lim DA, Chang EF, Barbaro NM (2014) A review of percutaneous treatments for trigeminal neuralgia: operative. Neurosurgery 10(1):25–33

2.

Härtel F (1912) Intrakranielle Leitungsanästhesie des Ganglion Gasseri. Zentralbl Chir

3.

Joo W, Yoshioka F, Funaki T, Mizokami K, Rhoton AL (2014) Microsurgical anatomy of the trigeminal nerve: microsurgical anatomy of the trigeminal nerve. Clin Anat 27(1):61–88

4.

Kanpolat Y, Savas A, Bekar A, Berk C (2001) Percutaneous controlled radiofrequency trigeminal rhizotomy for the treatment of idiopathic trigeminal neuralgia: 25-year experience with 1,600 patients. Neurosurgery 48(3):524–532 discussion 532-534

5.

Leon-Ariza DS, Leon-Ariza JS, Nangiana J, Vargas Grau G, Leon-Sarmiento FE, Quiñones-Hinojosa A (2018) Evidences in neurological surgery and a cutting edge classification of the Trigeminocardiac reflex: a systematic review. World Neurosurgery 117:4–10

6.

Schünke M, Schulte E, Schumacher U, Voll M, Wesker K, Schünke M (2018) Kopf, Hals und Neuroanatomie: 1801 Illustrationen, 123 Tabellen, 5., vollständig überarbeitete Auflage. Georg Thieme Verlag, Stuttgart New York

7.

Zhao Y-X, Miao S-H, Tang Y-Z, He L-L, Yang L-Q, Ma Y, Ni J-X (2017) Trigeminal somatosensory-evoked potential: a neurophysiological tool to monitor the extent of lesion of ganglion radiofrequency thermocoagulation in idiopathic trigeminal neuralgia: a case-control study. Medicine (Baltimore) 96(3):e5872
Acknowledgements
We would like to thank our patients for providing their anonymous data, and the press and information center of the medical service of the German Armed Forces for the photo documentation of the operative procedure.
Ethics declarations
Conflict of interest
The authors declare that they have no conflict of interest.
Informed consent
Informed consent was obtained from all patients whose treatment data were included in the paper or from their legal representatives
Additional information
Key points
1. Pre-operative MRI CISS and contrast-enhanced sequences are needed to decide on the pathogenesis of TGN and the preferred surgical procedure.
2. Thin-slice CT of the skull base may be helpful to study the anatomy of the foramens at the skull base of the middle cerebral fossa.
3. An intraoperative CT-scan is acquired for intraoperative neuronavigation and 3D modeling.
4. Härtel's anatomical landmarks are used for plausibility control.
5. The distance of the electrode tip to the floor of the sella and the cilval line in the lateral X-ray projections (CT scout image) is used to determine the puncture of the correct portion of the trigeminal nerve.
6. The needle position is verified by another intraoperative CT scan.
7. Intraoperative neuromonitoring of the masseter muscle and trigeminal nerve SEPs allows additional quality control.
8. The patient is kept under general anesthesia during the entire procedure.
9. The puncture of adjacent foramens of the skull base and asystolia due to the trigemino-cardiac reflex are severe complications of the procedure.
10. Pre-operative application of parasympatholytic drugs should be considered to avoid cardiac complications.
Publisher's note
Springer Nature remains neutral with regard to jurisdictional claims in published maps and institutional affiliations.
This article is part of the Topical Collection on Functional Neurosurgery - Pain
Electronic supplementary material
ioCT-guided percutaneous radiofrequency ablation of the trigeminal nerve is shown stepwise in a patient with TGN of the left trigeminal nerve (MP4 42,926 kb)
ioCT-guided percutaneous radiofrequency ablation of the trigeminal nerve is shown stepwise in a patient with TGN of the left trigeminal nerve (MP4 42,926 kb)
About this article
Cite this article
Weßling, H., Duda, S. ioCT-guided percutaneous radiofrequency ablation for trigeminal neuralgia: how I do it. Acta Neurochir 161, 935–938 (2019). https://doi.org/10.1007/s00701-019-03859-8
Received:

Accepted:

Published:

Issue Date:
Keywords
Intraoperative computed tomography

Trigeminal neuralgia

Percutaneous rhizotomy

Radiofrequency thermocoagulation