Abstract
Background
Stereoelectroencephalography (SEEG) is an effective technique to help to locate and to delimit the epileptogenic area and/or to define relationships with functional cortical areas. We intend to describe the surgical technique and verify the accuracy, safety, and effectiveness of robot-assisted SEEG in a newly created SEEG program in a pediatric center. We focus on the technical difficulties encountered at the early stages of this program.
Methods
We prospectively collected SEEG indication, intraoperative events, accuracy calculated by fusion of postoperative CT with preoperative planning, complications, and usefulness of SEEG in terms of answering preimplantation hypothesis.
Results
Fourteen patients between the ages of 5 and 18 years old (mean 10 years) with drug-resistant epilepsy were operated on between April 2016 and April 2018. One hundred sixty-four electrodes were implanted in total. The median entry point localization error (EPLE) was 1.57 mm (1–2.25 mm) and the median target point localization error (TPLE) was 1.77 mm (1.2–2.6 mm). We recorded seven intraoperative technical issues. Two patients suffered complications: meningitis without demonstrated germ in one patient and a right frontal hematoma in the other. In all cases, the SEEG was useful for the therapeutic decision-making.
Conclusion
SEEG has been useful for decision-making in all our pediatric patients. The robotic arm is an accurate tool for the insertion of the deep electrodes. Nevertheless, it is an invasive technique not risk-free and many problems can appear at the beginning of a robotic arm-assisted SEEG program that must be taken into account beforehand.
This is a preview of subscription content, log in to check access.
Access options
Buy single article
Instant unlimited access to the full article PDF.
US$ 39.95
Price includes VAT for USA
Subscribe to journal
Immediate online access to all issues from 2019. Subscription will auto renew annually.
US$ 199
This is the net price. Taxes to be calculated in checkout.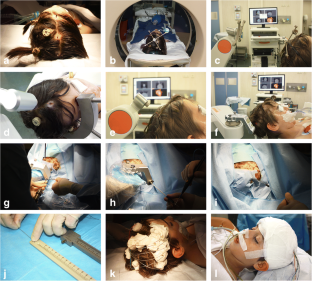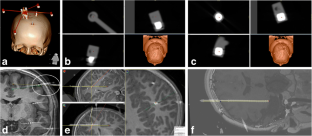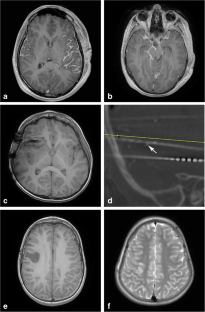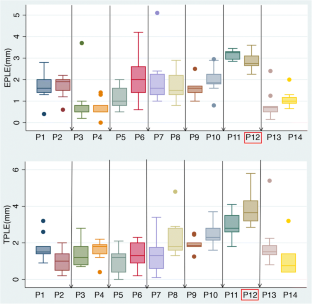 Abbreviations
SEEG:

Stereoelectroencephalography

EPLE:

Entry point localization error

TPLE:

Target point localization error

CT:

Computed tomography

MRI:

Magnetic resonance imaging

18F-FDG-PET:

18 fluor-fluordeoxyglucose-positron emission tomography

SPECT:

Single positron emission computed tomography

fMRI:

Functional magnetic resonance imaging

3 T:

3 tesla

TFE:

Turbo field echo

TOF:

Time-of-flight

FLAIR:

Fluid-attenuated inversion recovery

P-ICU:

Pediatric intensive care unit

IQR:

Interquartile range
References
1.

Abel TJ, Varela Osorio R, Amorim-Leite R, Mathieu F, Kahane P, Minotti L, Hoffmann D, Chabardes S (2018) Frameless robot-assisted stereoelectroencephalography in children: technical aspects and comparison with Talairach frame technique. J Neurosurg Pediatr 22:37–46

2.

Balanescu B, Franklin R, Ciurea J, Mindruta I, Rasina A, Bubulescu RC (2014) A personalized stereotactic fixture for implantation of depth electrodes in stereoelectroencephalography. Stereotact Funct Neurosurg 92:117–125

3.

Bourdillon P, Debaux P, Job-Chapron AS, Isnard J (2018) SEEG-guided radiofrequency thermocoagulation. Neurophysiol Clin 48:59–64

4.

Candela S, Vanegas M, Darling A, Ortigoza-Escobar D, Alamar, Muchart J, Climent A, Ferrer E, Rumià J, Pérez-Dueñas B (2018) Frameless robot-assisted pallidal deep brain stimulation in pediatric patients for movement disorders: precision and short-term clinical results. J Neurosurg Pediatr 22:416–425. https://doi.org/10.3171/2018.5.PEDS1814

5.

Cardinale F, Casaceli G, Raneri F, Miller J, Lo Russo G (2016) Implantation of stereoelectroencephalography electrodes: a systematic review. J Clin Neurophysiol 33:490–502

6.

Cardinale F, Cossu M, Castana L, Casaceli G, Schiariti MP, Miserocchi A, Fuschillo D, Moscato A, Caborni C, Arnulfo G, Lo Russo G (2013) Stereoelectroencephalography: surgical methodology, safety, and stereotactic application accuracy in 500 procedures. Neurosurgery 72:353–366

7.

Cardinale F, Pero G, Quilici L, Piano M, Colombo P, Moscato A, Castana L, Casaceli G, Fuschillo D, Gennari L, Cenzato M, Lo Russo G, Cossu M (2015) Cerebral angiography for multimodal surgical planning in epilepsy surgery: description of a new three-dimensional technique and literature review. World Neurosurg 84:358–367

8.

Cardinale F, Rizzi M, d'Orio P, Casaceli G, Arnulfo G, Narizzano M, Scorza D, De Momi E, Nichelatti M, Redaelli D, Sberna M, Moscato A, Castana L (2017) A new tool for touch-free patient registration for robot-assisted intracranial surgery: application accuracy from a phantom study and a retrospective surgical series. Neurosurg Focus 42:E8

9.

Cossu M, Cardinale F, Castana L, Nobili L, Sartori I, Lo Russo G (2006) Stereo-EEG in children. Childs Nerv Syst 22:766–778

10.

Cossu M, Cardinale F, Colombo N, Mai R, Nobili L, Sartori I (2005) Stereoelectroencephalography in the presurgical evaluation of children with drug-resistant focal epilepsy. J Neurosurg Pediatr 103(Suppl 4):333–343

11.

Cossu M, Chabardes S, Hoffmann D, Russo G (2008) Explorations préchirurgicales des épilepsies pharmacorésistantes par stéréo-électro-encéphalographie: principes, technique et complications. Neurochirurgie 54:367–373

12.

Cossu M, Schiariti M, Francione S, Fuschillo D, Gozzo F, Nobili L, Cardinale F, Castana L, Lo Russo G (2012) Stereoelectroencephalography in the presurgical evaluation of focal epilepsy in infancy and early childhood. Clinical article. J Neurosurg Pediatr 9:290–300

13.

De Almeida AN, Olivier A, Quesney F, Dubeau F, Savard G, Andermann F (2006) Efficacy of and morbidity associated with stereoelectroencephalography using computerized tomography-or magnetic resonance imaging-guided electrode implantation. J Neurosurg 104:483–487

14.

De Benedictis A, Trezza A, Carai A, Genovese A, Procaccini E, Messina R, Randi F, Cossu S, Esposito G, Palma P, Amante P, Rizzi M, Marras CE (2017) Robot-assisted procedures in pediatric neurosurgery. Neurosurg Focus 42:2–12

15.

Derrey S, Lebas A, Parain D, Baray MG, Marguet C, Fregue P, Proust F (2012) Delayed intracranial hematoma following stereoelectroencephalography for intractable epilepsy: case report. J Neurosurg Pediatr 10:525–528

16.

Dorfer C, Minchev G, Czech T, Stefanits H, Feucht M, Pataraia E, Baumgartner C, Kronreif G, Wolfsberger S (2016) A novel miniature robotic device for frameless implantation of depth electrodes in refractory epilepsy. J Neurosurg 126:1622–1628

17.

Fisher RS, Cross JH, French JA, Higurashi N, Hirsch E, Jansen FE, Lagae L, Moshé SL, Peltola J, Perez ER, Scheffer IE, Zuberi SM (2017) Operational classification of seizure types by the International League Against Epilepsy: position paper of the ILAE Commission for Classification and Terminology. Epilepsia 58:522–530

18.

Golash A, Eldridge PR, Varma TRK, Byrnel P, Badano F, Nahum B, Pittet P (2000) 3-D error measurement for checking the application accuracy of a stereotactic robotic system with an infrared space digitisation technique: a phantom study and clinical use. Acta Neurochir 142:1169–1210

19.

González-Martínez J, Bulacio J, Alexopoulos A, Jehi L, Bingaman W, Najm I (2013) Stereoelectroencephalography in the "difficult to localize" refractory focal epilepsy: early experience from a North American epilepsy center. Epilepsia 54:323–330

20.

González-Martínez J, Bulacio J, Thompson S, Gale J, Smithason S, Najm I, Bingaman W (2016) Technique, results and complications related to robot-assisted stereoelectroencephalography. Neurosurgery 78:169–180

21.

Gonzalez-Martínez J, Mullin J, Bulacio J, Gupta A, Enatsu R, Najm I, Bingaman W, Wyllie E, Lachhwani D (2014) Stereoelectroencephalography in children and adolescents with difficult-to-localize refractory focal epilepsy. Neurosurgery 75(3):258–268

22.

González-Martínez J, Mullin J, Vadera S, Bulacio J, Hughes G, Jones S, Enatsu R, Najm I (2014) Stereotactic placement of depth electrodes in medically intractable epilepsy. J Neurosurg 120:639–644

23.

Guenot M, Isnard J, Ryvlin P, Fischer C, Ostrowsky K, Mauguiere F, Sindou M (2001) Neurophysiological monitoring for epilepsy surgery: the Talairach SEEG method. Indications, results, complications and therapeutic applications in a series of 100 consecutive cases. Stereotact Funct Neurosurg 77:29–32

24.

Ho AL, Muftuoglu Y, Pendharkar AV, Sussman ES, Porter BE, Halpern CH, Grant GA (2018) J Neurosurg Pediatr https://doi.org/10.3171/2018.5.PEDS17718

25.

Jayakar P, Gotman J, Harvey AS, Palmini A, Tassi L, Schomer D, Dubeau F, Bartolomei F, Yu A, Kršek P, Velis D, Kahane P (2016) Diagnostic utility of invasive EEG for epilepsy surgery: indications, modalities, and techniques. Epilepsia 57:1735–1747

26.

Kim H, Lee C, Knowlton R, Rozzelle C, Blount JP (2011) Safety and utility of supplemental depth electrodes for localizing the ictal onset zone in pediatric neocortical epilepsy. J Neurosurg Pediatr 8:49–56

27.

Kwoh YS, Hou J, Jonckheere EA, Hayati S (1988) A robot with improved absolute positioning accuracy for CT guided stereotactic brain surgery. IEEE Trans Biomed Eng 35:153–160

28.

Li QH, Zamorano L, Pandya A, Perez R, Gong J, Diaz F (2002) The application accuracy of the NeuroMate robot—a quantitative comparison with frameless and frame-based surgical localization systems. Comput Aided Surg 7:90–98

29.

McGonigal A, Bartolomei F, Régis J, Guye M, Gavaret M, Trébuchon-Da Fonseca A, Dufour H, Figarella-Branger D, Girard N, Péragut JC, Chauvel P (2007) Stereoelectroencephalography in presurgical assessment of MR-negative epilepsy. Brain 130:3169–3183

30.

McGovern RA, Alomar S, Bingaman WE, Gonzalez-Martinez J (2018) Robot-assisted responsive neurostimulator system placement in medically intractable epilepsy: instrumentation and technique. Oper Neurosurg (Hagerstown). https://doi.org/10.1093/ons/opy112

31.

Mullin JP, Shriver M, Alomar S, Najm I, Bulacio J, Chauvel P, Gonzalez-Martinez J (2016) Is SEEG safe? A systematic review and meta-analysis of stereo-electroencephalography-related complications. Epilepsia 57:386–401

32.

Munari C, Hoffmann D, Francione S, Kahane P, Tassi L, Lo Russo G, Benabid AL (1994) Stereo-electroencephalography methodology: advantages and limits. Acta Neurol Scand Suppl 152:56–69

33.

Rodallec MH, Krainik A, Feydy A, Hélias A, Colombani JM, Jullès MC, Marteau V, Zins M (2006) Cerebral venous thrombosis and multidetector CT angiography: tips and tricks. Radiographics 26(Suppl 2):S5–S18

34.

Roessler K, Sommer B, Merkel A, Rampp S, Gollwitzer S, Hamer HM, Buchfelder M (2016) A frameless stereotactic implantation technique for depth electrodes in refractory epilepsy utilizing intraoperative MR imaging. World Neurosurg 94:206–210

35.

Serletis D, Bulacio J, Bingaman W, Najm I, González-Martínez J (2014) The stereotactic approach for mapping epileptic networks: a prospective study of 200 patients. J Neurosurg 121:1239–1246

36.

Spyrantis A, Cattani A, Strzelczyk A, Rosenow F, Seifert V, Freiman TM (2018) Robot-guided stereoelectroecephalography without a computed tomography scan for referencing: analysis of accuracy. Int J Med Robot e1888. https://doi.org/10.1002/rcs.1888

37.

Talairach J, Bancaud J, Bonis A, Szikla G, Tournoux P (1962) Functional stereotaxic exploration of epilepsy. Confin Neurol 22:328–331

38.

Taussig D, Chipaux M, Lebas A, Fohlen M, Bulteau C, Ternier J, Ferrand-Sorbets S, Delalande O, Dorfmüller G (2014) Stereo-electroencephalography (SEEG) in 65 children: an effective and safe diagnostic method for pre-surgical diagnosis, independent of age. Epileptic Disord 16:280–295

39.

Taussig D, Dorfmuler G, Fohlen M, Jalin C, Bulteau C, Ferrand-Sorbets S, Chipaux M, Delalande O (2012) Invasive explorations in children younger than 3 years. Seizure 21:631–638

40.

Van der Loo E, Scijns OEMG, Hoogland G, Colon AJ, Wagner GL, Dings JTA, Kubben PL (2017) Methodology, outcome, safety and in vivo accuracy in traditional frame-based stereoelectroencephalography. Acta Neurochir 159:1733–1746

41.

Verburg N, Baayen JC, Idema S, Klitsie MA, Claus S, de Jonge CS, Vandertop P, de Witt Hamer PC (2016) In vivo accuracy of a frameless stereotactic drilling technique for diagnostic biopsies and stereoelectroencephalography depth electrodes. World Neurosurg 87:392–398
Acknowledgments
We thank Carles Fàbrega and Gemma Fernandez for helping us with video editing.
We thank Matthew Ponticiello for reviewing the English.
Ethics declarations
Conflict of interest
The authors declare that they have no conflict of interest.
Ethical approval
All surgeries were part of standard patient care and not for research purposes. All procedures performed were in accordance with the 1964 Helsinki declaration and its later amendments or comparable ethical standards. The study was approved by the Research and Ethics committee of Sant Joan de Déu Barcelona Hospital.
Informed consent
Informed consent was obtained from all individual participants included in the study or their legal guardians.
Additional information
Comments
The authors describe their initial clinical experience after performing robot- assisted-stereo-EEG in pediatric cohort of 14 patients. Prospective data concerning complications, usefulness, and accuracy have been collected and evaluated. Additionally, the authors discuss the problems and obstacles they have encountered during the establishment of an robotic arm. They also propose different solutions, which may help other centers overcome the initial difficulties with this technique. This is an obviously honest paper concerning a demanding group of pediatric epilepsy patients, who need invasive presurgical monitoring. As the authors state by themselves, ""they intend to describe the surgical technique"" and the provided technical information can be very valuable for other centers starting to use a robotic arm. I am concerned about the number of CT scans associated with this procedure, especially in a pediatric population. At least three scans are needed (preoperative CT angio, during the procedure, and postoperatively) and in some cases with fiducial displacement even more scans may be required. The authors commented on these issues, but to my mind it remains an issue. Thus, further development should also aim for further reduction of radiation in such procedures.
Hans Clusmann
Aachen, Germany
This article is part of the Topical Collection on Functional Neurosurgery - Epilepsy
About this article
Cite this article
Candela-Cantó, S., Aparicio, J., López, J.M. et al. Frameless robot-assisted stereoelectroencephalography for refractory epilepsy in pediatric patients: accuracy, usefulness, and technical issues. Acta Neurochir 160, 2489–2500 (2018). https://doi.org/10.1007/s00701-018-3720-8
Received:

Accepted:

Published:

Issue Date:
Keywords
Robotic arm

Frameless

Pediatric epilepsy surgery

Stereoelectroencephalography

Refractory epilepsy