Abstract
Background
Selective amygdalohippocampectomy is an effective treatment option for mesial temporal lobe epilepsy associated with hippocampal sclerosis.
Methods
To describe and emphasize potential pitfalls during selective amygdalohippocampectomy via a modified navigated temporobasal approach, in cases, where temporal basal veins hinder the required elevation of the temporal lobe.
Conclusions
Selective amygdalohippocampectomy via navigated temporobasal approach is a safe procedure that can reduce the rate of visual field deficits by avoiding damage of optic radiation. The option of a small subpial corticotomy of the inferior temporal gyrus allows sufficient elevation of the temporal lobe in cases with difficult basal venous anatomy.
This is a preview of subscription content, log in to check access.
Access options
Buy single article
Instant unlimited access to the full article PDF.
US$ 39.95
Price includes VAT for USA
Subscribe to journal
Immediate online access to all issues from 2019. Subscription will auto renew annually.
US$ 199
This is the net price. Taxes to be calculated in checkout.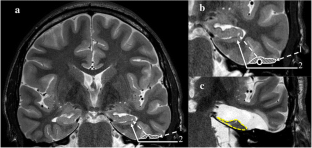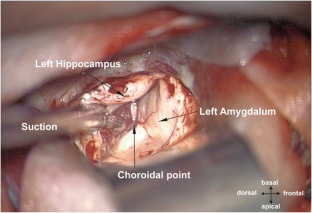 References
1.

Bien CG, Raabe AL, Schramm J, Becker A, Urbach H, Elger CE (2012) Trends in presurgical evaluation and surgical treatment of epilepsy at one centre from 1988–2009. J Neurol Neurosurg Psychiatry 84(1):54–61

2.

Destrieux C, Bourry D, Velut S (2013) Surgical anatomy of the hippocampus. Neurochirurgie 59(4–5):149–158

3.

Helmstaedter C, Roeske S, Kaaden S, Elger CE, Schramm J (2011) Hippocampal resection length and memory outcome in selective epilepsy surgery. J Neurol Neurosurg Psychiatry 82(12):1375–1381

4.

Kiernan JA (2012) Anatomy of the temporal lobe. Epilepsy Res Treat 2012(3):1–12

5.

Kral T, Clusmann H, Urbach J, Schramm J, Elger CE, Kurthen M, Grunwald T (2002) Preoperative evaluation for epilepsy surgery (Bonn algorithm). Zentralbl Neurochir 63(3):106–110

6.

Little AS, Smith KA, Kirlin K, Baxter LC, Chung S, Maganti R, Treiman DM (2009) Modifications to the subtemporal selective amygdalohippocampectomy using a minimal-access technique: seizure and neuropsychological outcomes. J Neurosurg 111(6):1263–1274

7.

Sajko T, Škoro I, Rotim K (2013) How I do it – selective amygdalohippocampectomy via subtemporal approach. Acta Neurochir 155(12):2381–2387

8.

Tanriverdi T, Ajlan A, Poulin N, Olivier A (2009) Morbidity in epilepsy surgery: an experience based on 2449 epilepsy surgery procedures from a single institution. J Neurosurg 110(6):1111–1123

9.

Thudium MO, Campos AR, Urbach H, Clusmann H (2010) The basal temporal approach for mesial temporal surgery: sparing the Meyer loop with navigated diffusion tensor tractography. Neurosurgery 67(2 Suppl Operative):385–390

10.

Winston GP, Daga P, White MJ et al (2014) Preventing visual field deficits from neurosurgery. Neurology 83(7):604–611
Acknowledgements
We thank Dr. Christian Scheiwe for providing the video.
Ethics declarations
Conflicts of interest
None.
Electronic supplementary material
The video shows the surgical technique of performing a selective amygdalohippocampectomy on the right via temporobasal approach in a case, where the basal veins hinder the retraction of the temporal lobe. In order to do that, a small corticotomy is performed on the more lateral and inferior aspect of the inferior temporal gyrus. Thus, the veins remain attached to the temporal base and the temporal horn can be reached slightly upward. Upon entering the ventricle, the amygdalum is resected. After that an en block removal of the right hippocampus is performed. (MP4 295,316 kb)
The video shows the surgical technique of performing a selective amygdalohippocampectomy on the right via temporobasal approach in a case, where the basal veins hinder the retraction of the temporal lobe. In order to do that, a small corticotomy is performed on the more lateral and inferior aspect of the inferior temporal gyrus. Thus, the veins remain attached to the temporal base and the temporal horn can be reached slightly upward. Upon entering the ventricle, the amygdalum is resected. After that an en block removal of the right hippocampus is performed. (MP4 295,316 kb)
About this article
Cite this article
Delev, D., Schramm, J. & Clusmann, H. How I do it – selective amygdalohippocampectomy via a navigated temporobasal approach, when veins forbid elevation of the temporal lobe. Acta Neurochir 160, 597–601 (2018). https://doi.org/10.1007/s00701-017-3386-7
Received:

Accepted:

Published:

Issue Date:
Keywords
Selective amygdalohippocampectomy

Subtemporal

Temporobasal

Veins

Epilepsy

Hippocampal sclerosis