Abstract
Background
Lesions lateral to the lower brainstem in an area extending from the foraminae of Luschka to the foramen magnum are rare and include different pathologies. There is no consensus on an ideal surgical approach.
Method
To gain access to this area, we use the midline suboccipital subtonsillar approach (STA). This midline approach with unilateral retraction of the cerebellar tonsil enables entry into the cerebellomedullary cistern.
Conclusions
The STA offers excellent access with a panoramic view of the cerebellomedullary cistern and its structures and therefore can be useful for a number of different pathologies in the lower petroclival area.
This is a preview of subscription content, log in to check access.
Access options
Buy single article
Instant unlimited access to the full article PDF.
US$ 39.95
Price includes VAT for USA
Subscribe to journal
Immediate online access to all issues from 2019. Subscription will auto renew annually.
US$ 199
This is the net price. Taxes to be calculated in checkout.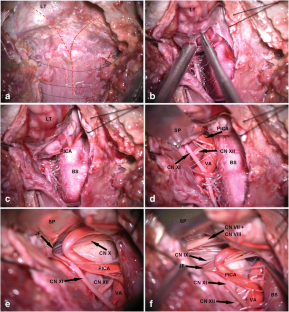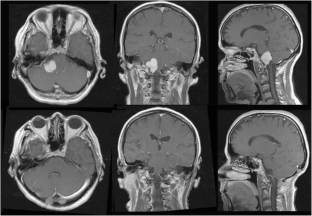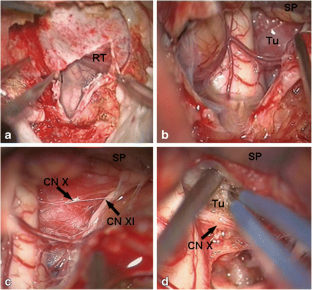 References
1.

D'Ambrosio AL, Kreiter KT, Bush CA, Sciacca RR, Mayer SA, Solomon RA, Connolly ES Jr (2004) Far lateral suboccipital approach for the treatment of proximal posteroinferior cerebellar artery aneurysms: surgical results and long-term outcome. Neurosurgery 55:39–54

2.

Han S, Wang Z, Wang Y, Wu A (2013) Transcerebellomedullary fissure approach to lesions of the fourth ventricle: less is more? Acta Neurochir 155:1011–1016

3.

Herlan S, Ebner FH, Nitz A, Hirt B, Tatagiba M, Roser F (2014) The midline suboccipital subtonsillar approach to the cerebellomedullary cistern and its structures: anatomical considerations, surgical technique and clinical application. Clin Neurol Neurosurg 125:98–105

4.

Jean WC, Abdel Aziz KM, Keller JT, van Loveren HR (2003) Subtonsillar approach to the foramen of Luschka: an anatomic and clinical study. Neurosurgery 52:860–866

5.

Krayenbuhl N, Guerrero C, Krisht AF (2005) Technical strategies to approach aneurysms of the vertebral and posterior inferior cerebellar arteries. Neurosurg Focus 19:E4

6.

Roser F, Ebner FH, Schuhmann MU, Tatagiba M (2013) Glossopharyngeal neuralgia treated with an endoscopic assisted midline suboccipital subtonsillar approach: technical note. J Neurol Surg A Cent Eur Neurosurg 74:318–320

7.

Roux A, Mohr G, Hardy J (1990) Vertebro-PICA aneurysms: midline suboccipital approach and laminectomy of the atlas. Br J Neurosurg 4:113–121

8.

Tatagiba M, Koerbel A, Roser F (2006) The midline suboccipital subtonsillar approach to the hypoglossal canal: surgical anatomy and clinical application. Acta Neurochir 148:965–969

9.

Wu A, Zabramski JM, Jittapiromsak P, Wallace RC, Spetzler RF, Preul MC (2010) Quantitative analysis of variants of the far-lateral approach: condylar fossa and transcondylar exposures. Neurosurgery 6(6 Suppl Operative):191–198

10.

Ziyal IM, Sekhar LN, Salas E (1999) Subtonsillar-transcerebellomedullary approach to lesions involving the fourth ventricle, the cerebellomedullary fissure and the lateral brainstem. Br J Neurosurg 13:276–284
Additional information
Key points
• The STA is a fast, straightforward and easy-to-perform approach to structures of the cerebellomedullary cistern
• Semi-sitting position and C1 laminotomy may improve the viewing angle, facilitating bimanual microsurgical dissection and avoiding tonsillar retraction
• Careful arachnoid dissection around the tonsils and cisterns enables panoramic view of the cerebellomedullary cistern
• Mild and intermittent tonsil retraction can be sufficient in the majority of the cases
• Endoscope assistance enhances the overview thus helping to achieve total tumour resection or aneurysm closure
• For distal PICA aneurysms the approach enables good proximal vessel control of the proximal intradural vertebral artery
• Electrophysiological monitoring of the lower cranial nerves is absolutely recommended
• Depending on pathology a temporary decrease of lower cranial nerve function may be expected
• Postoperative complications and risks are mainly dependent on pathology but not the approach
• Major limitations of the approach consist of pathologies expanding into the cerebellopontine and/or premedullary cistern as well as strong adhesions to the ventral parts of the brainstem
About this article
Cite this article
Herlan, S., Roser, F., Ebner, F.H. et al. The midline suboccipital subtonsillar approach to the cerebellomedullary cistern: how I do it. Acta Neurochir 159, 1613–1617 (2017). https://doi.org/10.1007/s00701-017-3270-5
Received:

Accepted:

Published:

Issue Date:
Keywords
Cerebellomedullary cistern

Suboccipital subtonsillar approach

Lower cranial nerves