Abstract
Background
Surgical approaches for removal of vestibular schwannoma are done through retrosigmoid, translabyrinthine, or middle fossa approaches, depending on the tumor size, preoperative hearing status, surgical team experience, and patient preference. The middle fossa approach (MFA) for the vestibular schwannoma (VS) route preserves hearing and can be done with minimal morbidity and mortality.
Method
The authors discuss the surgical anatomy of the middle fossa, internal auditory canal localization techniques, MFA indications and the procedure for VS removal, and outcome.
Conclusion
Unlike otolaryngologists, who use the MFA to treat various pathological processes that involve the inner or middle ear, many neurosurgeons are unfamiliar with the MFA. Nevertheless, learning the technical nuances of the MFA adds to the neurosurgeon's armamentarium, especially for treatment of small intracanalicular VSs in young patients who wish to preserve hearing.
This is a preview of subscription content, log in to check access.
Access options
Buy single article
Instant unlimited access to the full article PDF.
US$ 39.95
Price includes VAT for USA
Subscribe to journal
Immediate online access to all issues from 2019. Subscription will auto renew annually.
US$ 199
This is the net price. Taxes to be calculated in checkout.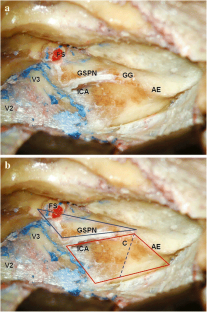 References
1.

Anagnostopoulou S, Diamantopoulou P (2004) Topographic relationship between the cochlea and the middle fossa floor: the anatomical basis for an alternative approach to the cochlear turns. Surg Radiol Anat: SRA 26:82–85

2.

Fisch U (1970) Transtemporal surgery of the internal auditory canal. Report of 92 cases, technique, indications and results. Adv Otorhinolaryngol 17:203–240

3.

Garcia-Ibanez E, Garcia-Ibanez JL (1980) Middle fossa vestibular neurectomy: a report of 373 cases. Otolaryngol Head Neck Surg 88:486–490

4.

House WF (1961) Surgical exposure of the internal auditory canal and its contents through the middle, cranial fossa. Laryngoscope 71(11):1363–1385

5.

Lan M-Y, Shiao J-Y (2010) Using greater superficial petrosal nerve and geniculate ganglion as the only two landmarks for identifying internal auditory canal in middle fossa approach. Eur Arch Otorhinolaryngol 267:1867–1871

6.

Liu JK, Fukushima T, Sameshima T, Al-Mefty O, Couldwell WT (2006) Increasing exposure of the petrous internal carotid artery for revascularization using the transzygomatic extended middle fossa approach: a cadaveric morphometric study. Neurosurgery 59:ONS309-318 discussion ONS318-319

7.

Mortini P, Mandelli C, Gerevini S, Giovanelli M (2001) Exposure of the petrous segment of the internal carotid artery through the extradural subtemporal middle cranial fossa approach: a systematic anatomical study. Skull Base 11:177–187

8.

Raheja A, Bowers CA, MacDonald JD, Shelton C, Gurgel RK, Brimley C, Couldwell WT (2016) Middle fossa approach for vestibular schwannoma: good hearing and facial nerve outcomes with low morbidity. World Neurosurg 92:37–46

9.

Tanriover N, Sanus GZ, Ulu MO, Tanriverdi T, Akar Z, Rubino PA, Rhoton AL Jr (2009) Middle fossa approach: microsurgical anatomy and surgical technique from the neurosurgical perspective. Surg Neurol 71:586–596 discussion 596
Electronic supplementary material
Video illustrating the middle fossa approach technique used by the authors for resection of the vestibular schwannoma. In this case, a right middle fossa approach was used for resection of intracanalicular vestibular schwannoma. (MP4 231,994 kb)
Video illustrating the middle fossa approach technique used by the authors for resection of the vestibular schwannoma. In this case, a right middle fossa approach was used for resection of intracanalicular vestibular schwannoma. (MP4 231,994 kb)
About this article
Cite this article
Alzhrani, G., Shelton, C. & Couldwell, W.T. Middle fossa approach for resection of vestibular schwannoma. Acta Neurochir 159, 1023–1026 (2017). https://doi.org/10.1007/s00701-017-3169-1
Received:

Accepted:

Published:

Issue Date:
Keywords
Middle fossa approach

Vestibular schwannoma

Resection

Hearing