Abstract
We report the microsurgical rescue and removal of a Pipeline stent embolization of a giant internal carotid artery terminus aneurysm. After the initial placement of a Pipeline Embolization Device (PED), it migrated proximally to the cavernous carotid with the distal end free in the middle of the aneurysm, resulting in only partial aneurysm neck coverage. The patient underwent microsurgical rescue with trapping, bypass, and opening of the aneurysm with PED removal. The vessel remained patent in the proximal segment previously covered by the Pipeline stent. Microsurgical rescue for definitive aneurysm treatment with PED removal can be safe and effective for aneurysms unsuccessfully treated with PED.
This is a preview of subscription content, log in to check access.
Access options
Buy single article
Instant unlimited access to the full article PDF.
US$ 39.95
Price includes VAT for USA
Subscribe to journal
Immediate online access to all issues from 2019. Subscription will auto renew annually.
US$ 199
This is the net price. Taxes to be calculated in checkout.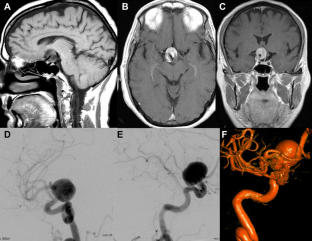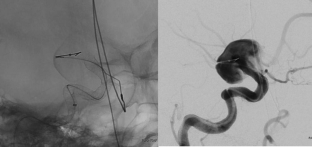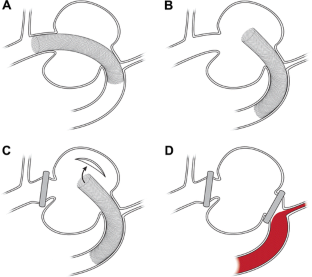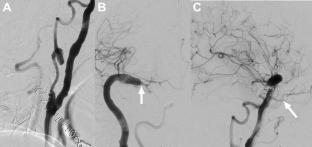 References
1.

Abla AA, Zaidi HA, Crowley RW, Britz GW, McDougall CG, Albuquerque FC, Spetzler RF (2014) Optic chiasm compression from mass effect and thrombus formation following unsuccessful treatment of a giant supraclinoid ICA aneurysm with the Pipeline device: open surgical bailout with STA-MCA bypass and parent vessel occlusion. J Neurosurg Pediatr 14:31–37

2.

Arnaout O, El Ahmadieh T, Zammar S, El Tecle N, Hamade Y, Aoun R, Aoun S, Rahme R, Eddleman C, Barrow D, Batjer H, Bendok B (2015) Microsurgical treatment of previously coiled intracranial aneurysms: systematic review of the literature. World Neurosurg 84:246-253

3.

Becske T, Kallmes DF, Saatci I, McDougall CG, Szikora I, Lanzino G, Moran CJ, Woo HH, Lopes DK, Berez AL, Cher DJ, Siddiqui AH, Levy EI, Albuquerque FC, Fiorella DJ, Berentei Z, Marosfoi M, Cekirge SH, Nelson PK (2013) Pipeline for uncoilable or failed aneurysms: results from a multicenter clinical trial. Radiology 267:858–868

4.

Brinjikji W, Murad MH, Lanzino G, Cloft HJ, Kallmes DF (2013) Endovascular treatment of intracranial aneurysms with flow diverters: a meta-analysis. Stroke 44:442–447

5.

Chalouhi N, Starke RM, Yang S, Bovenzi CD, Tjoumakaris S, Hasan D, Gonzalez LF, Rosenwasser R, Jabbour P (2014) Extending the indications of flow diversion to small, unruptured, saccular aneurysms of the anterior circulation. Stroke 45:54–58

6.

Chitale R, Gonzalez LF, Randazzo C, Dumont AS, Tjoumakaris S, Rosenwasser R, Chalouhi N, Gordon D, Jabbour P (2012) Single center experience with pipeline stent: feasibility, technique, and complications. Neurosurgery 71:679–691

7.

Couldwell WT, Liu JK, Amini A, Kan P (2006) Submandibular-infratemporal interpositional carotid artery bypass for cranial base tumors and giant aneurysms. Neurosurgery 59:ONS353–ONS359

8.

Ding D, Liu KC (2013) Microsurgical extraction of a malfunctioned pipeline embolization device following complete deployment. J Cerebrovasc Endovasc Neurosurg 15:241–245

9.

Ding D, Starke RM, Liu KC (2014) Microsurgical strategies following failed endovascular treatment with the pipeline embolization device: case of a giant posterior cerebral artery aneurysm. J Cerebrovasc Endovasc Neurosurg 16:26–31

10.

Fiorella D, Woo HH, Albuquerque FC, Nelson PK (2008) Definitive reconstruction of circumferential, fusiform intracranial aneurysms with the pipeline embolization device. Neurosurgery 62:1115–1120

11.

Hampton T, Walsh D, Tolias C, Fiorella D (2011) Mural destabilization after aneurysm treatment with a flow-diverting device: a report of two cases. J Neurointerv Surg 3:167–171

12.

Jabbour P, Chalouhi N, Tjoumakaris S, Gonzalez LF, Dumont AS, Randazzo C, Starke RM, Hasan D, Chitale R, Singhal S, Moukarzel LA, Rosenwasser R (2013) The Pipeline Embolization Device: learning curve and predictors of complications and aneurysm obliteration. Neurosurgery 73:113–120

13.

Kan P, Siddiqui AH, Veznedaroglu E, Liebman KM, Binning MJ, Dumont TM, Ogilvy CS, Gaughen JR Jr, Mocco J, Velat GJ, Ringer AJ, Welch BG, Horowitz MB, Snyder KV, Hopkins LN, Levy EI (2012) Early postmarket results after treatment of intracranial aneurysms with the pipeline embolization device: a U.S. multicenter experience. Neurosurgery 71:1080–1087

14.

Lylyk P, Miranda C, Ceratto R, Ferrario A, Scrivano E, Luna HR, Berez AL, Tran Q, Nelson PK, Fiorella D (2009) Curative endovascular reconstruction of cerebral aneurysms with the pipeline embolization device: the Buenos Aires experience. Neurosurgery 64:632–642

15.

Nelson PK, Lylyk P, Szikora I, Wetzel SG, Wanke I, Fiorella D (2011) The pipeline embolization device for the intracranial treatment of aneurysms trial. AJNR Am J Neuroradiol 32:34–40

16.

Park MS, Albuquerque FC, Nanaszko M, Sanborn MR, Moon K, Abla AA, McDougall CG (2015) Critical assessment of complications associated with use of the Pipeline Embolization Device. J Neurointerv Surg 7:652–659

17.

Pistocchi S, Blanc R, Bartolini B, Piotin M (2012) Flow diverters at and beyond the level of the circle of willis for the treatment of intracranial aneurysms. Stroke 43:1032–1038

18.

So TY, Mitchell PJ, Dowling RJ, Yan B (2014) Efficacy, complications and clinical outcome of endovascular treatment for intracranial intradural arterial dissections. Clin Neurol Neurosurg 117:6–11

19.

Szikora I, Berentei Z, Kulcsar Z, Marosfoi M, Vajda ZS, Lee W, Berez A, Nelson PK (2010) Treatment of intracranial aneurysms by functional reconstruction of the parent artery: the Budapest experience with the pipeline embolization device. AJNR Am J Neuroradiol 31:1139–1147

20.

Taussky P, Tawk RG, Miller DA, Freeman WD, Hanel RA (2013) New therapies for unruptured intracranial aneurysms. Neurol Clin 31:737–747
Acknowledgments
We thank Jennie Williams, MA, for illustrations, Vance Mortimer for assistance with preparation of the video, and Kristin Kraus, MSc, for editorial assistance.
Ethics declarations
The patient has consented to the submission of this case report to the journal.
Conflicts of interest
None.
Electronic supplementary material
Below is the link to the electronic supplementary material.
Video demonstrating critical portions of the operations for microsurgical rescue and removal of a Pipeline stent embolization of a giant ICA terminus aneurysm. (MP4 34579 kb)
Video demonstrating critical portions of the operations for microsurgical rescue and removal of a Pipeline stent embolization of a giant ICA terminus aneurysm. (MP4 34579 kb)
About this article
Cite this article
Bowers, C.A., Taussky, P., Park, M.S. et al. Rescue microsurgery with bypass and stent removal following Pipeline treatment of a giant internal carotid artery terminus aneurysm. Acta Neurochir 157, 2071–2075 (2015). https://doi.org/10.1007/s00701-015-2593-3
Received:

Accepted:

Published:

Issue Date:
Keywords
Pipeline Embolization Device

Giant cerebral aneurysm

Rescue microsurgery

Open vascular surgery

Endovascular treatment