Abstract
Background
Intraoperative indocyanine green videoangiography (ICG-VA) has been widely used in vascular surgery, where vessels are clearly shown as white on a black background. However, other structures cannot be observed during ICG-VA. We have developed a new, high-resolution intraoperative imaging system (dual-image VA [DIVA]) to simultaneously visualize both light and near-infrared (NIR) fluorescence images from ICG-VA, allowing observation of other structures.
Methods
The operative field was illuminated via an operating microscope by halogen and xenon lamps with a filter to eliminate wavelengths over 780 nm. In the camera unit, visible light was filtered to 400–700 nm and NIR fluorescence emission light was filtered to 800–900 nm using a special sensor unit with an optical filter. Light and NIR fluorescence images were simultaneously visualized on a single monitor.
Results
Our system clearly visualized the operative field together with fluorescence-enhanced blood flow. In aneurysm surgeries, we could confirm incomplete clipping with the neck remnant or with remnant flow into the aneurysm. In cases of arteriovenous malformation or arteriovenous fistula, feeding arteries and draining veins were easily distinguished.
Conclusions
This system allows observation of the operative field and enhanced blood flow by ICG together in real time and may facilitate various types of neurovascular surgery.
This is a preview of subscription content, log in to check access.
Access options
Buy single article
Instant unlimited access to the full article PDF.
US$ 39.95
Price includes VAT for USA
Subscribe to journal
Immediate online access to all issues from 2019. Subscription will auto renew annually.
US$ 199
This is the net price. Taxes to be calculated in checkout.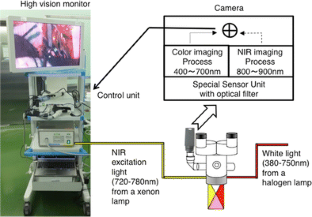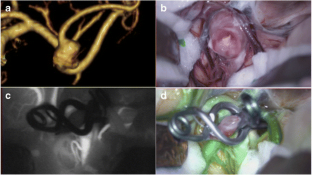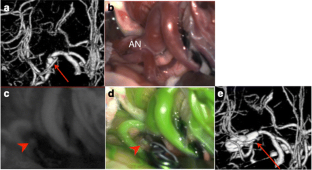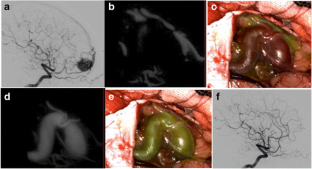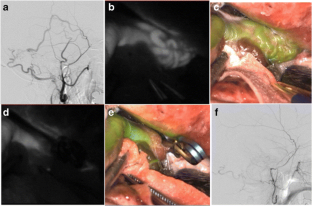 References
1.

Akdemir H, Oktem IS, Tucer B, Menkü A, Başaslan K, Günaldi O (2006) Intraoperative microvascular Doppler sonography in aneurysm surgery. Minim Invasive Neurosurg 49:312–316

2.

Anegawa S, Hayashi T, Torigoe R, Harada K, Kihara S (1994) Intraoperative angiography in the resection of arteriovenous malformations. J Neurosurg 80:73–78

3.

Dashti R, Laakso A, Niemela M, Porras M, Hernesniemi J (2009) Microscope-integrated near-infrared indocyanine green videoangiography during surgery of intracranial aneurysms: the Helsinki experience. Surg Neurol 71:543–550

4.

de Oliveira JG, Beck J, Seifert V, Teixeira MJ, Raabe A (2008) Assessment of flow in perforating arteries during intracranial aneurysm surgery using intraoperative near-infrared indocyanine green videoangiography. Neurosurgery 61(3 suppl):1300–1310

5.

Handa T, Katare RG, Nishimori H, Wariishi S, Fukutomi T, Yamamoto M, Sasaquri S, Sato T (2010) New device for intraoperative graft assessment: HyperEye charge-coupled device camera system. Gen Thorac Cardiovasc Surg 58:68–77

6.

Ichikawa T, Suzuki K, Watanabe Y (2014) Intra-arterial fluorescence angiography with injection of fluorescein sodium from the superficial temporal artery during aneurysm surgery: technical notes. Neurol Med Chir (Tokyo) 54:490–496

7.

Killory BD, Nakaji P, Gonzales LF, Ponce FA, Wait SD, Spetzler RF (2009) Prospective evaluation of surgical microscope-integrated intraoperative near-infrared indocyanine green angiography during cerebral arteriovenous malformation surgery. Neurosurgery 65:456–462

8.

Kinouchi H, Yanagisawa T, Suzuki A, Ohta T, Hirano Y, Sugawara T, Sasajima T, Mizoi K (2004) Simultaneous microscopic and endoscopic monitoring during surgery for internal carotid artery aneurysms. J Neurosurg 101:989–995

9.

Klopfenstein JD, Spetzler RF, Kim LJ, Feiz-Erfan I, Han PP, Zabramski JM, Porter RW, Albuquerque FC, McDougall CG, Florella DJ (2004) Comparison of routine and selective use of intraoperative angiography during aneurysm surgery: a prospective assessment. J Neurosurg 100:230–235

10.

Kono K, Uka A, Mori M, Haga S, Hamada Y, Nagata S (2013) Intra-arterial injection of indocyanine green in cerebral arteriovenous malformation surgery. Turk Neurosurg 23:676–679

11.

Kuroda K, Kinouchi H, Kanemaru K, Nishiyama Y, Ogiwara M, Yoshioka H, Horikoshi T (2013) Intra-arterial injection fluorescein videoangiography in aneurysm surgery. Neurosurgery 72(2 Suppl Operative):141–150

12.

Raabe A, Beck J, Gerlach R, Zimmermann M, Seifert V (2003) Near-infrared indocyanine green video angiography: a new method for intraoperative assessment of vascular flow. Neurosurgery 52:132–139

13.

Raabe A, Nakaji P, Beck J, Kim LJ, Hsu FPK, Kamerman JD, Seifert V, Spetzler RF (2005) Prospective evaluation of surgical microscope-integrated intraoperative near-infrared indocyanine green videoangiography during aneurysm surgery. J Neurosurg 103:982–989

14.

Roessler K, Krawagna M, Dörfler A, Buchfelder M, Ganslandt O (2014) Essentials in intraoperative indocyanine green videoangiography assessment for intracranial aneurysm surgery: conclusions from 295 consecutively clipped aneurysms and review of the literature. Neurosurg Focus 36:E7

15.

Sasaki T, Kodama N, Matsumoto M, Suzuki K, Konno Y, Sakuma J (2007) Blood flow disturbance in perforating arteries attributable to aneurysm surgery. J Neurosurg 107:60–67

16.

Suzuki K, Kodama N, Sasaki T, Matsumoto M, Ichikawa T, Munakata R, Muramatsu H, Kasuya H (2007) Confirmation of blood flow in perforating arteries using fluorescein cerebral angiography during aneurysm surgery. J Neurosurg 107:68–73

17.

Takagi Y, Sawamura K, Hashimoto N, Miyamoto S (2012) Evaluation of serial intraoperative surgical microscope-integrated intraoperative near-infrared indocyanine green videoangiography in patients with cerebral arteriovenous malformations. Neurosurgery 70(1 Suppl Operative):34–43

18.

Tang G, Cawley CM, Dion JE, Barrow DL (2002) Intraoperative angiography during aneurysm surgery: a prospective evaluation of efficacy. J Neurosurg 96:993–999

19.

Thornton J, Bashir Q, Aletich VA, Debrun GM, Ausman JI, Charbel FT (2000) What percentage of surgically clipped intracranial aneurysms have residual necks? Neurosurgery 46:1294–1300

20.

Vitaz TW, Gaskill-Shipley M, Tomsick T, Tew JM Jr (1999) Utility, safety, and accuracy of intraoperative angiography in the surgical treatment of aneurysms and arteriovenous malformations. AJNR Am J Neuroradiol 20:1457–1461

21.

Washington CW, Zipfel GJ, Chicoine MR, Derdeyn CP, Rich KM, Moran CJ, Cross DT, Dacey RG Jr (2013) Comparing indocyanine green videoangiography to the gold standard of intraoperative digital subtraction angiography used in aneurysm surgery. J Neurosurg 118:420–427

22.

Yamamoto S, Kim P, Kurokawa R, Itoki K, Kawamoto S (2012) Selective intraarterial injection of ICG for fluorescence angiography as a guide to extirpate perimedullary arteriovenous fistulas. Acta Neurochir (Wien) 154:457–463

23.

Yamauchi K, Nagafuji H, Nakamura T, Sato T, Kohno N (2011) Feasibility of ICG fluorescence-guided sentinel node biopsy in animal models using the HyperEye Medical System. Ann Surg Oncol 18:2042–2047

24.

Zaidi HA, Abla AA, Nakaji P, Chowdhry SA, Albuquerque FC, Spetzler RF (2014) Indocyanine green angiography in the surgical management of cerebral arteriovenous malformations: lessons learned in 130 consecutive cases. Neurosurgery 10(2 Suppl):246–251
Acknowledgments
This study was supported by grants for the Development of Medical & Welfare Devices in Fukushima Prefecture (24-829).
Conflict of interest
Takatsu and Kojima are employees of Mizuho Corporation. Sugano is an employee of Mitsubishi Electric Engineering Co., Ltd. They have competing financial interests. All remaining authors have declared no conflicts of interest.
Informed consent
Informed consent was obtained from all patients or their legal representatives before enrollment in the study.
Electronic supplementary material
Below is the link to the electronic supplementary material.
We developed a new high-resolution intraoperative imaging system to simultaneously visualize both the light and near-infrared fluorescence images of indocyanine green angiography. It clearly shows surrounding brain structures and blood flow in the middle cerebral arteries and the aneurysm. After clipping, indocyanine green angiography was performed again. It vividly reveals the anatomical relation of the obliterated aneurysm, clips, preserved blood flow in the middle cerebral arteries, and surrounding brain. Standard indocyanine green angiography shows near-infrared fluorescence image of vessels. It's hard to realize the anatomical relation of surrounding structures. (MOV 31616 kb)
We developed a new high-resolution intraoperative imaging system to simultaneously visualize both the light and near-infrared fluorescence images of indocyanine green angiography. It clearly shows surrounding brain structures and blood flow in the middle cerebral arteries and the aneurysm. After clipping, indocyanine green angiography was performed again. It vividly reveals the anatomical relation of the obliterated aneurysm, clips, preserved blood flow in the middle cerebral arteries, and surrounding brain. Standard indocyanine green angiography shows near-infrared fluorescence image of vessels. It's hard to realize the anatomical relation of surrounding structures. (MOV 31616 kb)
About this article
Cite this article
Sato, T., Suzuki, K., Sakuma, J. et al. Development of a new high-resolution intraoperative imaging system (dual-image videoangiography, DIVA) to simultaneously visualize light and near-infrared fluorescence images of indocyanine green angiography. Acta Neurochir 157, 1295–1301 (2015). https://doi.org/10.1007/s00701-015-2481-x
Received:

Accepted:

Published:

Issue Date:
Keywords
Dual-image videoangiography

High-resolution microscopic imaging

Indocyanine green

Near-infrared fluorescence