Abstract
Background
Because of their deep location surrounded by closed numerous neurovascular structures, skull base tumors of the cavernous sinus are still difficult to manage. Recently, the endoscopic endonasal approach commonly used for pituitary tumor resection has been "expanded" to the parasellar, infratemporal and orbital compartments with some advantages compared to the intracranial route.
Methods
The authors reported the case of a 49-year-old male presenting a large extradural tumor of the left cavernous sinus with extensions toward the orbit, sphenoid sinus and infratemporal fossa. His ophthalmological examination was normal, and the body CT scan revealed no primary neoplasm.
Results
In this operative video, the approach is described step by step with surgical nuances. The endoscopy provided a close-up panoramic view and various angles of vision. Also, it avoided an invasive craniotomy, cerebral retraction and cranial nerves damages. Thus, it allowed the total removal of this tumor originating from the maxillary branch of the trigeminal nerve. The pathologic examination confirmed a schwannoma.
Conclusion
The expanded endoscopic endonasal approach provides an interesting corridor to cavernous sinus tumors with satisfactory control of extensions inferiorly toward the infratemporal fossa, anteriorly via the superior orbital fissure and medially within the sphenoid. Finally, the skull base surgeon has to master this anterior endoscopic route as well as all the other "open" transcranial skull base approaches to propose the best surgical route fitting the tumor characteristics.
This is a preview of subscription content, log in to check access.
Access options
Buy single article
Instant unlimited access to the full article PDF.
US$ 39.95
Price includes VAT for USA
Subscribe to journal
Immediate online access to all issues from 2019. Subscription will auto renew annually.
US$ 199
This is the net price. Taxes to be calculated in checkout.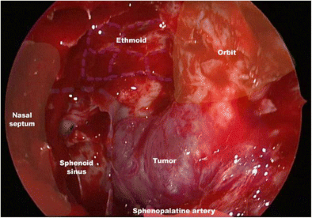 References
1.

Alfieri A, Jho HD (2001) Endoscopic endonasal approaches to the cavernous sinus: surgical approaches. Neurosurgery 49(2):354–360, discussion 360–362

2.

Ammirati M, Bernardo A (2007) Anatomical study of the superior orbital fissure as seen during a pterional approach. J Neurosurg 106(1):151–156

3.

Beck DW, Menezes AH (1987) Lesions in Meckel's cave: variable presentation and pathology. J Neurosurg 67(5):684–689

4.

Dallan I, Castelnuovo P, de Notaris M, Sellari-Franceschini S, Lenzi R, Turri-Zanoni M, Battaglia P, Prats-Galino A (2013) Endoscopic endonasal anatomy of superior orbital fissure and orbital apex regions: critical considerations for clinical applications. Eur Arch Otorhinolaryngol 270(5):1643–1649

5.

Dolenc VV (1994) Frontotemporal epidural approach to trigeminal neurinomas. Acta Neurochir (Wien) 130(1–4):55–65

6.

Janjua RM, Wong KM, Parekh A, van Loveren HR (2010) Management of the great mimicker: Meckel cave tumors. Neurosurgery 67(2 Suppl Operative):416–421

7.

Jouanneau E, Simon E, Jacquesson T, Sindou M, Tringali S, Messerer M, Berhouma M (2014) The endoscopic endonasal approach to the Meckel's cave tumors: surgical technique and indications. World Neurosurg 82(6S):S155–S161

8.

Kassam AB, Gardner P, Snyderman C, Mintz A, Carrau R (2005) Expanded endonasal approach: fully endoscopic, completely transnasal approach to the middle third of the clivus, petrous bone, middle cranial fossa, and infratemporal fossa. Neurosurg Focus 19(1):E6

9.

Kassam AB, Prevedello DM, Carrau RL, Snyderman CH, Gardner P, Osawa S, Seker A, Rhoton AL (2009) The front door to Meckel's cave: an anteromedial corridor via expanded endoscopic endonasal approach- technical considerations and clinical series. Neurosurgery 64(3 Suppl):ons71–ons82, discussion ons82–83

10.

Muto J, Kawase T, Yoshida K (2010) Meckel's cave tumors: relation to the meninges and minimally invasive approaches for surgery: anatomic and clinical studies. Neurosurgery 67(3 Suppl Operative):ons291–ons298, discussion ons298–299

11.

Rhoton AL (2002) The cavernous sinus, the cavernous venous plexus, and the carotid collar. Neurosurgery 51(4 Suppl):S375–S410

12.

Roche P-H, Troude L, Peyriere H, Noudel R (2014) The epidural approach to the Meckel's cave: a how I do it. Acta Neurochir (Wien) 156(1):217–220

13.

Rohde V, Schaller K, Hassler W (1995) The combined pterional and orbitocygomatic approach to extensive tumours of the lateral and latero-basal orbit and orbital apex. Acta Neurochir (Wien) 132(1–3):127–130
Conflicts of interest
None.
Additional information
Comment
The authors have to be congratulated for their short, clear and objective technical note on the endoscopic splanchnocranial approach to skull base CN V schwannomas (peripheral type). It goes without saying that the approach to skull base pathologies should be chosen according to the individual case so that it is the least traumatic and most successful. The presented schwannoma originating from V2 could also be easily totally resected via the extradural transcranial approach. However, the trans-splanchnocranial endoscopic approach used in this case is superior. It also has to be mentioned that the consistency of the tumor as well as its location and size should be taken into consideration when determining which approach would be best for the individual case. The case so neatly presented here does show a contrast with a giant CN V schwannoma—extending from the middle into the posterior cranial fossa through Meckel's cave—which is much more easily totally resected via the transcranial epidural approach in one stage. This holds even more for schwannomas originating from the sympathetic cords accompanying the ICA. These tumors are usually extremely hard and necessitate the widest possible epidural approach. The difference in size, location and consistency of the tumors clearly point to the fact that surgeon(s) dealing with skull base pathologies have to be familiar with transcranial epidural as well as splanchnocranial-endoscopic approaches. Adherence to only one approach or the other—which still exists—will soon not be enough for the surgery in this field. A prerequisite for using one or the other approach, or set of approaches, is knowledge of the relevant microanatomy. It has to be mentioned that with the extended reach of either approach the teamwork of specialists is beneficial in "inoperable" cases of skull base tumors. The "captain" of the team involved in surgery should be chosen according to the location and size of the lesion. The "captain" should also be responsible for the entire postoperative treatment and patient care.
V. Dolenc
Ljubljana, Slovenia
Electronic supplementary material
Below is the link to the electronic supplementary material.
This video illustrates the expanded endoscopic endonasal approach to this cavernous sinus tumor with comments about the strategy and surgical nuances. (MOV 62,085 kb)
This video illustrates the expanded endoscopic endonasal approach to this cavernous sinus tumor with comments about the strategy and surgical nuances. (MOV 62,085 kb)
About this article
Cite this article
Jacquesson, T., Berhouma, M., Picart, T. et al. Total removal of a trigeminal schwannoma via the expanded endoscopic endonasal approach. Technical note. Acta Neurochir 157, 935–938 (2015). https://doi.org/10.1007/s00701-015-2409-5
Received:

Accepted:

Published:

Issue Date:
Keywords
Skull base

Schwannoma

Cavernous sinus

Meckel's cave

Endoscopy

Endonasal