Abstract
Background
Anterior and anterolateral meningiomas of the foramen magnum (FM) can be resected either through extensive skull base approaches or through the classical suboccipital midline approach with limited bone removal.
Method
This paper describes the suboccipital midline approach focusing on some peculiar technical features that serve to achieve the necessary space for safe resection of these challenging tumors.
Conclusions
In our experience, by adopting appropriate strategies to gain space (some of them natural, others acquired) the suboccipital midline approach can achieve the safe resection of anterior and anterolateral FM meningiomas in the majority of cases.
This is a preview of subscription content, log in to check access.
Access options
Buy single article
Instant unlimited access to the full article PDF.
US$ 39.95
Price includes VAT for USA
Subscribe to journal
Immediate online access to all issues from 2019. Subscription will auto renew annually.
US$ 199
This is the net price. Taxes to be calculated in checkout.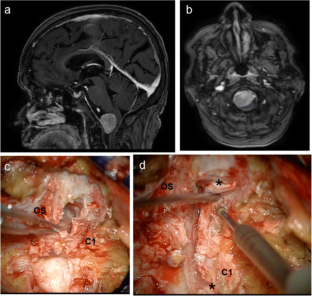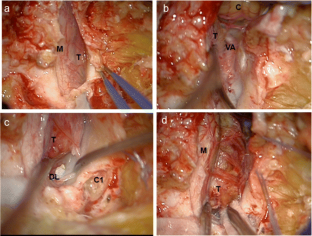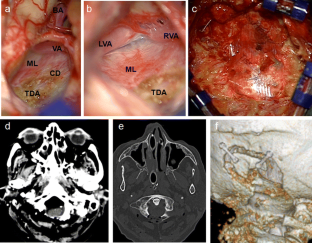 References
1.

Della Puppa A, Rossetto M, Scienza R (2010) Use of a new absorbable sealing film for preventing postoperative cerebrospinal fluid leaks: remarks on a new approach. Br J Neurosurg 24(5):609–611. doi:10.3109/02688697.2010.500413

2.

Goel A, Desai K, Muzumdar D (2001) Surgery on anterior foramen magnum meningiomas using a conventional posterior suboccipital approach: a report on an experience with 17 cases. Neurosurgery 49(1):102–106, discussion 106–7

3.

Legnani FG, Saladino A, Casali C, Vetrano IG, Varisco M, Mattei L, Prada F, Perin A, Mangraviti A, Solero CL, DiMeco F (2013) Craniotomy vs. craniectomy for posterior fossa tumors: a prospective study to evaluate complications after surgery. Acta Neurochir (Wien) 155(12):2281–2286

4.

Rhoton AL (2000) The cerebellopontine angle and posterior fossa cranial nerves by the retrosigmoid approach. Neurosurgery 47:S93–S129
Conflict of interest
None.
Additional information
Key points
1. The suboccipital midline approach is feasible in a large part of cases of anterior and anterolateral FM meningiomas displacing the brainstem. However, confidence of the surgeon with the approach, intra-operative monitoring availability, single case characteristics must be carefully evaluated case by case.
2. Craniocervical stability is maintained.
3. A C-shaped dural opening gains lateral space and avoids the occipital sinus. Intradural VA visualization is promptly achieved.
4. Intraoperative monitoring is mandatory.
5. The tumor creates all the working space needed. In this sense, the larger the tumor the easier the resection.
6. The "clove" tumor resection technique is deployed.
7. Microscope angulation plays a crucial role in optimizing available working space.
8. Good visualization of the tumor, vertebral arteries, cranial nerves, brainstem and clival dura is obtained.
9. There is low risk of postoperative cerebrospinal fistulae, cerebellum spatula contusions, and vertebral artery injury.
10. The tumor cleavage plane is the most important factor determining the surgical outcome. Involvement of these structures is independent of tumor exposure.
Electronic supplementary material
Below is the link to the electronic supplementary material.
About this article
Cite this article
Della Puppa, A., Rustemi, O. & Scienza, R. The suboccipital midline approach to foramen magnum meningiomas. Acta Neurochir 157, 869–873 (2015). https://doi.org/10.1007/s00701-015-2381-0
Received:

Accepted:

Published:

Issue Date:
Keywords
Foramen magnum meningiomas

Posterior-fossa meningiomas

Clival meningiomas

Cranio-cervical junction surgery