Abstract
Background
EC-IC bypass for the treatment of a hypoperfused hemisphere is currently the treatment of choice for symptomatic moyamoya patients. Use of the combination of direct (STA-MCA) and indirect (an STA branch lay-on bypass and flipped dural flaps; EDAS) EC-IC bypass is advocated as the optimal treatment option as it allows immediate augmentation of flow in the postoperative period while allowing the brain to acquire additional indirect flow in the long term.
Methods
We describe the technical nuances of a combined direct and indirect bypass in a 41-year-old woman with moyamoya syndrome diagnosed with transient ischemic attacks (TIAs) and cognitive decline.
Conclusion
Combined direct and indirect bypass option should become a familiar treatment modality among vascular neurosurgeons.
Key Points
(1) Pay critical attention to not injuring the Superficial Temporal Artery, Parietal branch (STApb) while turning the skin incision anteriorly. Use the operating microscope to dissect the STApb.
(2) Always mark the origin of the Superficial Temporal Artery, Frontal branch (STAfb) on the skin so that its location can be anticipated during STApb dissection.
(3) When no frontal branch is available or if the frontal branch is of poor quality, the STApb can be used as a direct or indirect graft.
(4) A craniotomy should be done 2–3 cm posterior to the course of the STApb to allow for adequate exposure for an indirect graft.
(5) Manipulation of the donor vessels should be done with extreme care as spasm of the artery or intraluminal thrombosis may occur. Low cut flow in the direct graft should be interpreted with caution as vasospasm can result in significant temporary reduction of flow.
(6) Aggressive distal dissection of the direct donor is a must. The distal 1–2 cm of the vessel should be cleaned of any loose tissue and be fishmouthed prior to anastomosis.
(7) A blood-free field is mandatory. Perforators on the backside of the recipient should be sacrificed and cut to avoid backbleeding into the anastomotic segment during temporary occlusion.
(8) When recirculating after the anastomosis has been completed, open the temporary clips on the recipient first. Backflow into the donor segment confirms a patent anastomosis.
(9) Utilization of intraoperative angiography is not necessary as long as one utilizes flow measurements and ICG angiography.
(10) Take great care with the bone flap reconstruction and the skin closure as the grafts can easily be compressed or sutured. Create a generous craniectomy in the bone flap to avoid any graft compression.
This is a preview of subscription content, log in to check access.
Access options
Buy single article
Instant unlimited access to the full article PDF.
US$ 39.95
Price includes VAT for USA
Subscribe to journal
Immediate online access to all issues from 2019. Subscription will auto renew annually.
US$ 199
This is the net price. Taxes to be calculated in checkout.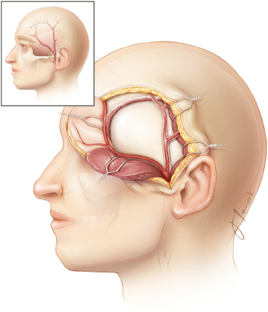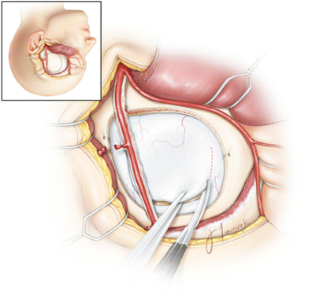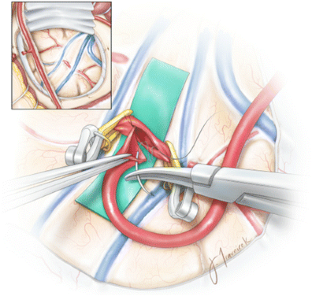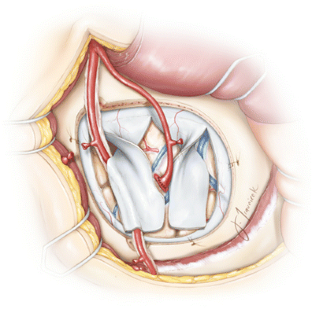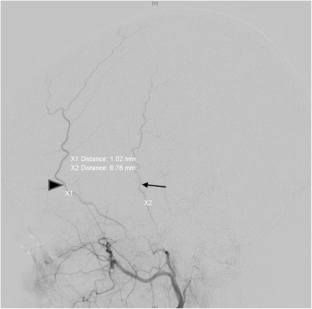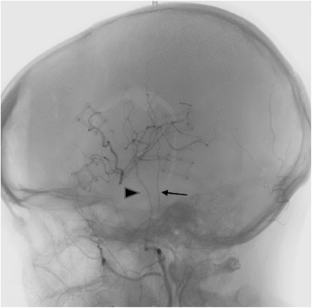 References
1.

Amin-Hanjani S, Singh A, Rifai H, Thulborn KR, Alaraj A, Aletich V, Charbel FT (2013) Combined direct and indirect bypass for moyamoya: quantitative assessment of direct bypass flow over time. Neurosurg 73:962–967

2.

Baaj AA, Agazzi S, Sayed ZA, Toledo M, Spetzler RF, van Loveren H (2009) Surgical management of moyamoya disease: a review. Neurosurg Focus 26:E7

3.

Czabanka M, Pena-Tapia P, Scharf J, Schubert GA, Munch E, Horn P, Schmiedek P, Vajkoczy P (2011) Characterization of direct and indirect cerebral revascularization for the treatment of European patients with moyamoya disease. Cerebrovasc Dis 32:361–369

4.

Gross BA, Du R (2012) STA-MCA bypass. Acta Neurochir 154:1463–1467

5.

Kim BS, Jung YJ, Chang CH, Choi BY (2013) The anatomy of the superficial temporal artery in adult Koreans using 3-dimensional computed tomographic angiogram: clinical research. J Cerebrovasc Endovasc Neurosurg 15:145–151

6.

Kim DS, Huh PW, Kim HS, Kim IS, Choi S, Mok JH, Huh CW (2012) Surgical treatment of moyamoya disease in adults: combined direct and indirect vs. indirect bypass surgery. Neurol Med Chir 52:333–338

7.

Kuroda S, Houkin K (2008) Moyamoya disease: current concepts and future perspectives. Lancet Neurol 7:1056–1066

8.

Marano SR, Fischer DW, Gaines C, Sonntag VK (1985) Anatomical study of the superficial temporal artery. Neurosurg 16:786–790

9.

Pinar YA, Govsa F (2006) Anatomy of the superficial temporal artery and its branches: its importance for surgery. Surg Radiologic Anat: SRA 28:248–253

10.

Schirmer CM, David CA (2013) Superficial temporal artery dissection: a technical note. Neurosurg 72:6–8
Conflicts of interest
None.
Electronic supplementary material
Below is the link to the electronic supplementary material.
About this article
Cite this article
Nossek, E., Langer, D.J. How I do it: combined direct (STA-MCA) and indirect (EDAS) EC-IC bypass. Acta Neurochir 156, 2079–2084 (2014). https://doi.org/10.1007/s00701-014-2226-2
Received:

Accepted:

Published:

Issue Date:
Keywords
Combined

Direct

EC-IC Bypass

EDAS

Moyamoya