Abstract
Background
The optic nerve within the optic canal, the parophthalmic segment of the carotid artery, and the oculomotor nerve in the superior orbital fissure all lay against the anterior clinoid process. Bone resection uncovers these structures.
Method
For extradural resection of the anterior clinoid process and surrounding bone, two key steps are recommended: bony opening of the superior orbital fissure, and transection of the orbitotemporal periosteal fold.
Conclusion
Anterior clinoidectomy is technically challenging. Following a sequence of surgical steps to expose clearly-defined surgical landmarks helps to make this procedure simple and safe.
Key points
• Pterional craniotomy
• Complete extradural anterior clinoidectomy
• Slit dura (3 mm) to drain cerebrospinal fluid
• Peel dura from orbital roof and lateral wall
• Bony opening of superior orbital fissure to use it as surgical corridor
• Drilling of optic canal
• Transection of orbitotemporal periosteal fold
• Hollow anterior clinoid process and piece-meal resection
• Transection of falciforme ligament to free optic nerve
• Replace falciforme ligament by extradural free pericranial flap
This is a preview of subscription content, log in to check access.
Access options
Buy single article
Instant unlimited access to the full article PDF.
US$ 39.95
Price includes VAT for USA
Subscribe to journal
Immediate online access to all issues from 2019. Subscription will auto renew annually.
US$ 199
This is the net price. Taxes to be calculated in checkout.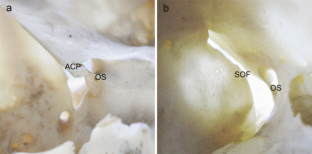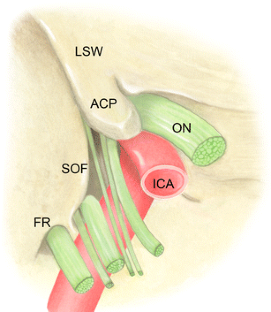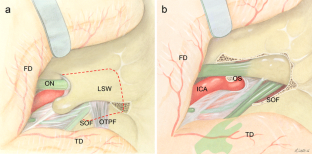 References
1.

Coscarella E, Baskaya MK, Morcos JJ (2003) An alternative extradural exposure to the anterior clinoid process: the superior orbital fissure as a surgical corridor. Neurosurgery 53:162–166, discussion 166–167

2.

Dolenc VV (1985) A combined epi- and subdural direct approach to carotid-ophthalmic artery aneurysms. J Neurosurg 62:667–672

3.

Froelich SC, Aziz KM, Levine NB, Theodosopoulos PV, van Loveren HR, Keller JT (2007) Refinement of the extradural anterior clinoidectomy: surgical anatomy of the orbitotemporal periosteal fold. Neurosurgery 61:179–185, discussion 185–176

4.

Kapur E, Mehic A (2012) Anatomical variations and morphometric study of the optic strut and the anterior clinoid process. Bosn J Basic Med Sci 12:88–93

5.

Lehmberg J, Krieg SM, Mueller B, Meyer B (2013) Impact of anterior clinoidectomy on visual function after resection of meningiomas in and around the optic canal. Acta Neurochir (Wien) 155:1293–1299

6.

Spektor S, Dotan S, Mizrahi CJ (2013) Safety of drilling for clinoidectomy and optic canal unroofing in anterior skull base surgery. Acta Neurochir (Wien) 155:1017–1024

7.

Yonekawa Y, Ogata N, Imhof HG, Olivecrona M, Strommer K, Kwak TE, Roth P, Groscurth P (1997) Selective extradural anterior clinoidectomy for supra- and parasellar processes. Technical note. J Neurosurg 87:636–642
Conflicts of interest
None.
Additional information
Comment
Anterior clinoid Process (ACP) resection is a regular and mini-invasive skull base procedure that offers an optimal corridor for the exposure of a large range of aneurysms and skull base tumors. Such a technique should be part of the regular learning of each neurosurgeon. That is the reason why contributions that promote simplified and safest techniques are very welcome. For aneurysmal surgery there is still a controversy in the selection of an intradural or an extradural resection, while the extradural approach is dedicated to the resection of parasellar tumors, as pioneered by Dolenc.
Pierre-Hugues Roche
Marseille, France
Electronic supplementary material
Below is the link to the electronic supplementary material.
About this article
Cite this article
Lehmberg, J., Krieg, S.M. & Meyer, B. Anterior clinoidectomy. Acta Neurochir 156, 415–419 (2014). https://doi.org/10.1007/s00701-013-1960-1
Received:

Accepted:

Published:

Issue Date:
Keywords
Skull base surgery

Cerebrovascular surgery