Abstract
Background
Surgical treatment of giant clinoidal meningiomas remains a challenging task for neurosurgeons. Here, we present details of the surgical techniques for the dissection of encased perforators.
Methods
The dissection of encased perforators is summarized as follows: (1) split the tumor above the encased arteries and perforators; (2) find the entrance and exit points of the perforators, and estimate the running course of the perforators within the tumor; (3) dissect and expose the perforators along the estimated line.
Conclusions
The surgical techniques described in this article will aid in achieving maximum tumor resection while preserving encased perforators.
This is a preview of subscription content, log in to check access.
Access options
Buy single article
Instant unlimited access to the full article PDF.
US$ 39.95
Price includes VAT for USA
Subscribe to journal
Immediate online access to all issues from 2019. Subscription will auto renew annually.
US$ 199
This is the net price. Taxes to be calculated in checkout.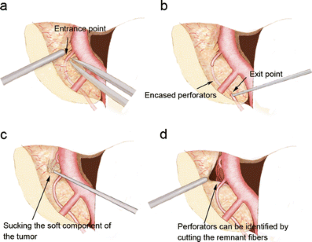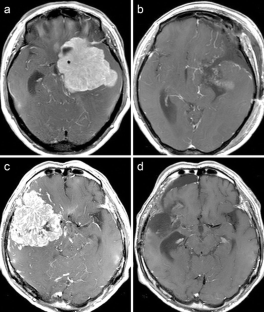 References
1.

Al-Mefty O (1990) Clinoidal meningiomas. J Neurosurg 73:840–849

2.

Al-Mefty O, Ayoubi S (1991) Clinoidal meningiomas. Acta Neurochir Suppl 53:92–97

3.

Attia M, Umansky F, Paldor I, Dotan S, Shoshan Y, Spektor S (2012) Giant anterior clinoidal meningiomas: surgical technique and outcomes. J Neurosurg 117:654–665

4.

Bassiouni H, Asgari S, Sandalcioglu IE, Seifert V, Stolke D, Marquardt G (2009) Anterior clinoidal meningiomas: functional outcome after microsurgical resection in a consecutive series of 106 patients. Clinical article. J Neurosurg 111:1078–1090

5.

Behari S, Giri PJ, Shukla D, Jain VK, Banerji D (2008) Surgical strategies for giant medial sphenoid wing meningiomas: a new scoring system for predicting extent of resection. Acta Neurochir 150:865–877

6.

Lee JH, Jeun SS, Evans J, Kosmorsky G (2001) Surgical management of clinoidal meningiomas. Neurosurgery 48:1012–1019

7.

Lee JH, Sade B, Park BJ (2006) A surgical technique for the removal of clinoidal meningiomas. Neurosurgery 59:ONS108–ONS114

8.

Nakamura M, Roser F, Jacobs C, Vorkapic P, Samii M (2006) Medial sphenoid wing meningiomas: clinical outcome and recurrence rate. Neurosurgery 58:626–639

9.

Pamir MN, Belirgen M, Ozduman K, Kilic T, Ozek M (2008) Anterior clinoidal meningiomas: analysis of 43 consecutive surgically treated cases. Acta Neurochir 150:625–635

10.

Russell SM, Benjamin V (2008) Medial sphenoid ridge meningiomas: classification, microsurgical anatomy, operative nuances, and long-term surgical outcome in 35 consecutive patients. Neurosurgery 62:1169–1181
Acknowledgments
We thank Dr. Yojiro Akagi for preparing the schematic illustrations.
Conflicts of interest
None.
Electronic supplementary material
Below is the link to the electronic supplementary material.
About this article
Cite this article
Yoshimoto, K., Nakamizo, A. & Sasaki, T. Surgical techniques for the dissection of encased perforators in giant clinoidal meningiomas. Acta Neurochir 155, 1409–1412 (2013). https://doi.org/10.1007/s00701-013-1750-9
Received:

Accepted:

Published:

Issue Date:
Keywords
Dissection

Perforators

Clinoidal meningioma