Abstract
Background
Symptomatic fusiform intracranial vertebral artery aneurysms pose a formidable treatment challenge when not amenable to endovascular treatment. In this paper, we illustrate the microsurgical management of such an aneurysm.
Methods
To prevent neurological deterioration, anatomical reconstruction preserving all vessels including posterior inferior cerebellar artery and perforators is essential. In this case illustration, the occipital artery was used as a donor to a perforator originating from the aneurysmal segment. This bypass was performed in an end-to-side fashion. Subsequently, the aneurysmal component of the vertebral artery was resected and an end-to-side (V4 to V3) bypass was performed using a radial artery graft.
Results
The patient achieved complete resection of the aneurysm preserving normal anatomy of the posterior circulation without any ischemic complications.
Conclusions
Complex cerebral artery bypass techniques are essential in the armamentarium of cerebrovascular for the treatment of complex lesions not amenable to endovascular therapy.
This is a preview of subscription content, log in to check access.
Access options
Buy single article
Instant unlimited access to the full article PDF.
US$ 39.95
Price includes VAT for USA
Subscribe to journal
Immediate online access to all issues from 2019. Subscription will auto renew annually.
US$ 199
This is the net price. Taxes to be calculated in checkout.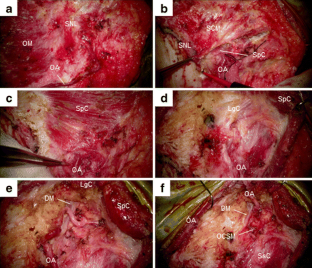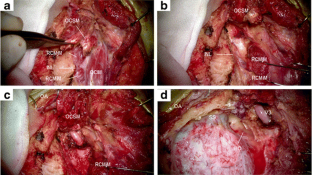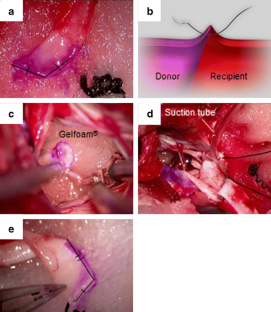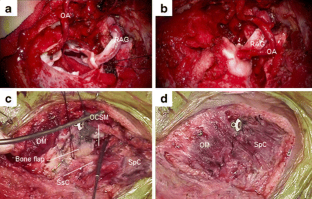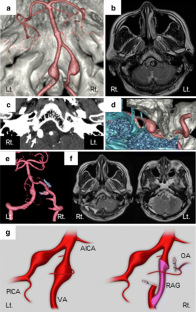 References
1.

Alvernia JE, Fraser K, Lanzino G (2006) The occipital artery: a microanatomical study. Neurosurgery 58(1 Suppl):ONS114–ONS122

2.

Ateş Ö, Ahmed AS, Niemann D, Başkaya MK (2008) The occipital artery for posterior circulation bypass: microsurgical anatomy. Neurosurg Focus 24:E9

3.

Crowley RW, Medel R, Dumont AS (2009) Operative nuances of an occipital artery to posterior inferior cerebellar artery bypass. Neurosurg Focus 26:E19

4.

Evans JJ, Sekhar LN, Rak R, Stimac D (2004) Bypass grafting and revascularization in the management of posterior circulation aneurysms. Neurosurgery 55:1036–1049

5.

Fukushima T, Samashima T, Friedman AH (2004) Manual of skull base dissection, 2nd ed. AF Neurovideo, Raleigh, NC

6.

Kan P, Siddiqui AH, Veznedaroglu E, Liebman KM, Binning MJ, Dumont TM, Ogilvy CS, Gaughen JR, Mocco J, Velat GJ, Ringer AJ, Welch BG, Horowitz MB, Snyder KV, Hopkins LN, Levy EI (2012) Early postmarket results after treatment of intracranial aneurysms with the pipeline embolization device: A US multicenter experience. Neurosurgery 71:1080–1088

7.

Katsuno M, Mizutani T, Kobayashi S, Takahashi H, Teramoto A (2009) Ruptured of a vertebral artery dissecting aneurysm developing immediately after trapping of a dissecting aneurysm on the contralateral vertebral artery: case report. Neurol Med Chir (Tokyo) 49:468–470

8.

Nakajima H, Kamiyama H, Nakamura T, Takizawa K, Tokugawa J, Ohata K (2012) Direct surgical treatment of giant middle cerebral artery aneurysms using microvascular reconstruction techniques. Neurol Med Chir (Tokyo) 52:56–61

9.

Sekhar LN, Duff JM, Kalavakonda C, Olding M (2001) Cerebral revascularization using radial artery grafts for the treatment of complex intracranial aneurysms: techniques and outcomes for 17 patients. Neurosurgery 49:646–659

10.

Shin YS, Kim BM, Kim SH, Suh SH, Ryu CW, Koh JS, Kim DI, Kim DJ (2012) Endovascular treatment of bilateral intracranial vertebral artery dissecting aneurysms presenting with subarachnoid hemorrhage. Neurosurgery 70(1 Suppl):ONS114–ONS122

11.

Sundt TM, Piepgras DG (1978) Occipital to posterior inferior cerebellar artery bypass surgery. J Neurosurg 48:916–928

12.

Wanibuchi M, Friedman AH, Fukushima T (2009) Photo atlas of skull base dissection. Thieme, Stuttgart
Conflicts of interest
None.
Additional information
Comment
The authors describe that high-flow bypass surgery in the era of intracranial stenting still can be an alternative and not inferior strategy in patients suffering from fusiform cerebral aneurysms. As the main message, the authors underlined that case selection as well as the experience of the team is of major importance to achieve an outstanding result with acceptable morbidity.
Daniel Hänggi
Duesseldorf, Germany
About this article
Cite this article
Kubota, H., Tanikawa, R., Katsuno, M. et al. Reconstruction of intracranial vertebral artery with radial artery and occipital artery grafts for fusiform intracranial vertebral aneurysm not amenable to endovascular treatment: technical note. Acta Neurochir 155, 1517–1524 (2013). https://doi.org/10.1007/s00701-013-1715-z
Received:

Accepted:

Published:

Issue Date:
Keywords
Fusiform intracranial vertebral artery aneurysm

Vertebral artery reconstruction

Radial artery

Occipital artery

Perforator

Bypass