Abstract
Background
In the last years, a new technique for pelvic fixation using 'sacral alar-iliac' screws has been proposed as an alternative to the classic 'iliac wing' screws and the old Galveston technique.
Methods
The authors provide a 'step-by-step' review of the technical details regarding this technique, as well as some important anatomical and radiological landmarks for its successful performance.
Conclusions
'Sacral alar-iliac' screws provide several advantages in relation to pelvic fixation with iliac bolts such as: better alignment with the rods, use of a 'low-profile' screw, and fixation of the sacroiliac (SI) joint, which avoids postoperative SI joint-related pain.
This is a preview of subscription content, log in to check access.
Access options
Buy single article
Instant unlimited access to the full article PDF.
US$ 39.95
Price includes VAT for USA
Subscribe to journal
Immediate online access to all issues from 2019. Subscription will auto renew annually.
US$ 199
This is the net price. Taxes to be calculated in checkout.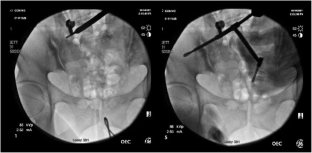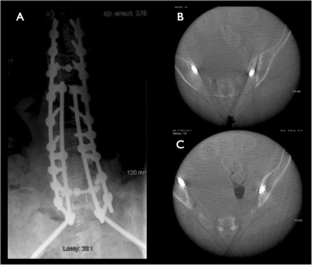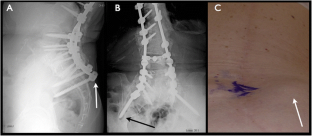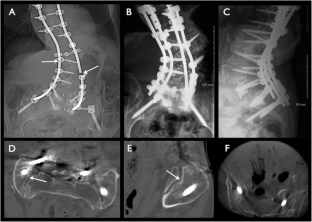 References
1.

Aebi M, Arlet V, Webb JK (2007) Pelvic fixation. In: AO spine manual. Thieme Medical Publishers, pp 460

2.

Allen BL Jr, Ferguson RL (1984) The Galveston technique of pelvic fixation with L-rod instrumentation of the spine. Spine 9:388–394

3.

Camp JF, Caudle R, Ashmun RD, Roach J (1990) Immediate complications of Cotrel-Dubousset instrumentation to the sacro-pelvis. A clinical and biomechanical study. Spine (Phila Pa 1976) 15:932–41

4.

Chang TL, Sponseller PD, Kebaish KM, Fishman EK (2009) Low profile pelvic fixation: anatomic parameters for sacral alar-iliac fixation versus traditional iliac fixation. Spine (Phila Pa 1976) 34:436–40

5.

Liguoro D, Viejo-Fuertes D, Midy D, Guerin J (1999) The posterior sacral foramina: an anatomical study. J Anat 195:301–304

6.

Martin CT, Witham TF, Kebaish KM (2011) Sacropelvic fixation: two case reports of a new percutaneous technique. Spine (Phila Pa 1976) 36:E618–21

7.

Moshirfar A, Rand FF, Sponseller PD, Parazin SJ, Khanna AJ, Kebaish KM, Stinson JT, Riley LH 3rd (2005) Pelvic fixation in spine surgery. Historical overview, indications, biomechanical relevance, and current techniques. J Bone Joint Surg Am 87:89–106

8.

O'Brien JR, Yu WD, Bhatnagar R, Sponseller P, Kebaish KM (2009) An anatomic study of the S2 iliac technique for lumbopelvic screw placement. Spine (Phila Pa 1976) 34:E439–42

9.

Sponseller P (2007) The S2 Portal to the ilium. Semin Spine Surg 2:83–87

10.

Sponseller PD, Zimmerman RM, Ko PS, Pull Ter Gunne AF, Mohamed AS, Chang TL, Kebaish KM (2010) Low profile pelvic fixation with the sacral alar iliac technique in the pediatric population improves results at two-year minimum follow-up. Spine (Phila Pa 1976) 35:1887–92
Conflicts of interest
None.
Electronic supplementary material
Below is the link to the electronic supplementary material.
About this article
Cite this article
Mattei, T.A., Fassett, D.R. Low-profile pelvic fixation with sacral alar-iliac screws. Acta Neurochir 155, 293–297 (2013). https://doi.org/10.1007/s00701-012-1560-5
Received:

Accepted:

Published:

Issue Date:
Keywords
Pelvic fixation

Sacral alar-iliac screws

Deformity surgery

Iliac bolts

Iliac wing screws

Degenerative scoliosis