Abstract
Purpose
Endoscopy meets increasing interest by spine surgeons. However, endoscopic results are diverging and many spinal endoscopic systems are difficult to apply and handle.
Methods
A system for endoscopic spinal surgery was developed where the main goals were: (1) easy intraoperative handling with standard microsurgical techniques, and (2) avoidance of a prolonged learning curve. The system consists of various dilators, two different work sheaths, two different 30° endoscopes, and an endoscope holder.
Results
Between August 2006 and April 2008, 80 spinal surgeries were performed in degenerative lumbar spine cases (mean age 52 years, range 22-85 years). Intraoperatively, the system was easy to handle. Standard microsurgical techniques were used. Mean surgical time scored 75 min (range 28–168 min). There was no intraoperative complication, no new postoperative deficit and no infection. In four cases, the endoscope was abandoned and the procedure microsurgically continued (5%). At the last follow-up (mean FU 10 months, range 2 weeks up to 21 months), 89% of the patient were pain free (71/80). Four patients suffered from recurrent disc prolapses (5%). Another five patients (6%) were not satisfied without evidence of re-prolaps. Of those who answered the questionnaire of patient satisfaction, 83% (45/54) considered their postoperative status as excellent, 13% as good (7/54), 4% were not satisfied (2/54).
Conclusions
The Easy GO system was easy and safe to handle with the standard bimanual microsurgical technique and good postoperative results. Further studies are needed to show a significant advantage of the technique in comparison to the microsurgical standard procedure.
This is a preview of subscription content, log in to check access.
Access options
Buy single article
Instant unlimited access to the full article PDF.
US$ 39.95
Price includes VAT for USA
Subscribe to journal
Immediate online access to all issues from 2019. Subscription will auto renew annually.
US$ 199
This is the net price. Taxes to be calculated in checkout.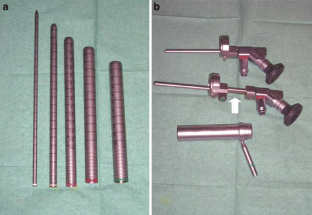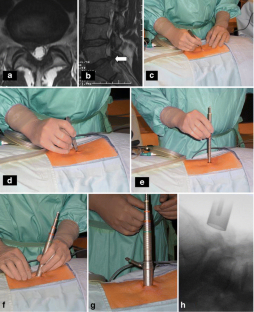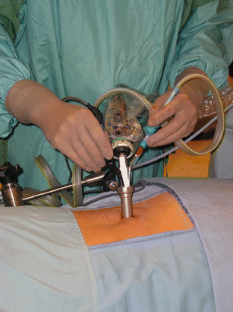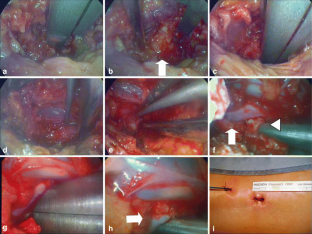 References
1.

Caspar W (1977) A new surgical procedure for lumbar disc herniation causing less tissue damage through a microsurgical approach. Adv Neurosurg 4:74–80

2.

Destandau J (2004) Neurochirurgie 50:6–10. Technical features of endoscopic surgery for lumbar disc herniation: 191 patients. French. doi:10.1016/S0028-3770(04)98300-2

3.

Dollinger V, Obwegeser AA, Gabl M, Lackner P, Koller M, Galiano K (2008) Sporting activity following discectomy for lumbar disc herniation. Orthopedics 31:756. doi:10.3928/01477447-20080801-05

4.

Foley KT, Smith MM, Rampersaud YR (1999) Microendoscopic approach to far-lateral lumbar disc herniation. Neurosurg Focus 7(5). doi:10.3171/foc.1999.7.5.8 Article 5

5.

Huang TJ, Hsu RW, Li YY, Cheng CC (2005) Less systemic cytokine response in patients following microendoscopic versus open lumbar discectomy. J Orthop Res 23:406–411. doi:10.1016/j.orthres.2004.08.010

6.

Ikuta K, Tono O, Tanaka T, Arima J, Nakano S, Sasaki K et al (2007) Surgical complications of microendoscopic procedures for lumbar spinal stenosis. Minim Invasive Neurosurg 50:145–149. doi:10.1055/s-2007-985152

7.

Jang JS, An SH, Lee SH (2006) Transforaminal percutaneous endoscopic discectomy in the treatment of foraminal and extraforaminal lumbar disc herniations. J Spinal Disord Tech 19:338–343. doi:10.1097/01.bsd.0000204500.14719.2e

8.

Katayama Y, Matsuyama Y, Yoshihara H, Sakai Y, Nakamura H, Nakashima S et al (2006) Comparison of surgical outcomes between macro discectomy and micro discectomy for lumbar disc herniation: a prospective randomized study with surgery performed by the same spine surgeon. J Spinal Disord Tech 19:344–347. doi:10.1097/01.bsd.0000211201.93125.1c

9.

Kawaguchi Y, Matsui H, Gejo R, Tsuji H (1998) Preventive measures of back muscle injury after posterior lumbar spine surgery in rats. Spine 23:2282–2288. doi:10.1097/00007632-199811010-00006

10.

Kawaguchi Y, Matsui H, Tsuji H (1996) Back muscle injury after posterior lumbar spine surgery. A histologic and enzymatic analysis. Spine 21:941–944. doi:10.1097/00007632-199604150-00007

11.

Kawaguchi Y, Matsui H, Tsuji H (1997) Changes in serum creatine phosphokinase MM isoenzyme after lumbar spine surgery. Spine 22:1018–1023. doi:10.1097/00007632-199705010-00015

12.

Kim JM, Lee SH, Ahn Y, Yoon DH, Lee CD, Lim ST (2007) Recurrence after successful percutaneous endoscopic lumbar discectomy. Minim Invasive Neurosurg 50:82–85. doi:10.1055/s-2007-982504

13.

Kim MJ, Lee SH, Jung ES, Son BG, Choi ES, Shin JH (2007) Targeted percutaneous transforaminal endoscopic diskectomy in 295 patients: comparison with results of microscopic diskectomy. Surg Neurol 68:623–631. doi:10.1016/j.surneu.2006.12.051

14.

Kim MS, Park KW, Hwang C, Lee YK, Koo KH, Chang BS et al (2009) Recurrence rate of lumbar disc herniation after open discectomy in active young men. Spine 34:24–29. doi:10.1097/BRS.0b013e31818f9116

15.

Kotil K, Tunckale T, Tatar Z, Koldas M, Kural A, Bilge T (2007) Serum creatine phosphokinase activity and histological changes in the multifidus muscle: a prospective randomized controlled comparative study of discectomy with or without retraction. J Neurosurg Spine 6:121–125. doi:10.3171/spi.2007.6.2.121

16.

Lee SH, Kang BU, Ahn Y, Choi G, Choi YG, Ahn KU et al (2006) Operative failure of percutaneous endoscopic lumbar discectomy: a radiological analysis of 55 cases. Spine 31:E285–E290. doi:10.1097/01.brs.0000216446.13205.7a

17.

Love J (1939) Removal of protruded intervertebral disc without laminectomy. Proc Staff Meet Mayo Clin 14:800

18.

McGirt MJ, Ambrossi GL, Datoo G, Sciubba DM, Witham TF, Wolinsky JP et al (2009) Recurrent disc herniation and long-term back pain after primary lumbar discectomy: review of outcomes reported for limited versus aggressive disc removal. Neurosurgery 64:338–344. doi:10.1227/01.NEU.0000337574.58662.E2

19.

Mixter WJ, Barr JS (1934) Rupture of the intervertebral disc with involvement of the spinal cord. N Engl J Med 211:210–214

20.

Oztürk C, Tezer M, Aydogan M, Sarier M, Hamzaoglu A (2006) Posterior endoscopic discectomy for the treatment of lumbar disc herniation. Acta Orthop Belg 72:347–352

21.

Righesso O, Falavigna A, Avanzi O (2007) Comparison of open discectomy with microendoscopic discectomy in lumbar disc herniations: results of a randomized controlled trial. Neurosurgery 61:545–549. doi:10.1227/01.NEU.0000290901.00320.F5

22.

Ruetten S, Komp M, Godolias G (2006) A new full-endoscopic technique for the interlaminar operation of lumbar disc herniations using 6-mm endoscopes: prospective 2-year results in 331 patients. Minim Invasive Neurosurg 49:80–87. doi:10.1055/s-2006-932172

23.

Ruetten S, Komp M, Merk H, Godolias G (2007) Use of newly developed instruments and endoscopes: full-endoscopic resection of lumbar disc herniations via the interlaminar and lateral transforaminal approach. J Neurosurg Spine 6:521–530. doi:10.3171/spi.2007.6.6.2

24.

Ryang YM, Oertel MF, Mayfrank L, Gilsbach JM, Rohde V (2007) Transmuscular trocar technique: minimal access spine surgery for far lateral lumbar disc herniations. Minim Invasive Neurosurg 50:304–307. doi:10.1055/s-2007-990292

25.

Sasaoka R, Nakamura H, Konishi S, Nagayama R, Suzuki E, Terai H et al (2006) Objective assessment of reduced invasiveness in MED. Compared with conventional one-level laminotomy. Eur Spine J 15:577–582. doi:10.1007/s00586-005-0912-8

26.

Schick U, Döhnert J, Richter A, König A, Vitzthum HE (2002) Microendoscopic lumbar discectomy versus open surgery: an intraoperative EMG study. Eur Spine J 11:20–26. doi:10.1007/s005860100315

27.

Shin DA, Kim KN, Shin HC, Yoon DH (2008) The efficacy of microendoscopic discectomy in reducing iatrogenic muscle injury. J Neurosurg Spine 8:39–43. doi:10.3171/SPI-08/01/039

28.

Wu X, Zhuang S, Mao Z, Chen H (2006) Microendoscopic discectomy for lumbar disc herniation: surgical technique and outcome in 873 consecutive cases. Spine 31:2689–2694. doi:10.1097/01.brs.0000244615.43199.07
Acknowledgments
The authors gratefully acknowledge the expert assistance in requiring the patient data of Mrs. Bode.
Disclosure / Disclaimer
The authors have no conflict of interest concerning the material or methods used in this study or the findings specified in this paper. MR Gaab is a consultant to the Karl Storz company.
Additional information
No financial support was received for this study. MR Gaab is a consultant to the Karl Storz company. Portions of the work were presented in abstract form at the 2008 meeting of the Southern Neurosurgical Society in Puerto Rico.
Electronic Supplementary Material
Below is the link to the electronic supplementary material.
About this article
Cite this article
Oertel, J.M.K., Mondorf, Y. & Gaab, M.R. A new endoscopic spine system: the first results with "Easy GO". Acta Neurochir 151, 1027–1033 (2009) doi:10.1007/s00701-009-0454-7
Received:

Accepted:

Published:

Issue Date:
Keywords
Endoscopic technique

Lumbar disc surgery

"Easy GO" system

Interlaminar approach

Lateral approach