Abstract
A taxonomic revision of Capanemia (Orchidaceae) was completed after morphological, nomenclatural and phylogenetic studies. Our analyses do not support the infrageneric classification (Capanemia sect. Capanemia and Capanemia sect. Planifolia) proposed by Pabst in the seventies and recovered Sanderella as the sister group of Capanemia, albeit with low statistical support. We herein recognized six species of Capanemia, proposed five new synonyms, designated one lectotype and excluded one name.
This is a preview of subscription content, log in to check access.
Access options
Buy single article
Instant access to the full article PDF.
US$ 39.95
Price includes VAT for USA
Subscribe to journal
Immediate online access to all issues from 2019. Subscription will auto renew annually.
US$ 199
This is the net price. Taxes to be calculated in checkout.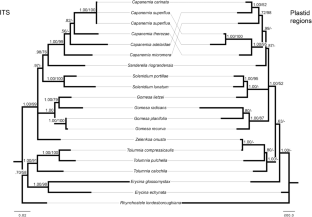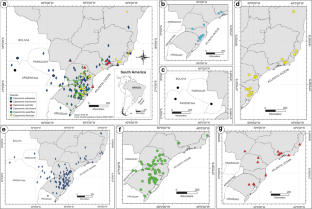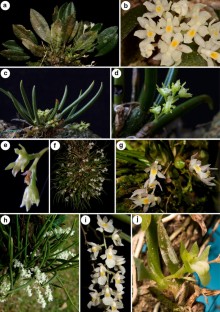 References
Alrich P, Higgins W (2011) Orchid genera lectotypes. Lankesteriana 11:69–94

Barbosa Rodrigues J (1877) Genera et species Orchidearum novarum 1. Typographia Nacional, Sebastianópolis

Barbosa Rodrigues J (1882) Genera et species Orchidearum novarum 2. Typographia Nacional, Sebastianópolis

Botanischer Garten und Botanisches Museum, Berlin-Dahlem. (1921) Register zum Notizblatt des Botanischen Gartens und Museums. Nr. 61-70. Notizbl Königl Bot Gart Berlin 7:545–560

Brummitt RK, Powell CE (1992) Authors of plant names. Royal Botanic Gardens, Kew, Richmond

Butzin F (1978) In Berlin existing types of Schlechter's orchid species. Willdenowia 8:401–407

Buzatto CR, Machado MC (2011) Capanemia Barb. Rodr. (Orchidaceae: Oncidiinae), a new record from Bahia State, Brazil. Acta Bot Brasil 25:249–251

Buzatto CR, Freitas EM, Silva APM, Lima LFP (2007) Levantamento florístico da Orchidaceae ocorrentes na Fazendo São Maximiano, Município de Guaíba, Rio Grande do Sul. Revista Brasil Bioci 5:1–25

Buzatto CR, Singer RB, van den Berg C (2010) O gênero Capanemia Barb. Rodr. (Oncidiinae: Orchidaceae) na Região Sul do Brasil. Revista Brasil Bioci 8:309–323

Buzatto CR, Singer RB, Romero-González GA, van den Berg C (2011) Typifications and new synonymies in Capanemia (Orchidaceae, Oncidiinae). Novon 21:28–33. https://doi.org/10.3417/2009058

Buzatto CR, Davies KL, Singer RB, Santos RP, van den Berg C (2012) A comparative survey of floral characters in Capanemia Barb. Rodr. (Orchidaceae: Oncidiinae). Ann Bot (Oxford) 109:135–144

Chase MW (2009) Subtribe Oncidiinae. In: Pridgeon AM, Chase MW, Cribb PJ, Rasmussen FN (eds) Genera Orchidacearum, vol. 5. Epidendroideae (part two). Oxford University Press, Oxford, pp 211–394

Chase MW, Cameron KM, Freudenstein JV, Pridgeon AM, Salazar GA, van den Berg C, Schuiteman A (2015) An updated classification of Orchidaceae. Bot J Linn Soc 177:151–174

Cogniaux A (1904) Quekettia Lindl. In: Martius CFP, Eichler AG (eds) Flora Brasiliensis, vol. 3, part 6. Typographia Regia, Monachii

Cuenoud P, Savolainen V, Chatrou LW, Powell M, Grayer RJ, Chase MW (2002) Molecular phylogenetics of the Caryophyllales based on 18SrDNA, rbcL, atpB and matK sequences. Amer J Bot 89:132–144

Desfeux C, Lejeune B (1996) Systematics of Euromediterranean Silene (Caryophyllaceae): evidence from a phylogenetic analysis using ITS sequences. Compt Rend Acad Sci Paris, Sér 3 Sci Vie 319:351–358

Doyle JJ, Doyle JL (1987) A rapid DNA isolation procedure for small quantities of fresh leaf tissue. Phytochem Bull 19:11–15

Dressler RL (1981) The orchids: natural history and classification. Harvard University Press, Cambridge

Dressler RL (1993) Phylogeny and classification of the orchid family. Dioscorides Press, Portland

Erixon P, Svennblad B, Britton T, Oxelman B (2003) Reliability of Bayesian posterior probabilities and bootstrap frequencies in phylogenetics. Syst Bio 52:665–673

ESRI (2013) ArcMap desktop: release 10.2.1. Environmental Systems Research Institute, Redlands

Felsenstein J (1985) Confidence limits on phylogenies: an approach using the bootstrap. Evolution 39:783–791

Fitch WM (1971) Towards defining the course of evolution: minimum change for a specific tree topology. Syst Zool 20:406–416

Garay LA (1967) Studies in American orchids VI. Bot Mus Leafl 21:249–264

Gouy M, Guindon S, Gascuel O (2010) Seaview version 4: a multiplatform graphical user interface for sequence alignment and phylogenetic tree building. Molec Biol Evol 27:221–224

Grisebach AHR (1879) Symbolae ad floram argentinam. Abh Königl Ges Wiss Göttingen 24:1–345

Hoehne FC (1939) Dezoito novas espécies para a flora do Brasil e outras regiões da América Meridional e Central. Arq Bot Estado São Paulo 1:41–49

Hoehne FC (1949) Iconografia de Orchidaceas do Brasil. Secretaria da Agricultura, São Paulo

Huelsenbeck JP, Ronquist F (2001) Mr. Bayes: Bayesian inference of phylogenetic trees. Bioinformatics 17:754–755

Izaguirre de Artucio P (1972) El genero Capanemia (Orchidaceae) en el Uruguay. Bol Soc Argent Bot 14:225–231

Izaguirre de Artucio P (2013) Novedades en orquídeas para Uruguay: segunda contribución. Plantas epífitas. Agroci Uruguay 17:22–35

Johnson AE (2001) Las orquídeas del Parque Nacional Iguazú. L.O.L.A, Buenos Aires

Katoh K, Standley DM (2013) MAFFT multiple sequence alignment software version 7: improvements in performance and usability. Molec Biol Evol 30:772–780

Kollmann L (2007) Capanemia lossiana L. Kollmann (Orchidaceae), uma espécie da mata Atlântica do Estado do Espírito Santo, Brazil. Bol Mus Biol Mello Leitão 22:5–9

Kränzlin FWL (1906) Eine neue Orchidacee aus Süd-Brasilien. Repert Spec Nov Regni Veg 2:57

Kränzlin FWL (1909) Einige neue Orchidaceen. Repert Spec Nov Regni Veg 7:38–41

Kränzlin FWL (1921) Orchidaceae dusenianae novae. Ark Bot 16:1–30

Kress WJ, Prince LM, Williams KJ (2002) The phylogeny and a new classification of the gingers (Zingiberaceae): evidence from molecular data. Amer J Bot 89:1682–1696

Miller MA, Pfeiffer W, Schwartz T (2010) Creating the CIPRES Science Gateway for inference of large phylogenetic trees. In: Proceedings of the gateway computing environments workshop (GCE), 1–8. New Orleans, Louisiana

Neubig KM, Williamns NH, Whitten WM, Pupulin F (2011) Molecular phylogenetics and the evolution of fruit and leaf morphology of Dichaea (Orchidaceae: Zygopetalinae). Ann Bot (Oxford) 104:457–467

Neubig KM, Whitten WM, Williams NW, Blanco MA, Endara L, Burleigh JG, Silvera K, Cushman JC, Chase MW (2012) Generic recircumscriptions of Oncidiinae (Orchidaceae: Cymbidieae) based on maximum likelihood analysis of combined DNA datasets. Bot J Linn Soc 168:117–146

Nylander JAA (2004) MRModeltest v2. Program distributed by the author. Evolutionary Biology Centre, Uppsala University, Uppsala

Pabst GFJ (1956) Additamenta ad orchidilogiam brasiliensem II. Arch Jard Bot Rio de Janeiro 14:5–36

Pabst GFJ (1967) Additamenta ad orchidologiam brasiliensem -V. In: Congresso da Sociedade Botânica do Brasil, 15, 1964, Porto Alegre. Anais. Universidade Federal do Rio Grande do Sul, Porto Alegre, pp 109–113

Pabst GFJ (1972) El género Capanemia Rodr. Orquideologia 7:215–228, 237–242

Pabst GFJ (1973) El género Capanemia Barb. Rodr. Orquideologia 8:141–143

Pabst GFJ, Dungs F (1975) Orchidaceae Brasilienses, Band I. Hildesheim, Brucke

Pabst GFJ, Dungs F (1977) Orchidaceae Brasilienses, Band II. Hildesheim, Brucke

Paithankar KR, Prasad KSN (1991) Precipitation of DNA by polyethylene glycol and ethanol. Nucl Acids Res 19:1346

Pansarin ER, Pansarin LM (2010) The family Orchidaceae in the Serra do Japi, São Paulo state, Brazil. Springer, Wien

Porto PC, Brade AC (1937) Orchidaceae novae brasilienses II. Arq Inst Biol Veg 3:131–139

Rech AR, Rosa YBCJ, Rosa-Junior EJ (2011) Levantamento e características ecológicas de Orchidaceae da mata ciliar do Rio Dourados, Dourados-MS. Revista Árv 35:717–724

Reichenbach GH (1863) Orchides. In: Mueller C (ed) Annales Botanices Systematicae, vol. 6. Sumptibus Ambrosii Abel, Lipsiae, pp 167–933

Rogalski JM, Zanin EM (2003) Composição florística de epífitos vasculares no estreito de Augusto César, Floresta Estacional Decidual do Rio Uruguai, RS, Brazil. Revista Brasil Bot 26:551–556

Rolfe RA (1891) New or noteworthy plants. Gard Chron 1:728–729

Ronquist F, Teslenko M, Van der Mark P, Ayres DL, Darling A, Höhna S, Larget B, Liu L, Suchard MA, Huelsenbeck JP (2012) Mrbayes 3.2: efficient Bayesian phylogenetic inference and model choice across a large model space. Syst Biol 61:539–542

Sá MR (2001) O botânico e o mecenas: João Barbosa Rodrigues e a ciência no Brasil na segunda metade do século XIX. Hist Ci Saúde 8:899–924

Sampaio AJ (1916) Plantae novae vel minus cognitae I Orchidaceae. Arq Mus Nac Rio de Janeiro 18:57–63

Sang T, Crawford DJ, Stuessy TF (1997) Chloroplast DNA phylogeny, reticulate evolution, and biogeography of Paeonia (Paeoniaceae). Amer J Bot 84:1120–1136

Schlechter R (1914) Neue und seltene garten-orchideen. Orchis 8:131–137

Schlechter R (1918) Die gattung Sigmatostalix Rchb.f. In: Fedde F (ed) Repertorium novarum specierum regni vegetabilis, vol 15. Gebrüder Borntraeger, Berlin, pp 139–148

Schlechter R (1919) Orchidaceae novae, in caldariis horti Dahlemensis cultae II. Notizbl Bot Gart Berlin-Dahlem 1:323–330

Schlechter R (1925) Besprechung der gattungen und arten. Repert Spec Nov Regni Veg Beih 35:25–122

Schlechter R (1926) Beiträge zur kenntnis der orchidaceenflora von Parana II. Repert Spec Nov Regni Veg 23:49–71

Singer RB, Coccuci AA (1999a) Pollination mechanism in Southern Brazilian orchids which are exclusively or mainly pollinated by halictid bees. Pl Syst Evol 217:101–117

Singer RB, Coccuci AA (1999b) Pollination mechanism if four sympatric southern Brazilian Epidendroideae orchids. Lindleyana 14:47–56

Sprunger S, Cribb PJ, Toscano de Brito ALV (1996) João Barbosa Rodrigues: iconographie des orchidées du Brésil, vol. 1, the illustrations. Reinhardt, Basel

Staden R, Judge DP, Bonfield JK (2003) Analysing sequences using the Staden Package and EMBOSS. In: Krawetz SA, Womble DD (eds) Introduction to bioinformatics: a theoretical and practical approach. Humana Press, Totowa, pp 393–410

Stafleu FA, Cowan RS (1976–1988) Taxonomic literature. Scheltema & Holkema, Utrecht

Stamatakis A (2006) RAxML-VI-HPC: maximum likelihood-based phylogenetic analyses with thousands of taxa and mixed models. Bioinformatics 22:2688–2690

Stamatakis A, Hoover P, Rougemont J (2008) A rapid bootstrap algorithm for the RAxML web servers. Syst Biol 57:758–771

Sun Y, Skinner DZ, Liang GH, Hulbert SH (1994) Phylogenetic analysis of Sorghum and related taxa using internal transcribed spacers of nuclear ribosomal DNA. Theor Appl Genet 89:26–32

Swofford DL (2002) PAUP: phylogenetic analysis using parsimony (*and other methods). Version 4.0. Illinois Natural History Survey, Champaign

Thiers B (2016) Index herbariorum. New York Botanical Garden, Bronx. Available at: http://sciweb.nybg.org/science2/IndexHerbariorum.asp. Accessed 19 Jan 2016

Toscano de Brito ALV (1996) The use of concentrated ammonia as an excellent medium for the restoration of orchid pollinaria: an example from the Ornithocephalinae (Orchidaceae). Lindleyana 11:205–210

Turland NJ, Wiersema JH, Barrie FR, Greuter W, Hawksworth DL, Herendeen PS, Knapp S, Kusber W-H, Li D-Z, Marhold K, May TW, McNeill J, Monro AM, Prado J, Price MJ, Smith GF (eds) (2018) International code of nomenclature for algae, fungi, and plants (Shenzhen code) adopted by the nineteenth international botanical congress Shenzhen, China, July 2017. Regnum Vegetabile 159. Koeltz Botanical Books, Glashütten. https://doi.org/10.12705/Code.2018

Williams NH, Chase MC, Fulcher T, Whitten WM (2001) Molecular systematics of the Oncidiinae based on evidence from four DNA sequence regions: expanded circumscriptions of Cyrtochillum, Erycina, Otoglossum, and Trichocentrum and a new genus (Orchidaceae). Lindleyana 16:113–139
Acknowledgments
CRB thanks CAPES (Coordenadoria de Aperfeiçoamento do Pessoal de Nível Superior) for his scholarship. CRB, RBS and CvdB thank the Conselho Nacional de Desenvolvimento Científico e Tecnológico (CNPq, Projects Reflora 563556/2010–2 and FAPESB PNX0014/2009) for financial support. CRB thanks Michelle Helena Nervo for preparing the maps and Luiz Filipe Klein Varella who kindly sent us photographs of the Capanemia carinata. The curators and staff at AMES, B, BM, GOET, HB, HBR, HUEFS, MBM, PACA, RB, RSPF, SP and W are acknowledged for their courtesy and support during our visits and stays; and two anonymous reviewers who helped us improve a first version of this manuscript. Funding was provided by Fundação de Amparo à Pesquisa do Estado da Bahia (BR) (Grant No. 0014-2009).
Additional information
Publisher's Note
Springer Nature remains neutral with regard to jurisdictional claims in published maps and institutional affiliations.
Handling Editor: Ricarda Riina.
Electronic supplementary material
Below is the link to the electronic supplementary material.
Information on Electronic Supplementary Material
Information on Electronic Supplementary Material
Online Resource 1. Combined matrix of Capanemia and outgroups (ITS, matK-trnK and psbA-trnH).
About this article
Cite this article
Buzatto, C.R., Singer, R.B., van den Berg, C. et al. Capanemia (Oncidiinae): an orchid genus revised and simplified. Plant Syst Evol 306, 25 (2020). https://doi.org/10.1007/s00606-020-01632-4
Received:

Accepted:

Published:
Keywords
Lectotypification

Molecular phylogeny

New synonyms

Nomenclature

Orchidaceae

Taxonomic revision