Acid-base-governed deep eutectic solvent-based microextraction combined with magnetic solid-phase extraction for determination of phenolic compounds
Abstract
A sensitive method based on the use of green deep eutectic solvents (DESs) was designed for the determination of bisphenol-A, bisphenol-AF, tetrabromobisphenol-A and 4-tert.-octylphenol followed by HPLC. This method takes advantage of magnetic solid-phase extraction purification and acid-base induced DES liquid-liquid microextraction. The Mg(II)-Al(III) layered double hydroxide-coated magnetic nanoparticles were selected to purify samples. The DESs were systematically prepared by a range of medium-chain saturated fatty acids (C8-C12) and D,L-menthol. The melting point and the extraction efficiency of phenolic compounds were adjusted by changing the carbon chain length of fatty acid in suitable proportions. Acid-base induction significantly improves the extraction efficiency. The method has lower limits of detection ranging from 6 to 11 ng L−1, good linearity (0.05–500 μg L−1) and high enrichment factors (86–91). The method was successfully applied for the determination of four phenolic compounds in beverage samples. The recoveries ranged from 84.4 to 101.3%.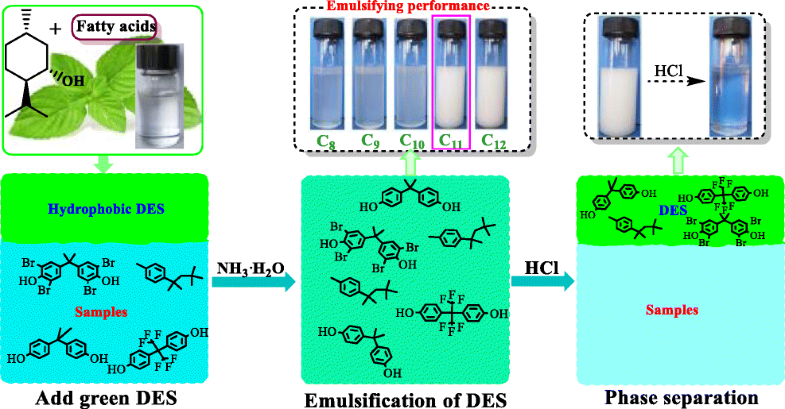 Keywords
Acid-base induction 
Menthol 
Fatty acids 
Green solvents 
Magnetic nanoparticles 
Mg(II)-Al(III) layered double hydroxide 
Notes
Acknowledgments
This work was greatly supported by the Analysis and Testing Foundation of Kunming University of Science and Technology (2016 M20152118089 and 2019P20173118001). Yang Dezhi gratefully acknowledges financial support from the 2018 and 2019 Kunming University of Science and Technology Graduate Research, and International Exchange Project Fund and Yunnan Province Ph.D. Academic Newcomer Fund.
Compliance with ethical standards
Conflict of interest
There is no conflict of interest about this article.
Declaration of interests
The authors declare that they do not have competing financial interests or personal relationships that may influence the work reported in this paper.
Copyright information
© Springer-Verlag GmbH Austria, part of Springer Nature 2020