Cerium(III)-doped MoS2 nanosheets with expanded interlayer spacing and peroxidase-mimicking properties for colorimetric determination of hydrogen peroxide
Abstract
Molybdenum disulfide (MoS2) nanosheets (NSs) with an 8.1 Å interlayer spacing were heavily loaded with cerium(III) ions by a one-step hydrothermal method. The material thus obtained has a strong peroxidase-like (POx-like) activity. The introduction of the large Ce(III) ion enlarges the interlayer distance of MoS2NSs. It also supports shuttling and transport of substrate, intermediates and electrons. It also increases the specific surface of MoS2. This results in a larger number of active sites, accelerates the contact between substrate and catalytic surface, and improves the kinetics of the catalytic reaction. The nanomaterial catalyzes the oxidation of colorless 3,3′,5,5′-tetramethylbenzidine by hydrogen peroxide (H2O2 ) to give a blue-green product with an absorption maximum at 652 nm. The assay has a linear response in the 1–50 μM H2O2 concentration range and a 0.47 μM limit of detection. The colorimetric method was applied to real milk samples, and high recoveries (98.4%–108.0%) and repeatability were obtained.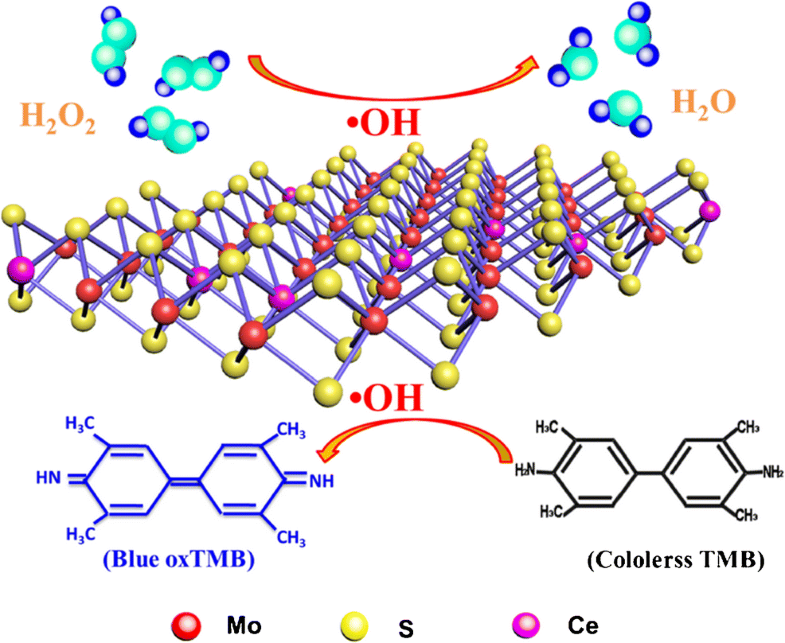 Keywords
Peroxidase mimic 
Enzyme mimics 
Colorimetric assay 
TMB-H2O2 system 
One-pot synthesis 
Catalytic mechanism 
Notes
Acknowledgements
The work has been supported by the National Science Foundation of China (21566030), and Natural science foundation of Inner Mongolia autonomous region (2015MS0217), and the Scientific Research Program of Higher Education Institutions of Inner Mongolia Autonomous Region (B2016101), and the Scientific research project of Inner Mongolia University of Technology (X201307).
Compliance with ethical standards
The work of this study conforms to ethical standards.
Conflict of interest
There are no conflicts to declare.
Copyright information
© Springer-Verlag GmbH Austria, part of Springer Nature 2020