Abstract
A magnetic bar carbon paste electrode (MBCPE) modified with cobalt ferrite magnetic electrospun nanofibers (NFs) and graphene oxide (GO) is described for the electrochemical determination of rutin. The NFs were prepared by electrospinning using a solution that contains poly(vinyl pyrrolidone) (PVP) and Co(II) and Fe(III) nitrates as metal sources. Carbon paste was prepared by hand mixing GO, CoFe2O4 NFs and graphite. This paste was then packed into the end of a glass tube and a very small magnetic bar was inserted into the tube to be coated with the carbon paste to provide a magnetic field. The MBCPE was used to attract the magnetic nanofibers to the electrode surface. Cyclic voltammetry and differential pulse voltammetry techniques were used to study the electrochemical behavior of rutin on the modified MBCPE at pH 2.5. The electrocatalytic current, best measured at a potential of around 0.5 V (vs. Ag/AgCl), varies with the rutin concentration in two linear ranges, viz. from 0.001–0.1 nM and from 1.0–100 nM, with a 0.94 pM detection limit. The electrode was successfully applied to the determination of rutin in lemon, red apple, lime and orange juices.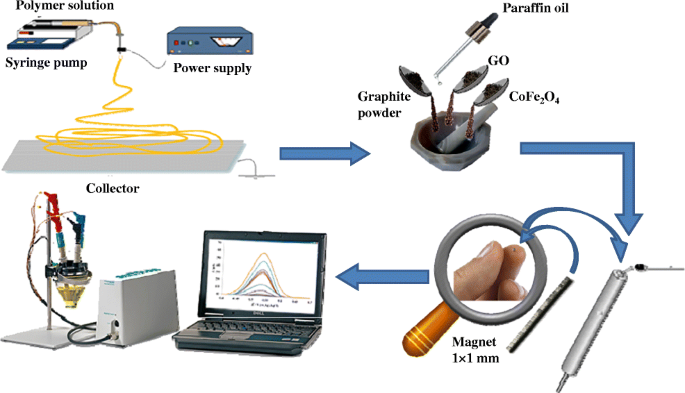 This is a preview of subscription content, log in to check access.
Access options
Buy single article
Instant access to the full article PDF.
US$ 39.95
Price includes VAT for USA
Subscribe to journal
Immediate online access to all issues from 2019. Subscription will auto renew annually.
US$ 199
This is the net price. Taxes to be calculated in checkout.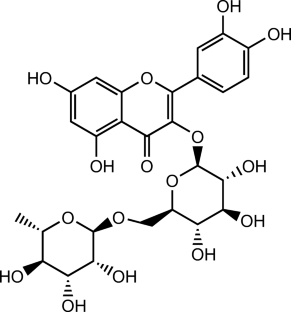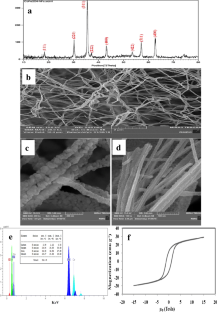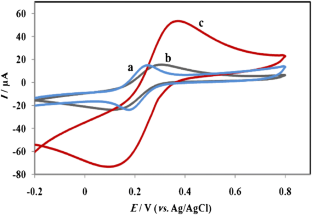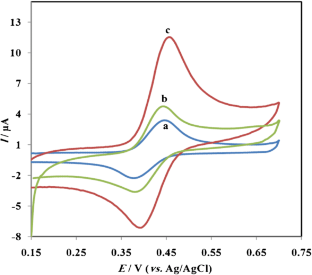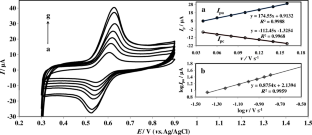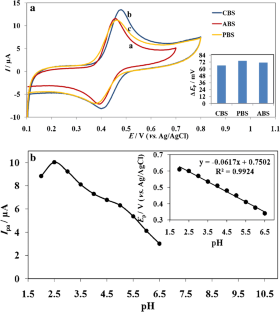 References
1.

De Martino L, Mencherini T, Mancini E, Aquino RP, De Almeida LF, De Feo V (2012) In vitro phytotoxicity and antioxidant activity of selected flavonoids. Int J Mol Sci 13:5406–5419

2.

Papadopoulou A, Green RJ, Frazier RA (2005) Interaction of flavonoids with bovine serum albumin a fluorescence quenching study. J Agric Food Chem 53:158–163

3.

Undeger S, Aydin S, Basaran AA, Basaran N (2004) The modulating effects of quercetin and rutin on the mitomycin C induced DNA damage. Toxicol Lett 151:143–149

4.

Ren W, Qiao Z, Wang H, Zhu L, Zhang L (2003) Flavonoids: promising anticancer agents. Med Res Rev 23:519–534

5.

Teresita G, Ester RA, Osvaldo JA, Eugenia PL (2001) Anti-inflammatory properties of plant flavonoids. Effects of rutin, quercetin and hesperidin on adjuvant arthritis in rat. II Farmaco 56:683–687

6.

Tyszczuk K (2009) Sensitive voltammetric determination of rutin at an in situ platedlead film electrode. J Pharm Biomed Anal 49:558–561

7.

Yang S, Li G, Wang G, Zhao J, Qiao Z, Qu L (2015) Decoration of chemically reduced graphene oxide modified carbon paste electrode with yttrium hexacyanoferrate nanoparticles for nanomolar detection of rutin. Sensors Actuators B Chem 206:126–132

8.

Kamalakkannan N, Prince PS (2006) Antihyperglycaemic and antioxidant effect of rutin, a polyphenolic flavonoid, in streptozotocin-induced diabetic wistar rats. Basic Clin Pharmacol Toxicol 98:97–103

9.

Xu H, Li Y, Tang HW, Liu CM, Wu QS (2010) Determination of rutin with UV-vis spectrophotometric and laser-induced fluorimetric detections using a non-scanning spectrometer. Anal Lett 43:893–904

10.

Du J, Li Y, Lu J (2007) Flow injection chemiluminescence determination of rutin based on its enhancing effect on the luminol-ferricyanide/ferrocyanide system. Anal Lett 34:1741–1748

11.

Sun Y, Guo T, Sui Y, Li F (2003) Quantitative determination of rutin, quercetin, and adenosine in FlosCarthami by capillary electrophoresis. J Sep Sci 26:1203–1206

12.

Wu H, Chen M, Fan Y, Elsebaei F, Zhu Y (2012) Determination of rutin and quercetin in Chinese herbal medicine by ionic liquid-based pressurized liquid extraction–liquid chromatography–chemiluminescence detection. Talanta 88:222–229

13.

Yin H, Zhou Y, Cui L, Liu T, Ju P, Zhu L, Ai S (2011) Sensitive voltammetric determination of rutin in pharmaceuticals, human serum, and traditional Chinese medicines using a glassy carbon electrode coated with graphene nanosheets, chitosan, and a poly(amidoamine) dendrimer. Microchim Acta 173:337–345

14.

Temerk YM, Ibrahim HS, Schuhmann W (2006) Cathodic adsorptive stripping voltammetric determination of the antitumor drug rutin in pharmaceuticals, human urine, and blood serum. Microchim Acta 153:7–13

15.

Xia YN, Yang PD, Sun YG, Wu YY, Mayers B, Gates B, Yin YD, Kim F, Yan YQ (2003) One-dimensional nanostructures: synthesis, characterization, and applications. Adv Mater 15:353–389

16.

Zhu H, Zhang S, Huang YX, Wu L, Sun S (2013) Monodisperse MxFe3–xO4 (M = Fe, cu, co, Mn) nanoparticles and their electrocatalysis for oxygen reduction reaction. Nano Lett 13:2947–2951

17.

Sangmanee M, Maensiri S (2009) Nanostructures and magnetic properties of cobalt ferrite (CoFe2O4) fabricated by electrospinning. Appl Phys A-Mater 97:167–177

18.

Valenzuela R (2005) Magnetic ceramics. 1st ed, Cambridge University Press, Cambridge

19.

Yarin AL, Koombhongse S, Reneker DH (2001) Bending instability in electrospinning of nanofibers. J Appl Phys 89:3018–3026

20.

Rutledge GC, Fridrikh SV (2007) Formation of fibers by electrospinning. Adv Drug Deliv Rev 59:1384–1391

21.

Muralikrishna S, Cheunkar S, Lertanantawong B, Ramakrishnappa T, Nagaraju DH, Surareungchai W, Balakrishna RG, Reddy KR (2016) Graphene oxide-cu (II) composite electrode for non-enzymatic determination of hydrogen peroxide. J Electroanal Chem 776:59–65

22.

Greenfield H, Southgate DAT (2003) Food composition data: production, management and use. Food and Agriculture Organization of the United Nations, Rome

23.

Laviron E (1979) General expression of the linear potential sweep voltammogram in the case of diffusionless electrochemical systems. J Electroanal Chem 101:19–28

24.

Bard AJ, Faulkner LR (2006) Electrochemical methods: fundamentals and applications, 2nd edn. Wiley, New York

25.

Mokhtari A, Karimi-Maleh H, Ensafi AA, Beitollahi H (2012) Application of modified multiwall carbon nanotubes paste electrode for simultaneous voltammetric determination of morphine and diclofenac in biological and pharmaceutical samples. Sensors Actuators B Chem 169:96–105

26.

He Q, Wu Y, Tian Y, Li G, Liu J, Deng P, Chen D (2019) Facile electrochemical sensor for nanomolar rutin detection based on magnetite nanoparticles and reduced graphene oxide decorated electrode. Nanomaterials 9:115–130

27.

Yalikun N, Mamat X, Li Y, Hu X, Wang P, Hu G (2019) Taraxacum-like mg-Al-Si@porous carbon nanoclusters for electrochemical rutin detection. Microchim Acta 186:379–386

28.

Xing R, Yang H, Li S, Yang J, Zhao X, Wang Q, Liu S, Liu X (2016) A sensitive and reliable rutin electrochemical sensor based on palladium phthalocyanine-MWCNTs-Nafion nanocomposite. J Solid State Electrochem 21:1219–1228

29.

Arvand M, Farahpour M, Sayar Ardaki M (2018) Electrochemical characterization of in situ functionalized gold organosulfur self-assembled monolayer with conducting polymer and carbon nanotubes for determination of rutin. Talanta 176:92–101

30.

Liu C, Huang J, Wang L (2018) Electrochemical synthesis of a nanocomposite consisting of carboxy-modified multi-walled carbon nanotubes, polythionine and platinum nanoparticles for simultaneous voltammetric determination of myricetin and rutin. Microchim Acta 185:414–423

31.

Wang Z, Yu G, Xia J, Zhang F, Liu Q (2018) One-step synthesis of a methylene blue@ ZIF-8-reduced graphene oxide nanocomposite and its application to electrochemical sensing of rutin. Microchim Acta 185:279–286

32.

Karabiberoğlu ŞU, Dursun Z (2018) Fabrication of nickel coated graphene oxide composite electrode for sensitive determination of Rutin. J Electroanal Chem 815:76–85

33.

Cui S, Li L, Ding Y, Zhang J, Yang H, Wang Y (2017) Mesoporous NiCo2O4-decorated reduced graphene oxide as a novel platform for electrochemical determination of rutin. Talanta 164:291–299
Acknowledgments
We gratefully acknowledge the support of this work by Guilan University research council.
Additional information
Publisher's note
Springer Nature remains neutral with regard to jurisdictional claims in published maps and institutional affiliations.
Electronic supplementary material
About this article
Cite this article
Ansari, S.H., Arvand, M. A magnetic nanocomposite prepared from electrospun CoFe2O4 nanofibers and graphene oxide as a material for highly sensitive determination of rutin. Microchim Acta 187, 103 (2020). https://doi.org/10.1007/s00604-019-4068-3
Received:

Accepted:

Published:
Keywords
Flavonoids

Magnetic bar carbon paste electrode

Spinel ferrites

Electrospinning

Modified electrode

Nanoprobe

Voltammetry

Metal oxide