CeO2/C nanowire derived from a cerium(III) based organic framework as a peroxidase mimic for colorimetric sensing of hydrogen peroxide and for enzymatic sensing of glucose
Abstract
A metal organic framework obtained from cerium(III) and trimesic acid was pyrolyzed to obtain a novel nanostructure referred to as CeO2/C nanowires. The experimental parameters temperature, precursor and gas atmosphere were optimized. The nanowires show good dispersion and a large number of oxygen vacancies, and this leads to excellent peroxidase-like activity. The nanowires are stable at pH values between 2 and 10, and in the 4–80 °C temperature range. The peroxidase-mimicking activity was exploited in a sensitive colorimetric method for determination of H2O2 by using 3,3′,5,5′-tetramethylbenzidine as the chromogenic substrate. The absorbance at 652 nm increases linearly in the 0.5 to 100 μM H2O2 concentration range. If glucose oxidase is added to a solution containing glucose, H2O2 will be enzymatically produced. This was exploited to design a new method for determination of glucose. The optical response is linear in the 1–100 μM glucose concentration range, and the detection limit is 0.69 μM (at S/N = 3). The method was successfully applied to the determination of glucose in serum samples.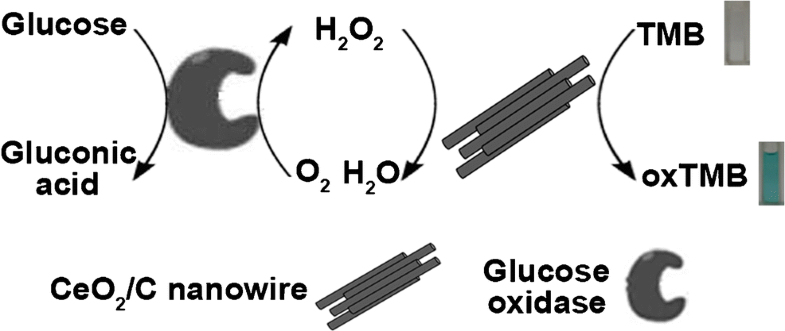 Keywords
MOF pyrolysis strategy 
Hybrid nanostructures 
Ceria 
Nanozymes 
Oxygen vacancies 
Enzymatic assay 
Notes
Acknowledgements
The financial support of the research was provided by the Natural Science Foundation of China (51678485) and the Research Funding Project of Yangtze Normal University (No. 011160030).
Compliance with ethical standards
The author(s) declare that they have no competing interests.
Copyright information
© Springer-Verlag GmbH Austria, part of Springer Nature 2019