Colorimetric determination of the activities of tyrosinase and catalase via substrate-triggered decomposition of MnO2 nanosheets
Abstract
The authors describe novel colorimetric assays for tyrosinase (TYR) and catalase (CAT) based on the substrate-triggered decomposition of MnO2 nanosheets (NSs). The MnO2 NSs can act as oxidase mimics that catalyze the oxidation of the substrate tetramethylbenzidine (TMB) to form a blue dye with an absorption maximum at 652 nm. The oxidase-mimicking activity of the MnO2 NSs is inhibited by dopamine (DA)/hydrogen peroxide (H2O2) due to their decomposition of the MnO2 NSs. TYR catalyzes the oxidation of DA while CAT can decompose H2O2 into water and oxygen. Therefore, the oxidase-mimicking activity of MnO2 NSs is restored in the presence of both enzymes and their substrates. Based on the competitive consumption of substrates between enzymes and MnO2 NSs, a colorimetric method for determination of enzyme activity and its substrate is developed. The detection limits for TYR and CAT are 6 mU·mL−1 and 33 mU·mL−1, respectively.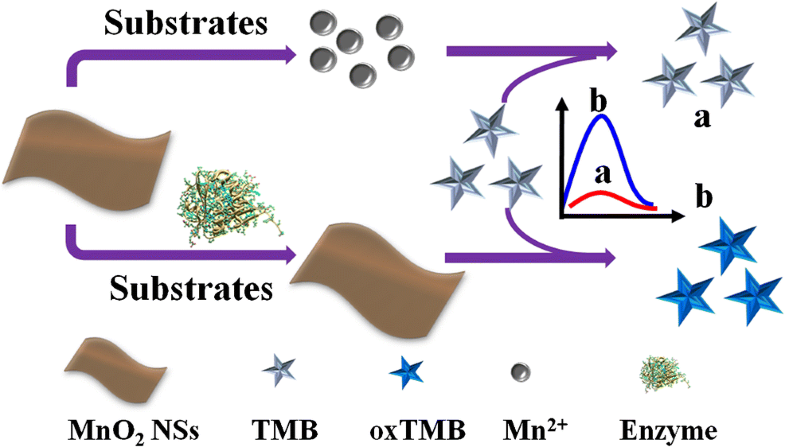 Keywords
Two-dimensional nanomaterials 
Oxidase mimic 
Nanozyme 
Dopamine 
Hydrogen peroxide 
3,3′,5,5'-Tetramethylbenzidine 
Catalytic oxidation 
Enzyme activities 
Human serum analysis 
Notes
Acknowledgements
This work is kindly supported by the National Natural Science Foundation of China (Nos. 21405094, 21775088, and 81403051), the Natural Science Foundation of Qinghai Province of China (2016-ZJ-955), and the Development Project of Qinghai Key Laboratory (No. 2017-ZJ-Y10), and the Student Research Training Program of Qufu Normal University (2018A055).
Compliance with ethical standards
Conflict of interest
The authors declare that they have no competing interest.
Copyright information
© Springer-Verlag GmbH Austria, part of Springer Nature 2019