Switchable DNA tweezer and G-quadruplex nanostructures for ultrasensitive voltammetric determination of the K-ras gene fragment
Abstract
Voltammetric detection of the K-ras gene fragment was accomplished through the combined application of (a) a switchable DNA nanostructure, (b) the use of hairpin probe and exonuclease III (Exo III)-assisted signal amplification, (c) a split G-quadruplex, and (d) by exploiting the redox activity of DNAzyme. Three assistant oligonucleotides were designed to construct a DNA tweezer on a gold electrode. It is in "open state" in the absence of K-ras DNA. Then, a hairpin probe was introduced, whose stem-loop structure can be opened through hybridization with the K-ras DNA. Exo III is added which hydrolyzes the complementary region of the hairpin sequence to release a single-stranded rest fragment. The ssDNA hybridizes with the DNA tweezer on the electrode which thereby is switched to the "closed state". This leads to the formation of G-quadruplex due to the shortened distance of the split G-quadruplex-forming sequences in the tweezer. The voltammetric signal of the G-quadruplex-hemin complex, with a peak near −0.3 V vs. Ag/AgCl, is used as the signal output. Under the optimal conditions, the current response in differential pulse voltammetry (DPV) increases linearly with the concentration of K-ras DNA in the range of 0.01–1000 pM, and the detection limit is 2.4 fM. The assay can clearly discriminate K-ras DNA from a single-base mutation. The method has excellent selectivity and was applied to the determination of K-ras DNA in (spiked) serum samples.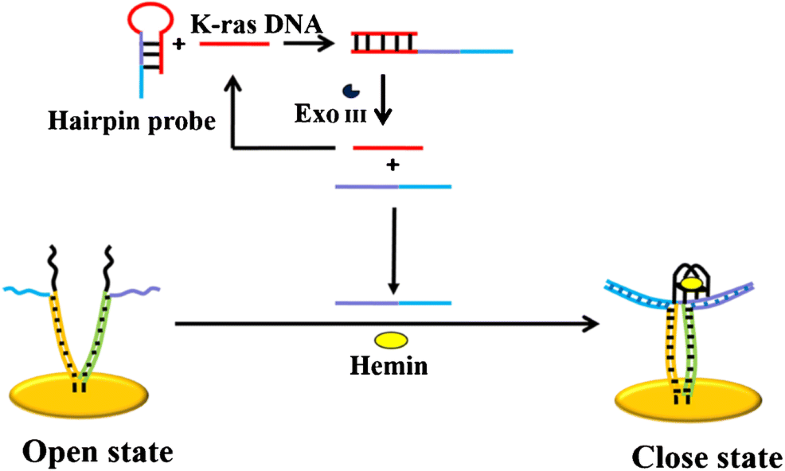 Keywords
Electrochemical DNA biosensor 
Target recycling amplification 
Differential pulse voltammetry 
Hemin 
Gold electrode 
Electrochemical impedence spectroscopy 
Human serum samples 
Notes
Acknowledgements
This work was supported by the National Natural Science Foundation of China (no. 31271860), the Six Talent Peaks Project in Jiangsu Province (JY-078) and National First-class Discipline Program of Light Industry Technology and Engineering (LITE2018-07).
Compliance with ethical standards
Conflict of interest
The author(s) declare that they have no competing interests.
Ethical approval
All procedures were approved by medical ethics committee of Jiangnan University.
Copyright information
© Springer-Verlag GmbH Austria, part of Springer Nature 2019