Photoelectrochemical aptasensor for lead(II) by exploiting the CdS nanoparticle-assisted photoactivity of TiO2 nanoparticles and by using the quercetin-copper(II) complex as the DNA intercalator
Abstract
A photoelectrochemical (PEC) aptasensor for Pb(II) detection is described. A nanocomposite consisting of CdS (2.5 μm) and TiO2 nanoparticles (10 nm) was used as a photoactive material, and gold nanochains (Au NCs) as the support for immobilization of the Pb(II)-binding aptamer. The quercetin-copper(II) complex was further employed as the intercalator for the improvement of the photoactivity by embedding it into dsDNA. In the presence of Pb(II), a Pb(II)-stabilized G-quadruplex was formed between Pb(II) and DNA S1. This is accompanied by unwinding of the dsDNA and the release of the quercetin-copper(II) complex from the surface of the sensor. This results in a decrease of the photocurrent that drops linearly from 5.0 × 10−12 to 1.0 × 10−8 mol·L−1 Pb(II) concentration range with a detection limit of 1.6 × 10−12 mol·L−1. The method was applied to the determination of Pb(II) in various samples and gave satisfactory results.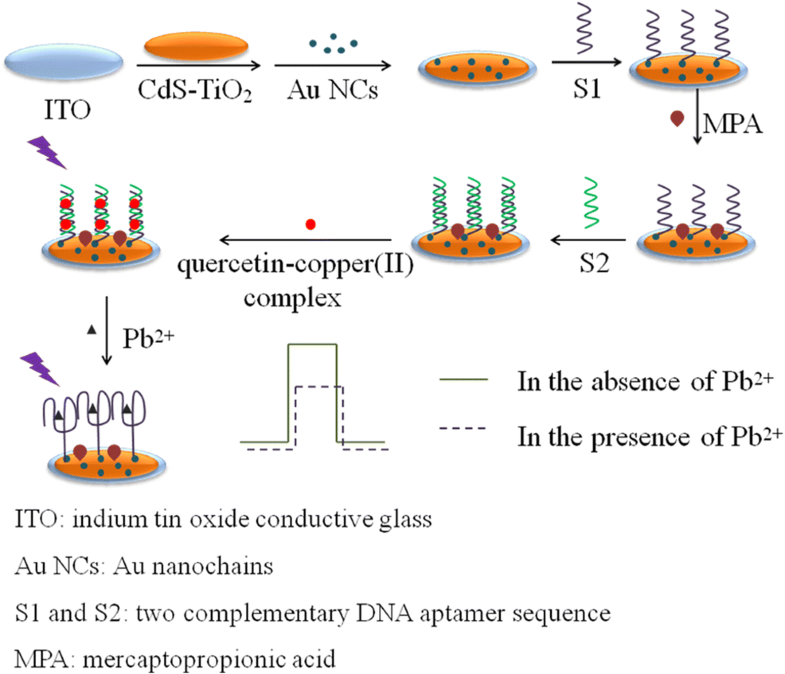 Keywords
Aptamer 
G-quadruplex 
CdS-TiO2 nanocomposite 
Quercetin-copper(II) 
Photoelectrochemistry 
Lead ion 
Notes
Acknowledgments
This work was supported by National Natural Science Foundation of China (21665007), Hainan Provincial Natural Science Foundation of China (219QN207), and Key Science and Technology Program of Haikou City (2017042).
Copyright information
© Springer-Verlag GmbH Austria, part of Springer Nature 2019