Solid-phase nuclear magnetic resonance immunoassay for the prostate-specific antigen by using protein-coated magnetic nanoparticles
Abstract
A solid phase NMR-based sandwich immunoassay for the prostate-specific antigen (PSA) is presented. Carbon-encapsulated iron nanoparticles were functionalized with bovine serum albumin, coupled to monoclonal antibodies, and then used as magnetic labels. A nitrocellulose membrane with 8-μm pores was coated with capture antibodies and subsequently incubated with a serum sample and a suspension of the nanoconjugate. Test strips were placed in a portable homemade NMR relaxometer. Magnetic nanoparticles attached to nitrocellulose decrease the T2 relaxation time of the water protons located inside the pores of the membrane. Thus, T2 is inversely proportional to the concentration of the antigen (PSA) in the sample. The assay can be performed within 4 h. The detection limit is 0.44 ng mL−1. Kallikrein 2, human chorionic gonadotropin, and α-fetoprotein do not interfere.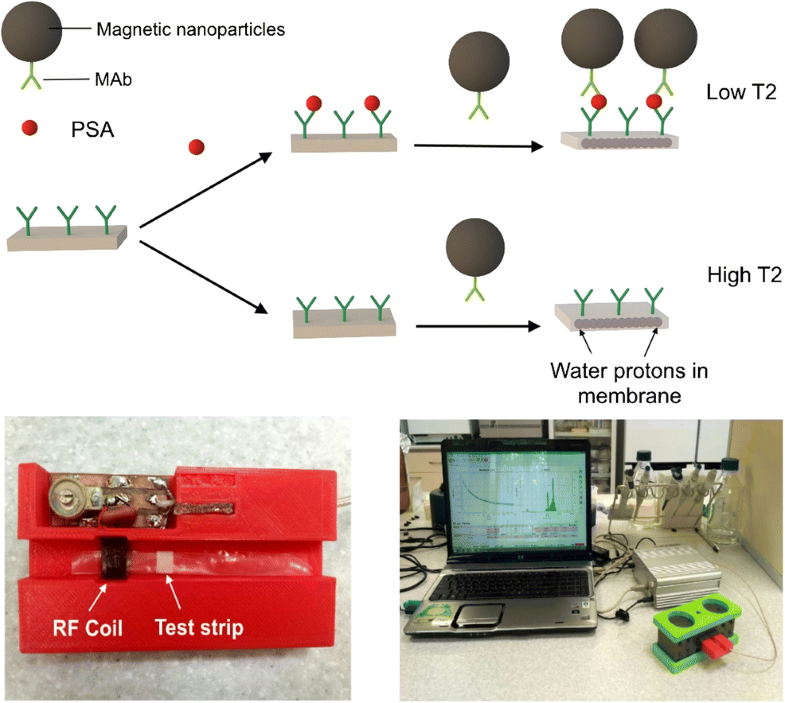 Keywords
Dot-immunoassay 
Relaxometry 
Nitrocellulose 
Relaxivity 
Dot blot 
Notes
Acknowledgments
This work was supported by the Russian Scientific Foundation (grant No. 17-15-01116). The authors would like to thank Dr. Il'ya Byzov (M.N. Mikheev Institute of Metal Physics) for his helpful advice on NMR relaxometry.
Compliance with ethical standards
Conflict of interest
The authors declare that they have no conflict of interest.
Research involving human participants and/or animals
All the procedures performed in the studies involving human participants were in accordance with the 1964 Declaration of Helsinki and its later amendments or comparable ethical standards. This research was approved by the Review Board of the Institute of Ecology and Genetics of Microorganisms UB RAS (IRB00010009).
Informed consent
Written informed consent was obtained from the volunteers.
Copyright information
© Springer-Verlag GmbH Austria, part of Springer Nature 2019