A review on colorimetric methods for determination of organophosphate pesticides using gold and silver nanoparticles
Abstract
This review (with 99 refs.) summarizes the progress that has been made in colorimetric (i.e. spectrophotometric) determination of organophosphate pesticides (OPPs) using gold and silver nanoparticles (NPs). Following an introduction into the field, a first large section covers the types and functions of organophosphate pesticides. Methods for colorimetric (spectrophotometric) measurements including RGB techniques are discussed next. A further section covers the characteristic features of gold and silver-based NPs. Syntheses and modifications of metal NPs are covered in section 5. This is followed by overviews on enzyme inhibition-based assays, aptamer-based assays and chemical (non-enzymatic) assays, and a discussion of specific features of colorimetric assays. Several Tables are presented that give an overview on the wealth of methods and materials. A concluding section addresses current challenges and discusses potential future trends and opportunities.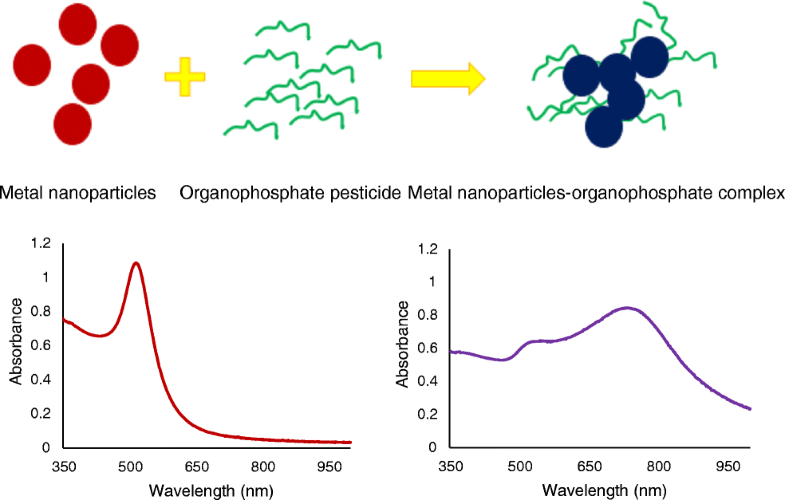 Keywords
Aggregation 
Deaggregation 
Assay 
Silver nanoparticles 
Gold nanoparticles 
Notes
Acknowledgements
The authors would like to highly acknowledge financial support (UPNM/2018/CHEMDEF/ST/2) from Ministry of Education Malaysia. The authors also gratefully acknowledge Universiti Pertahanan Nasional Malaysia (National Defence University of Malaysia).
Compliance with ethical standards
Competing interests
The author(s) declare that they have no competing interests.
Copyright information
© Springer-Verlag GmbH Austria, part of Springer Nature 2020