In-situ graft-crosslinked gold nanoparticles with high-density surface defects and coated with a polytaurine membrane for the voltammetric determination of dopamine
Abstract
Well-dispersed and graft-crosslinked gold nanoparticles (AuNPs) were synthesized by the reduction of tetrachloroaurate with hydrazine at room temperature. The AuNPs possess a high density of surface defects which is due to grafting of n-octanoic acid to polyvinylpyrrolidone. The physical and chemical properties of the resulting AuNPs were characterized by UV-vis, XRD, TEM/HRTEM, SAED, and XPS, respectively. The modified AuNPs were placed on a glassy carbon electrode (GCE) in an electropolymerized taurine layer to obtain a sensitive, selective, stable and rapid electrochemical dopamine sensor. The peak current, typically measured at 0.17 V (vs. SCE), increases linearly in the 1.0 to 120 μM dopamine concentration range, and the limit of detection (at S/N = 3) is 0.16 μM with a sensitivity of 2.94 μA·μM−1·cm−2. The sensor was successfully applied to the determination of dopamine in injections and spiked serum samples. The recoveries from spiked serum samples range from 97.5 to 102.4%, with RSDs ranging between 2.8 and 3.4%.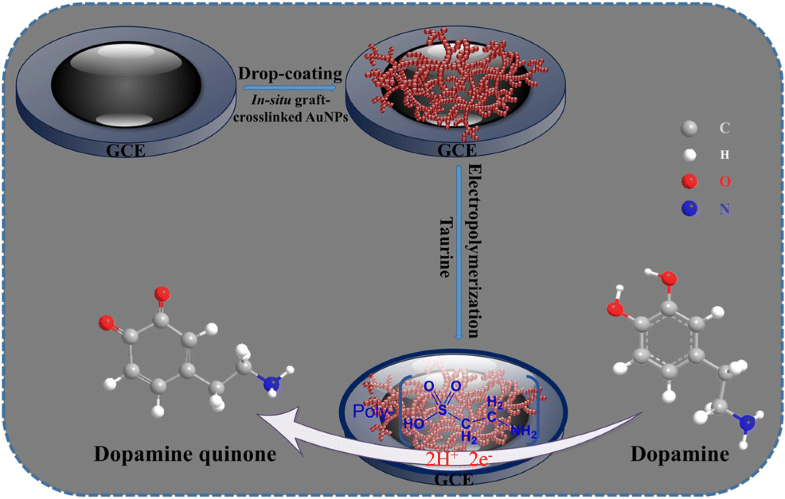 Keywords
Electrochemical sensor 
Modified electrode 
Cyclic voltammetry 
Low-index crystal facet 
Controllable morphology 
Notes
Acknowledgements
This work was supported by the National Key Research and Development Program of China (project No. 2017YFC1600803) and the Science and Technology Program of Tianjin, China (project No. 17ZYPTJC00050).
Compliance with ethical standards
Conflict of interest
The author(s) declare that they have no competing interests.
Copyright information
© Springer-Verlag GmbH Austria, part of Springer Nature 2019