A dual-signal colorimetric and ratiometric fluorescent nanoprobe for enzymatic determination of uric acid by using silicon nanoparticles
Abstract
The authors describe a dual-signal colorimetric and ratiometric fluorescent probe for uric acid (UA). It is based on cascade catalysis and an inner filter effect. The method involves uricase-catalyzed oxidation of UA and iodide-catalyzed oxidation of the colorless peroxidase substrate o-phenylenediamine (OPD) to form yellow 2,3-diaminophenazine (oxOPD). This can be visually observed or monitored by measuring absorbance at 417 nm. Furthermore, oxOPD quenches the fluorescence of silicon nanoparticles (SiNPs) (with peaks at 450 and 565 nm) via an inner filter effect. The change in the ratio of emissions peaking 565 and 450 (at excitation wavelength of 380 nm) increases linearly in the 0.01–0.8 mM UA concentration range). The lower detection limits are 8.4 and 0.75 μM when using the colorimetric and ratiometric fluorometric method, respectively. The assay was successfully applied to the quantitation of UA in spiked serum samples.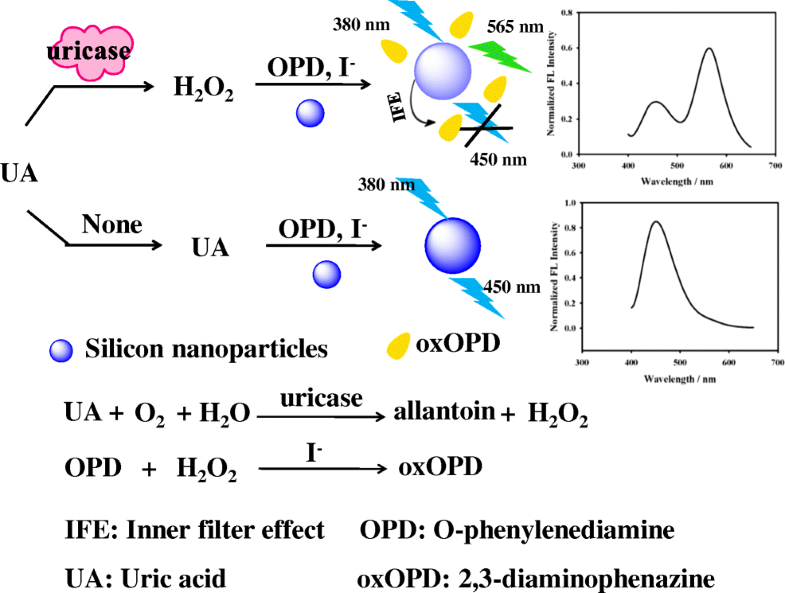 Keywords
Inner filter effect 
Cascade catalysis 
Dual-signal detection 
Colorimetric assay 
Ratiometric fluorometry 
Silicon nanoparticles 
Iodide-catalyzed oxidation 
o-Phenylenediamine 
2,3-Diaminophenazine 
Human serum analysis 
Notes
Acknowledgements
This work was supported by the National Natural Science Foundation of China (21874042 and 21675051), and the Foundation of the Science & Technology Department of Hunan Province (2016SK2020).
Compliance with ethical standards
Conflict of interest
The authors declare that they have no competing interests.
Copyright information
© Springer-Verlag GmbH Austria, part of Springer Nature 2019