Simultaneous electrochemical sensing of serotonin, dopamine and ascorbic acid by using a nanocomposite prepared from reduced graphene oxide, Fe3O4 and hydroxypropyl-β-cyclodextrin
Abstract
Reduced graphene oxide containing Fe3O4 nanoparticles was decorated with hydroxypropyl-β-cyclodextrin (HP-β-CD) to construct a novel nanocomposite (3D-rGO/Fe3O4/HP-β-CD). The composite was placed on a glassy carbon electrode (GCE) to design an electrochemical sensor for detecting simultaneously serotonin (5-HT), dopamine (DA), and ascorbic acid (AA). The interconnected porous reduced graphene oxide framework tightly anchored to the Fe3O4 magnetic nanoparticles warrants good electrical conductivity and efficient catalytic activity. The HP-β-CD acts as a supramolecular host with high recognition ability for 5-HT, DA and AA. Well-separated oxidation peaks and increased peak currents were observed for 5-HT, DA, and AA individually and in mixtures by differential pulse voltammetry (DPV). The following figures of merit were found for simultaneous electrochemical determination of 5-HT, DA, and AA: (a) Well separated peaks at around 0.316, 0.16 and − 0.044 V; (b) linear responses in the 0.01 – 25 μM, 0.02 – 25 μM and 10 – 350 μM; (c) detection limits of 3.3 nM, 6.7 nM and 3.3 μM (S/N = 3), and (d) recoveries of 96.9-103%, 97.3%-102% and 96.3-105% from spiked serum samples, respectively. All relative standard deviation (RSD) are less than 4%.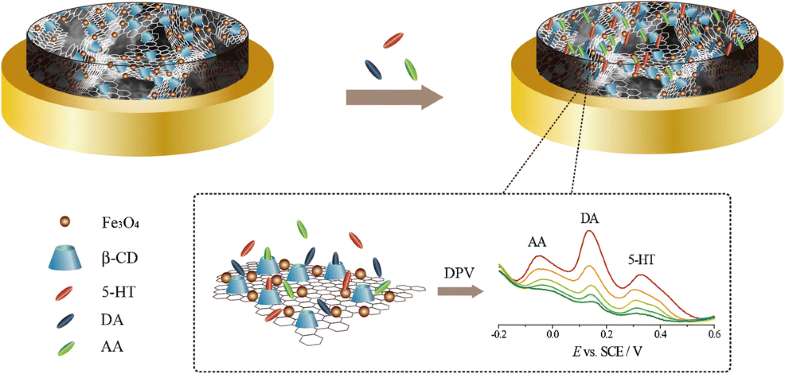 Keywords
Three-dimensional reduced-graphene oxide 
Magnetic nanoparticles 
Hydroxypropyl-β-cyclodextrin 
Electrochemical sensing platform 
Simultaneous determination 
Notes
Acknowledgements
This work was conducted with the support of the National Natural Science Foundation of China (No. 21976113, 21871194, 21707082, 21874087, and 21575084), the Natural Science Foundation of Shanxi Province (No. 201801D221059, 201801D121040), the Hundred Talent Program of Shanxi Province, the Hong Kong Research Grants Council (PolyU 153051/17P) and the Hong Kong Polytechnic University (1-ZE1C and 847S). We are especially grateful for Scientific Instrument Center of Shanxi University providing XRD analysis.
Compliance with ethical standards
Conflict of interest
The author(s) declare that they have no competing interests.
Copyright information
© Springer-Verlag GmbH Austria, part of Springer Nature 2019