Amperometric sensing of catechol by using a nanocomposite prepared from Ag/Ag2O nanoparticles and N,S-doped carbon quantum dots
Abstract
This work describes the synthesis of a nanocomposite consisting of Ag2O, silver nanoparticles and N,S-doped carbon quantum dots (Ag2O/Ag@NS-CQD). The NS-CQD were prepared by hydrothermal treatment of p-aminobenzenesulfonic acid. They act as both the reducing and stabilizing agent for synthesis of Ag2O/Ag@NS-CQD. The composite was characterized by UV-vis spectroscopy, transmission electron microscopy, X-ray diffraction and X-ray photoelectron spectroscopy. The glassy carbon electrode (GCE) was modified by coating it with Ag2O/Ag@NS-CQD. It exhibits excellent amperometric response to catechol, typically at a low working potential of around 0.25 V. Under the best experimental conditions, the sensor has a wide linear response (0.2 to 180 μM) and a low detection limit (13 nM; at S/N = 3). The method was applied to analysis of spiked water samples and gave satisfactory results.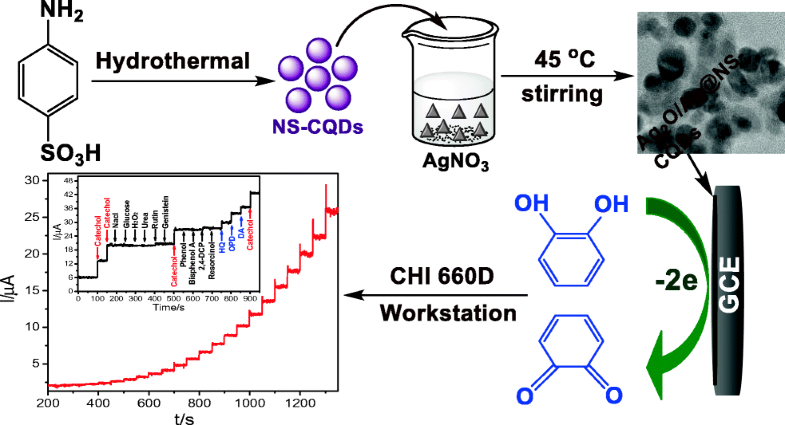 Keywords
N,S-doped carbon quantum dots 
Ag and Ag2O nanoparticles 
Modified electrode 
Catechol 
Electrochemical sensor 
Notes
Acknowledgments
We are grateful to the Natural Science Foundation of Shandong Province, China (No. ZR2019MB062, ZR2014JL013, JQ201704), the Key Research and Development Program of Shandong Province (2017GGX20143), Taishan Scholar Program of Shandong Province of China (No. ts201712045), the Foundation of Key Laboratory of Sensor Analysis of Tumor Marker, Ministry of Education, QUST (SATM201603), the foundation of Key Laboratory of Colloid and Interface Chemistry (Shandong University), Ministry of Education (201702), the open foundation from the Key Lab of Marine Bioactive Substance and Modern Analysis Technology, SOA (MBSMAT-2017-02, MBSMAT-2016-02 and MBSMAT-2015-04).
Compliance with ethical standards
Conflict of interest
The author(s) declare that they have no competing interests.
Copyright information
© Springer-Verlag GmbH Austria, part of Springer Nature 2019