Fluorometric determination of microRNA using arched probe-mediated isothermal exponential amplification combined with DNA-templated silver nanoclusters
Abstract
A highly sensitive fluorometric method is described for the determination of microRNA-141. It is based on the use of arched probe-mediated isothermal exponential amplification reaction (EXPAR) and of DNA-templated silver nanoclusters (DNA-AgNCs). The EXPAR utilizes microRNA-141 as the trigger, polymerases and endonucleases as amplification activators, and two arched probes as exponential amplification templates. This enables the conversion of microRNA to a large number of reporter sequences under isothermal conditions within minutes. The generated reporter sequences act as scaffolds for the synthesis of fluorescent DNA-AgNCs by reduction of Ag (I) with NaBH4. The DNA-AgNCs function as signalling fluorophores with excitation/emission maxima at 540/610 nm. The method exhibits high sensitivity for microRNA-141 with a detection limit as low as 0.87 fM and a dynamic range from 1 fM to 500 fM. The method can distinguish nucleotides in the microRNA-200 family.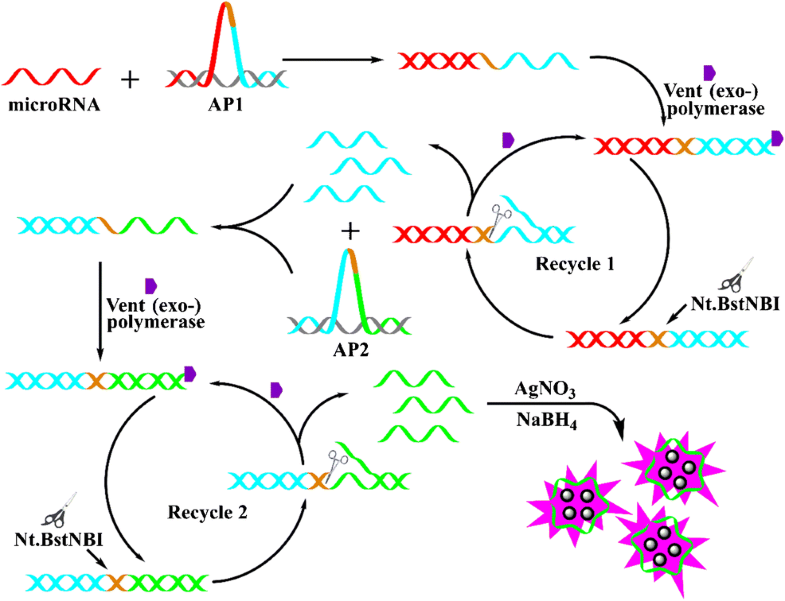 Keywords
MicroRNA-141 
Arched probe 
Silver nanoclusters 
Isothermal amplification 
DNA polymerase 
Nicking endonuclease 
Human serum 
Notes
Acknowledgments
This work was supported by the Natural Science Foundation of Jiangsu Province (Grant No. BK20171144 and BK20161139) and the Scientific Research Foundation of Jiangsu Provincial Commission of Health and Family Planning, China (Grant No. H2018068).
Compliance with ethical standards
Conflict of interest
The author(s) declare that they have no competing interests.
Copyright information
© Springer-Verlag GmbH Austria, part of Springer Nature 2019