C3N4 nanosheet-supported Prussian Blue nanoparticles as a peroxidase mimic: colorimetric enzymatic determination of lactate
Abstract
Prussian Blue nanoparticles were deposited on g-C3N4 nanosheets. The resulting nanocomposite possesses peroxidase-like (POx) activity and can catalyze the oxidation of 3,3′,5,5′-tetramethylbenzidine at room temperature in the presence of H2O2. This leads to formation of a blue product with an absorption maximum at 650 nm. The formation of the Prussian Blue nanoparticles on the g-C3N4 nanosheets, and the POx-like activity of the composite were characterized in detail. The POx mimic was used for determination of L-lactic acid via detection of H2O2 that is produced by the enzyme lactate oxidase (LOx). The assay has a linear range that extends from 5 to 100 μM, and the detection limit is 2.2 μM. The method was successfully applied to the determination of L-lactic acid in spiked human serum.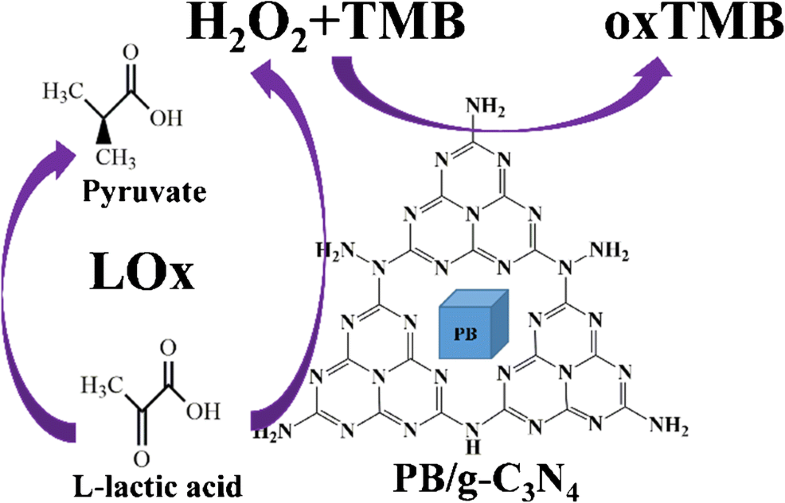 Keywords
g-C3N4 nanosheet 
Prussian Blue 
Enzyme mimic 
Colorimetry 
L-lactate oxidase 
Notes
Acknowledgements
The authors thank the support of this work by the National Natural Science Foundation of China (Grant No.21575165).
Compliance with ethical standards
Conflict of interest
The author(s) declare that they have no competing interests. All experiments were in accordance with the guidelines of the National Institute of Health, China, and approved by the Institutional Ethical Committee (IEC) of the Second Xiangya hospital that attached to Central South University. We also obtained informed consent for any experimentation with human serum samples.
Copyright information
© Springer-Verlag GmbH Austria, part of Springer Nature 2019