Graphene oxide and enzyme-assisted dual-cycling amplification method for sensitive fluorometric determination of DNA
Abstract
A fluorometric method is described for the determination of DNA. It involves the use of graphene oxide (GO), exonuclease III (Exo III), and two specially designed fluorophore-labeled hairpin probes (HP1 and HP2). Different from other GO-based DNA assays, the method takes advantage of the distinct binding abilities of GO with hairpin DNA probes and single nucleotides. GO serves as a strong quencher for fluorescent labels to ensure a very low background signal. Two reaction cycles mediated by Exo III are employed to enhance the signals. The combination of GO-induced quenching and Exo III-mediated dual regeneration of analytes leads to a detection limit as low as 1 pM for the model analyte human hemochromatosis protein (HFE) gene. The method is also applicable for the determination of HFE gene spiked into fetal bovine serum.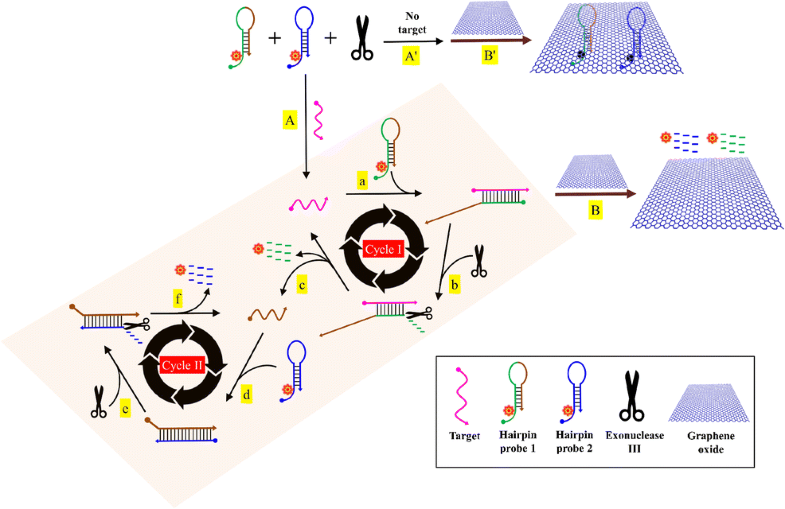 Keywords
DNA sensor 
Fluorescence 
Exonuclease III 
Nanomaterial 
Human hemochromatosis protein gene 
Fetal bovine serum 
Notes
Acknowledgements
This work was partially supported by the Research Grants Council of the Hong Kong Special Administrative Region under Grant No. 16228216 and the National Natural Science Foundation of China under Grant No. 21705076. We would also like to acknowledge the supply of graphene oxide from World Linkage Holdings Limited (Hong Kong).
Compliance with ethical standards
Conflict of interest
The author(s) declare that they have no conflict of interest.
Copyright information
© Springer-Verlag GmbH Austria, part of Springer Nature 2019