Fe3O4 nanoparticles coated with double imprinted polymers for magnetic solid phase extraction of lead(II) from biological and environmental samples
Abstract
Double imprinted polymer coated magnetic nanoparticles were fabricated with 4-nm size ZnO nanoparticles acting as the sacrifice templates, which were co-imprinted with template Pb(II) ions. After template removal, abundant transfer pores derived from ZnO nanoparticles were left around the selective adsorption sites derived from Pb(II) ions. The magnetic sorbent exhibit good selectivity, rapid adsorption kinetic and large adsorption capacity for Pb(II). They were used to extract trace Pb(II) followed by graphite furnace atomic absorption spectrometry detection. After the optimization of extraction conditions, following merits are found: (a) rapid extraction (10 min), (b) high preconcentration factor (100 fold), (c) sensitive detection with the detection limit of 9.4 ng·L−1, and (d) low relative standard deviation (6.9%) at a level of 50 ng·L−1 of Pb(II) analyzed 7 times. The method was employed in extraction and quantification of trace Pb in biological and environmental samples with satisfactory recoveries of 87.5–104%.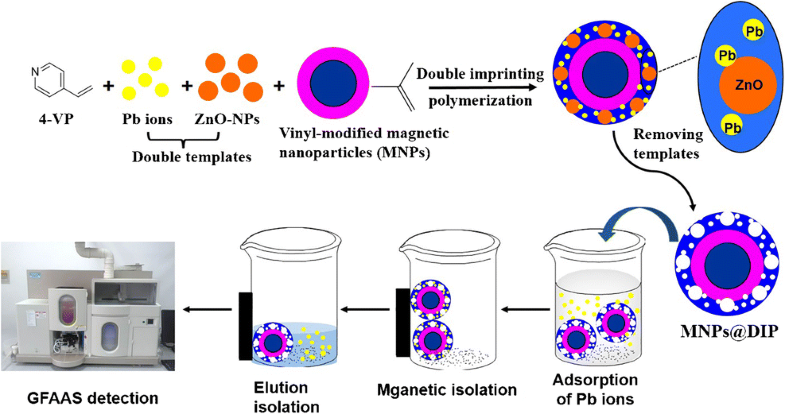 Keywords
Magnetic Pb(II) ion imprinted sorbent 
Sacrifice templates of ZnO nanoparticles 
Double imprinted methodology 
Rapid and sensitive determination 
Complicated samples 
Notes
Acknowledgments
Great thanks for the financial supports from National Nature Science Foundation of China (Nos. 21775113, 21575107, 21675118), the Science Fund for Creative Research Groups of NSFC (No. 20921062), and the Large-scale Instrument and Equipment Sharing Foundation of Wuhan University (20191236).
Compliance with ethical standards
Conflict of interest
The authors declare that they have no competing interests.
Copyright information
© Springer-Verlag GmbH Austria, part of Springer Nature 2019