An CuInS2 photocathode for the sensitive photoelectrochemical determination of microRNA-21 based on DNA–protein interaction and exonuclease III assisted target recycling amplification
Abstract
A photocathode is described for the determination of microRNA-21 by using CuInS2 as an active photocathode material. Exonuclease III assisted target recycling amplification was employed to enhance the detection sensitivity. The TATA-binding protein (TBP) was applied to enhance steric hindrance which decreases the photoelectrochemical intensity. This strategy is designed by combining the anti-interference photocathode material, enzyme assisted target recycling amplification and TBP induced signal off, showing remarkable amplification efficiency. Under the optimized conditions, the detection limit for microRNA-21 is as low as 0.47 fM, and a linear range was got from 1.0 × 10−15 M to 1.0 × 10−6 M.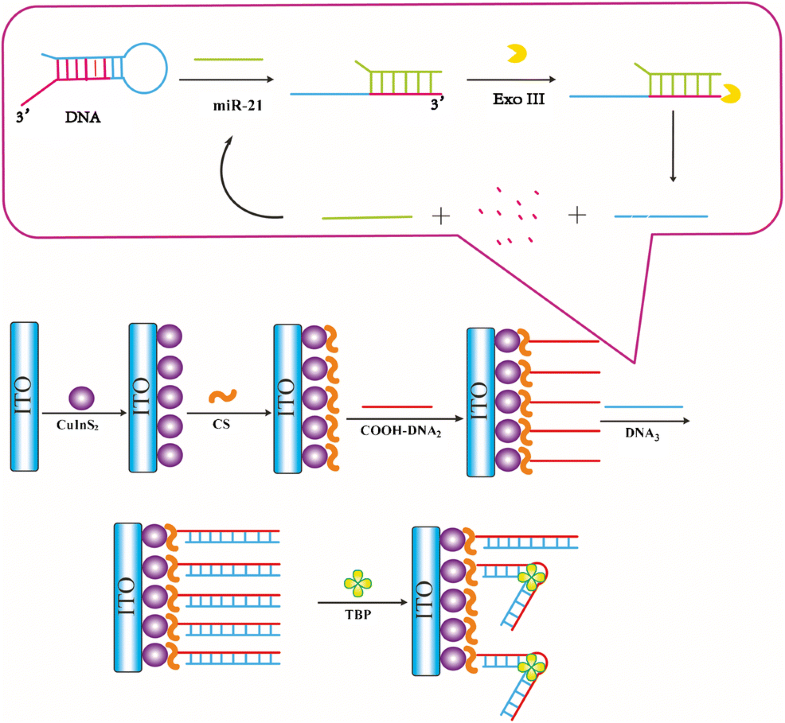 Keywords
Photoelectrochemistry 
TATA-binding protein 
Photoresponse 
Nanoflowers 
Electrode 
Aptamer 
Notes
Acknowledgements
This work has been financially supported by the National Natural Science Foundation of China (Nos.: 21775080, 21705086); Key Research and Development Project of Shandong Province, China (No. 2017GSF221004).
Compliance with ethical standard
Conflict of interest
The authors declare that they have no conflict of interest.
Copyright information
© Springer-Verlag GmbH Austria, part of Springer Nature 2019