A voltammetric sensor for simultaneous determination of hydroquinone and catechol by using a heterojunction prepared from gold nanoparticle and graphitic carbon nitride
Abstract
An electrochemical sensor is described for the simultaneous determination of hydroquinone (HQ) and catechol (CC) based on a nanocomposite consisting of gold nanoparticles and graphitic carbon nitride (g-C3N4). The nanocomposite was synthesized via one-step thermal polymerization route and characterized by X-ray diffraction, transmission electron microscopy, and Fourier transform infrared techniques. The results confirmed the close contact between gold nanoparticles and g-C3N4. The nanocomposites exhibited the enhanced electrocatalytic redox towards HQ and CC. A glassy carbon electrode was modified with the nanocomposite to obtain a sensor that exhibited favorable analytical properties in the simultaneous detection of HQ and CC, with voltammetric peaks typically near −0.14 and − 0.02 V (vs. saturated calomel electrode). Linear responses are found between 1.0 and 320 μM for HQ (with a 0.3 μM detection limit; at S/N = 3), and between 0.1 and 320 μM for CC (with a 0.04 μM detection limit; at S/N = 3). The sensor was applied for the simultaneous determination of HQ and CC in spiked water samples, and acceptable recoveries were achieved. The superior sensing properties of the electrode are attributed to the synergy between the microstructure (heterojunction and porosity) and the π interactions between phenolic isomers and g-C3N4.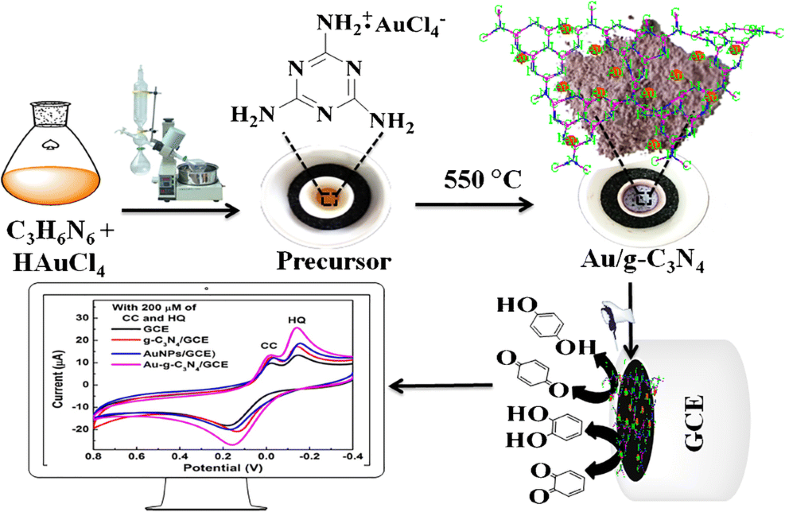 Keywords
Heterostructure 
Simultaneous determination 
Phenolic isomers 
Single-source precursor 
Electrochemistry 
Electrocatalysis 
Notes
Acknowledgements
This work is supported by the National Natural Science Foundation of China (21005053), the Priority Academic Program Development of Jiangsu Higher Education Institutions and the Project of Scientific and Technologic Infrastructure of Suzhou (SZS201708).
Compliance with ethical standards
Conflict of interest
The author(s) declare that they have no competing interests.
Copyright information
© Springer-Verlag GmbH Austria, part of Springer Nature 2019