A vertical flow microarray chip based on SERS nanotags for rapid and ultrasensitive quantification of α-fetoprotein and carcinoembryonic antigen
Abstract
A vertical flow microarray chip is described that uses core-shell SERS nanotags as tags for ultrasensitive quantification of the tumor markers α-fetoprotein (AFP) and carcinoembryonic antigen (CEA) by detecting the intensity of the specific Raman bands at 592 cm−1. The nanotags warrant high sensitivity, and the use of porous nitrocellulose warrants a high surface-to-volume ratio. The linear dynamic ranges are 0.1 ng mL−1 - 10 μg mL−1 for both AFP and CEA, and the limits of detection) are 0.27 pg mL−1 and 0.96 pg mL−1, respectively. Quantification is rapid and can be performed without preconcentration.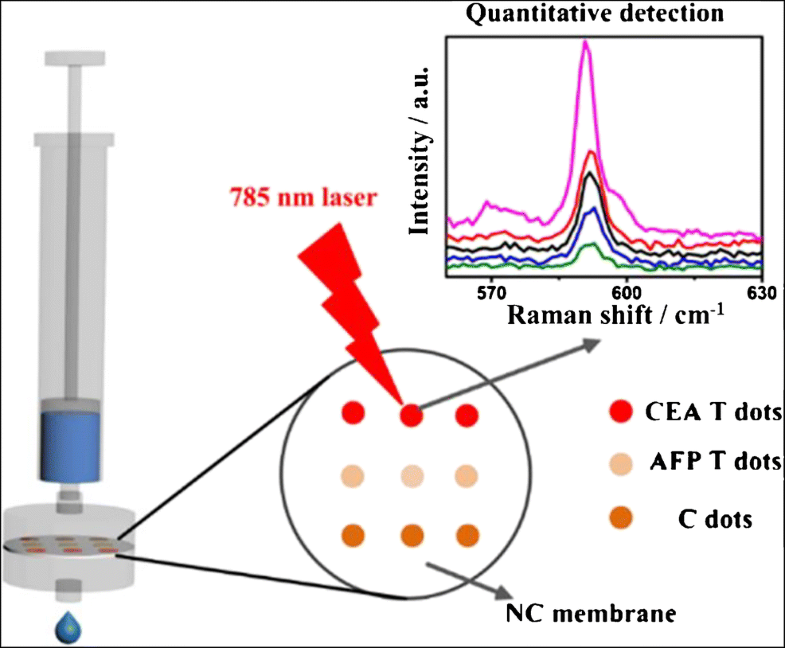 Keywords
CEA 
AFP 
Tumor biomarkers 
POCT 
Nile blue A 
Broad linear dynamic range 
Portable Raman spectrometer 
Silver 
Gold 
Notes
Acknowledgements
This work was financially supported by the National Key Research and Development Program of China (2018YFF0215200, 2017YFA0205700), National Natural Science Foundation of China (Grants 61850410528, 81827901, and 21327902), the Natural Science Foundation of Jiangsu Province (BK2014021828, BE2016002, and BK20170907), China Postdoctoral Science Foundation funded project (2018 M642132), the Fundamental Research Funds for the Central Universities, Six Talent Peaks Project of Jiangsu Province, the Collaboration Research Fund of Southeast University and Nanjing Medical University (Grant 2242017K3DN26), Fundamental Research Project of Shenzhen Science & Technology Innovation Committee (201803063001075).
Compliance with ethical standards
Conflict of interest
The authors declare no competing financial interest.
Copyright information
© Springer-Verlag GmbH Austria, part of Springer Nature 2019