Amperometric lactate nanobiosensor based on reduced graphene oxide, carbon nanotube and gold nanoparticle nanocomposite
Abstract
A sensitive amperometric method is reported for the determination of lactate. A platinum electrode was modified with a composite prepared from reduced graphene oxide (rGO), carbon nanotubes (CNTs) and gold nanoparticles. The composite was synthesized by the in-situ reduction of gold(III) ions on the GO-CNT hybrid. Triple composite components showed synergistic effects on the enzyme loading, electrocatalytic activity and electron transfer between receptor and electrode surface. The amperometric lactate sensor was obtained by immobilization of lactate oxidase (LOx) on the modified electrode. LOx catalyzes the conversion of lactate into pyruvate and hydrogen peroxide. The generated hydrogen peroxide is simultaneously involved in the oxidation reaction, which is associated with the electron production. These electrons act as amperometric signal generators. At the low potential of 0.2 V, the nanobiosensor shows a relatively wide linear analytical range (i.e., 0.05–100 mM of lactate) with high electrochemical sensitivity (35.3 μA mM−1 cm−2) and limit of detection of 2.3 μM. The sensor is stable, repeatable and reproducible. It is a highly sensitive tool for the detection of lactate in biological samples under both normoxic and hypoxic conditions.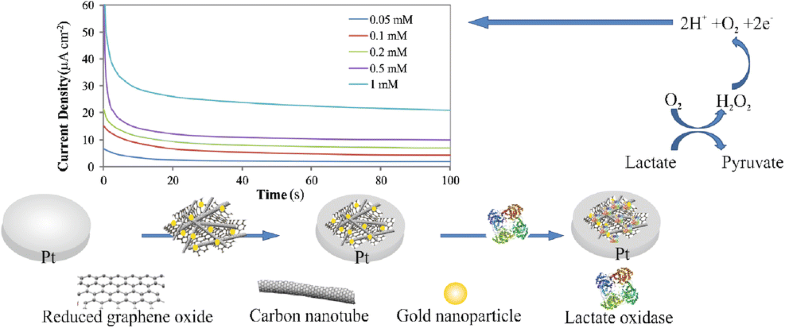 Keywords
Amperometric technique 
Carbon nanotube 
Electrochemical biosensor 
Enzymatic nanosensor 
Gold nanoparticles 
Hydrogen peroxide 
Lactate oxidase 
Nanocomposite 
Reduced graphene oxide 
Notes
Acknowledgments
This article is a part of a Ph.D. thesis, written by Ms. Shabnam Hashemzadeh, approved at the School of Medicine, Shahid Beheshti University of Medical Sciences, Tehran-Iran (Registration No: M 360) in collaboration with the Research Center for Pharmaceutical Nanotechnology (RCPN) at Tabriz University of Medical Sciences, Tabriz-Iran. This study was financially supported by and technically conducted at the RCPN (Grant No: 97005).
Compliance with ethical standards
Conflict of interests
The authors declare no conflict of interests.
Ethical issues
This study was ethically approved by Shahid Beheshti University of Medical Sciences (Approval ID: IR.SBMU.MSP.REC.1396.753).
Copyright information
© Springer-Verlag GmbH Austria, part of Springer Nature 2019