DNAzyme assisted recycling amplification method for ultrasensitive amperometric determination of lead(II) based on the use of a hairpin assembly on a composite prepared from nitrogen doped graphene, perylenetetracarboxylic anhydride, thionine and gold nanoparticles
Abstract
A Pb(II)-DNAzyme is used in an amperometric method for the determination of Pb(II). The method is based on two feedback processes. In the first, the Pb(II)-DNAzyme initiates a reaction in presence of Pb(II) in a micro-tube to release a linear DNA (S1). In the second, the S1 triggers the recycling amplification between two types of hairpin-shaped DNA templates (H1 and H2) which consist of a primer sequence and a Pb(II)-DNAzyme substrate sequence. The Pb(II)-DNAzyme has excellent cleavage specificity toward the substrate sequence in S1 that combined firstly with H1 and then is linked to H2. This process will connect H1 and H2. After hybridization with H1 and H2 to form two DNA complexes, S1 is released and initiates the next recycling process. This results in efficient amplification. A glassy carbon electrode (GCE) was immersed into solution of HAuCl4 to electrodeposit a layer of gold nanoparticles. This is followed by the assembly of the hairpin probe H1 on the GCE. In addition, a nanohybrid consisting of 3, 4, 9, 10-Perylenetetracarboxylic acid (PTCA) and nitrogen-doped graphene (NG) was loaded with electroactive thionine (Thi) and gold to form nanoparticles of type NG-PTCA-Thi-Au. This is responsible for generating the amperometric signal (best measured at around −0.30 V vs. SCE) and also acts as the reducing agent for synthesizing the NG-PTCA-Thi-Au nanohybrid. H2 is immobilized on NG-PTCA-Thi-Au to form a new tracer label. The concentration of Pb(II) in a solution can be quantified by determination of the amount of cleaved S1. The method has high sensitivity and selectivity for Pb(II). The detection limit is 0.42 pM (S/N = 3), and the detection range extends from 1 pM to 1000 nM.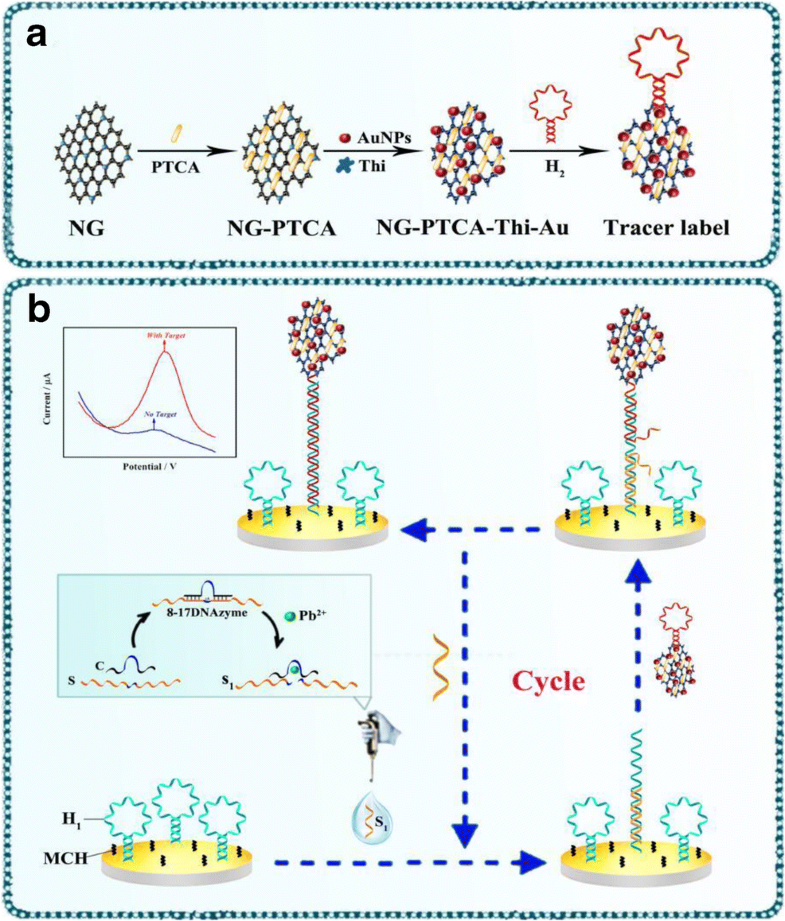 Keywords
Pb2+ detection 
8–17 DNAzyme 
Catalytic hairpin assembly 
Dual signal amplification 
Square wave voltammetry 
NG 
PTCA 
AuNPs 
Notes
Acknowledgements
We are grateful for the financial support from the National Natural Science Foundation of China (No. 31571554), and the Outstanding Graduate Student Cultivation Program of Chongqing Medical University (No. BJRC201915).
Compliance with ethical standards
Conflict of interest
The author(s) declare that they have no competing interests.
Ethical approval
This article does not contain any studies with human or animal subjects.
Copyright information
© Springer-Verlag GmbH Austria, part of Springer Nature 2019