Fluorometric determination of microRNA by using target-triggered cascade signal amplification and DNA-templated silver nanoclusters
Abstract
A highly sensitive fluorometric method is described for the determination of let-7a microRNA. It is based on the use of target-triggered cascade signal amplification that involves the use of (a) catalytic hairpin assembly (CHA), (b) exonuclease-assisted signal amplification (EASA), and (c) DNA-templated fluorescent silver nanoclusters (DNA-AgNCs) having excitation/emission maxima at 535/616 nm. The CHA reaction is initiated by the hybridization of the microRNA with hairpin probe HP1. The opening of HP1 results in the assembly of HP1 and another hairpin probe (HP2) to form a duplex. This releases the microRNA that which initiates another CHA reaction. The HP1-HP2 duplex binds to hairpin probe HP3 to form a stable Y-shaped junction structure HP2-HP1-HP3. The Y-shaped junction structure is cleaved by λ exonuclease to recycle the HP1-HP2 duplex to initiate the EASA reaction. This generates a large number of single-stranded reporter sequences. These act as scaffolds for the synthesis of fluorescent AgNCs by reduction of Ag (I) ions. A remarkably amplified fluorescent signal is observed whose intensity increases linearly in the 1 fM to 10 nM let-7a microRNA concentration range. The detection limit is 0.89 fM. The method can well discriminate let-7a microRNA from other microRNAs of the same family.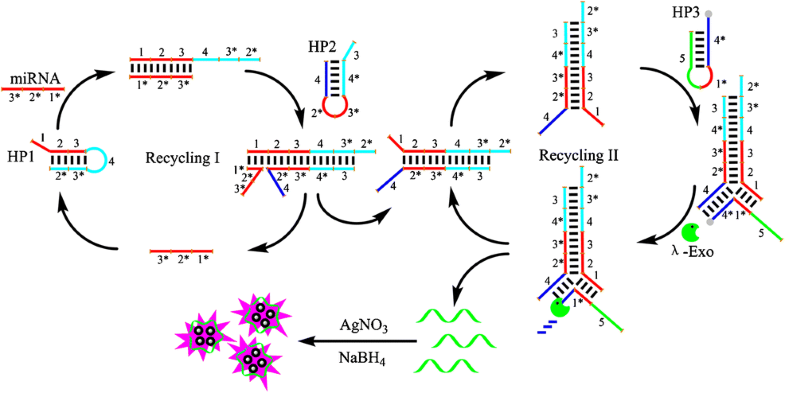 Keywords
Hairpin probe 
Silver nanoclusters 
Target recycling 
Lambda exonuclease 
Catalytic hairpin assembly 
Exonuclease-assisted signal amplification 
Y-shaped junction structure 
Notes
Acknowledgements
This work was supported by the Natural Science Foundation of Jiangsu Province (Grant No. BK20171144 and BK20161139) and the Scientific Research Foundation of Jiangsu Provincial Commission of Health and Family Planning, China (Grant No. H2018068).
Compliance with ethical standards
Conflict of interest
The author(s) declare that they have no competing interests.
Copyright information
© Springer-Verlag GmbH Austria, part of Springer Nature 2019