Fluorometric determination for ofloxacin by using an aptamer and SYBR Green I
Abstract
A fluorometric method is described for the determination of ofloxacin (OFL). It is based on the use of the fluorescent intercalator SYBR Green I (SG-I). The OFL-aptamer has G-quadruplex structures and can be recognized by SG-I. It results in strong fluorescence of SG-I. If OFL is present, OFL will bind to its aptamer to form stable complexes. This induces the despiralization of partial dsDNA regions, leads to changes in the structure of the aptamer. Thus, SG-I is released from the OFL-aptamer into solution. Hence, the fluorescence of SG-I drops. Fluorescence decreases linearly in the 1.1 to 200 nM OFL concentration range, and the limit of detection is 0.34 nM. The method shows good selectivity to much interference including analogues, hormones, pesticides. It is also effortless and fast with the times of measurement of <40 min. In addition, good recoveries of 91.3–119.0% were found for tap water, river water and artificial urine spiked with OFL with relative standard deviation (RSD) of ≤11.6%.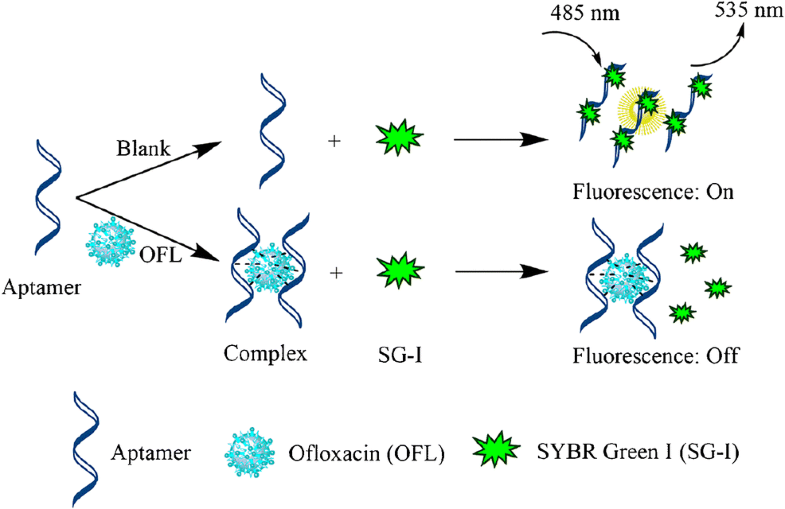 Keywords
Fluorometry 
SG-I 
Detection 
G-quadruplex 
Quinolones 
Fluoroquinolones 
Antibiotics 
Assay 
Notes
Acknowledgements
This work was sponsored by the National Key Research and Development Program of China (2017YFD0800704), the National Natural Science Foundation of China (21876109 & 41877494), and the Natural Science Foundation of Zhejiang Province (LY18B070029).
Compliance with ethical standards
Conflict of interest
The authors declare that they have no conflict of interest.
Copyright information
© Springer-Verlag GmbH Austria, part of Springer Nature 2019