Screen printed carbon electrode modified with a copper@porous silicon nanocomposite for voltammetric sensing of clonazepam
Abstract
The work describes an electrochemical sensor for the determination of the tranquilizer clonazepam (CZP) in serum and pharmaceutical preparations. A screen printed carbon electrode (SPCE) was modified with copper nanoparticles anchored on porous silicon (PSi). The surface of the SPCEs modified with the Cu/PSi nanostructure was characterized by X-ray diffraction, Fourier transform infrared spectroscopy, X-ray photoemission spectroscopy, energy dispersive X-ray spectroscopy and field-emission scanning electron microscopy. Cyclic and differential pulse voltammetric methods were used for the electrochemical studies and electrochemical detection, respectively. Several parameters controlling the performance of the modified SPCE were optimized. The peak current values (at a potential of −0.52 V) were used to construct calibration plots. Under the optimum conditions, the calibration plot is linear in the 0.05–7.6 μM CZP concentration range, and the detection limit is 15 nM. The sensor is reproducible, repeatable, highly selective and sensitive. It was successfully applied to the determination of CPZ in spiked serum and in drugs.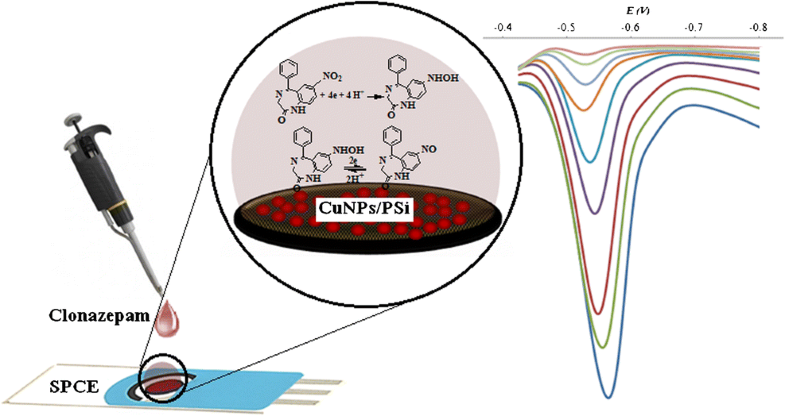 Keywords
Modified screen printed electrode 
Copper nanoparticles 
Porous silicon 
Determination 
Voltammetry 
Electrochemical nanosensor 
Serum 
Pharmaceutical preparations 
Notes
Acknowledgements
This work is a part of a thesis by Farzad Allahnouri submitted for a PhD degree and is supported by the Research Council of Urmia University. The authors appreciate Miss. Sepideh Farhadi for her efforts with the English edition of the text.
Compliance with ethical standards
Conflict of interest
The author(s) declare that they have no competing interests.
Copyright information
© Springer-Verlag GmbH Austria, part of Springer Nature 2019