Click DNA cycling in combination with gold nanoparticles loaded with quadruplex DNA motifs enable sensitive electrochemical quantitation of the tuberculosis-associated biomarker CFP-10 in sputum
Abstract
An electrochemical aptamer-based assay is described for the determination of CFP-10 which is an early secretary biomarker of Mycobacterium tuberculosis. CFP-10 is specifically captured by its aptamer and then induces a DNA cross-linking click reaction, the release of CFP-10, and an amplification cycle of repeated CFP-10 release. This mechanism (with dual amplification via DNA click and target release cycle) causes more and more CFP-10 Apt strands on the electrode surface to expose their 5′ overhang and to hybridize with the DNA complexes linked to the gold nanoparticles (AuNPs). Consequently, large amounts of AuNPs, each loaded with a number of quadruplex DNA motifs, can be bound on the electrode surface and remarkably enhance the signal. Under optimal conditions, the method has a detection limit as low as 10 pg.mL−1 of CFP-10. The method was successfully applied to the diagnosis of M. tuberculosis in sputum.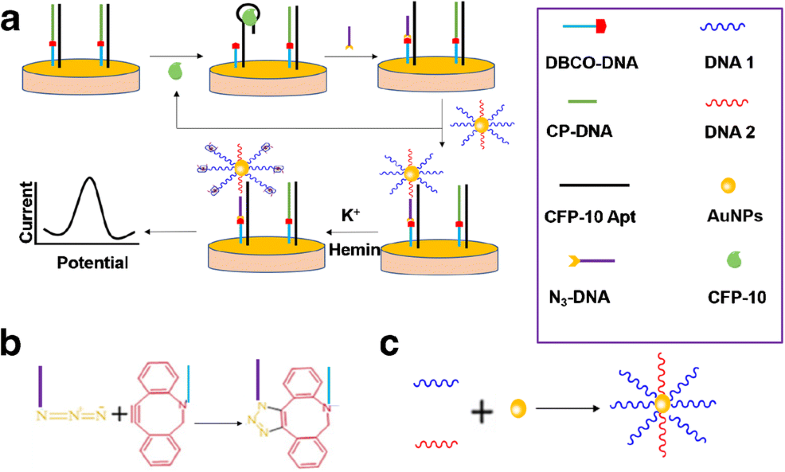 Keywords
Mycobacterium tuberculosis
Electrochemical method 
Aptasensor 
Dual amplification strategy 
DNA click ligation 
G-quadruplex-hemin complex 
AuNPs 
H2O2 
Hydroquinone 
Azido group 
Notes
Acknowledgments
The authors gratefully acknowledge the National Natural Science Foundation of China (Grant No. 81703088, and 81870695), the Medical Research Project of Jiangsu Provincial Health and Family Planning Commission, China (Grant No. H2018113), the Medical Science and Technology Development Foundation of Department of Health of Nanjing (YKK16107), and the Medical Science and Technology Foundation of Department of Health of Jiangsu Province (Grant No. Z2018034).
Compliance with ethical standards
The author declares that there are no conflicts of interest.
Copyright information
© Springer-Verlag GmbH Austria, part of Springer Nature 2019