Simultaneous electrochemical determination of dopamine and epinephrine using gold nanocrystals capped with graphene quantum dots in a silica network
Abstract
Gold nanocrystals (AuNCs) were synthesized by economical and green strategy in aqueous medium by using N[3(trimethoxysilyl)propyl]ethylenediamine (TMSPED) as both a reducing and stabilizing mediator to avoid the aggregation of gold nanocrystals. Then, the AuNCs were capped with graphene quantum dots (GQDs) using an ultrasonic method. The resulting nanocomposites of GQD-TMSPED-AuNCs were characterized by X-ray photoelectron, X-ray diffraction, Raman, UV-vis and FT-IR spectroscopies. The size and shape of the nanocomposites were confirmed by using transmission electron microscopy and atomic force microscopy. The GQD-TMSPED-AuNCs placed on a glassy carbon electrode enable simultaneous determination of dopamine (DA) and epinephrine (EP) with peak potentials at 0.21 and 0.30 V (vs. Ag/AgCl). The response is linear in the 5 nM – 2.1 μM (DA) and 10 nM – 4.0 μM (EP) concentration ranges, with detection limits of 5 and 10 nM, respectively. The sensor shows good selectivity toward DP and EP in the presence of other molecules, facilitating its rapid detection in practical applications.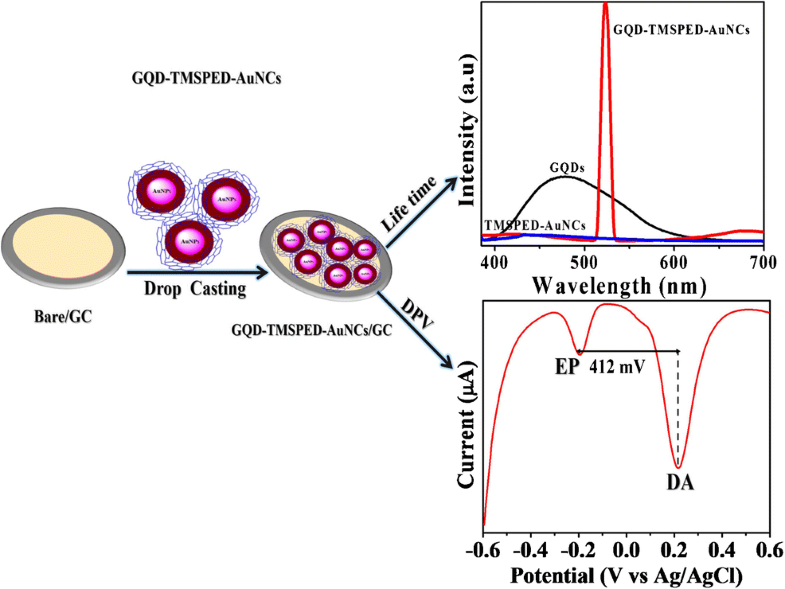 Keywords
Catecholamines 
N-[3(trimethoxysilyl)propyl]ethylenediamine 
Nanocomposites 
Electrochemical sensors 
Drug analysis 
Notes
Acknowledgments
The research described herein was financially supported by the Department of Science and Technology, India under Nanomission scheme (SR/NM/NS-1024/2016). The authors V. Vinoth and H. Valdés gratefully acknowledge to Chile CONICYT/FONDECYT Post-doctoral project no. 3190256, for the financial assistance.
Compliance with ethical standards
The author(s) declare that they have no competing interests.
Copyright information
© Springer-Verlag GmbH Austria, part of Springer Nature 2019