Colorimetric determination of fumonisin B1 based on the aggregation of cysteamine-functionalized gold nanoparticles induced by a product of its hydrolysis
Abstract
A colorimetric method was developed for the determination of the mold toxin fumonisin B1 (FB1). It is based on the aggregation of cysteamine-capped gold nanoparticles (Cys-AuNPs). The assay involves alkaline hydrolysis of FB1 to obtain hydrolyzed fumonisin B1 (HFB1). The latter induces the aggregation of Cys-AuNPs which results in a color change from wine-red to blue-gray, best at a pH value of 9.0. A plot of absorbance ratio at 645/520 nm versus FB1 concentration is linear in the 2–8 μg kg−1 FB1 concentration range, and the detection limit is 0.90 μg kg−1. Inter-day and intra-day precisions are <6.2%, and recoveries from spiked samples ranged from 93 to 99%. The assay was successfully applied to the determination of FB1 in corn samples. It has a high selectivity over other competitive mycotoxins including aflatoxin, zearalenone, citrinin and patulin. The method is more selective than the detection of FB1 directly which may lead to false-positive errors.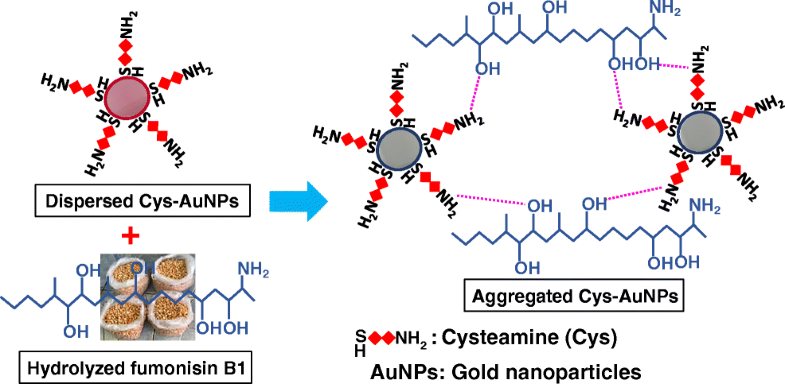 Keywords
Mycotoxin 
Noble metals 
Corn 
UV-Vis 
SPE 
Abbreviations
AuNPs

gold nanoparticles

Cys-AuNPs

cysteamine functionalized gold nanoparticles

FB1

fumonisin B1

HFB1

hydrolyzed fumonisin B1
Notes
Acknowledgements
The authors appreciate the financial support from the Faculty of Science under the Research Assistantship (Contract No. 1-2559-02-002) and partial support from the Department of Chemistry; the Graduate School, and the Center of Excellence for Innovation in Chemistry (PERCH-CIC), Ministry of Higher Education, Science, Research and Innovation, Prince of Songkla University.
Compliance with ethical standards
Conflict of interest
The author declares that there are no conflicts of interest.
Copyright information
© Springer-Verlag GmbH Austria, part of Springer Nature 2019