Sputtering enhanced peroxidase like activity of a dendritic nanochip for amperometric determination of hydrogen peroxide in blood samples
Abstract
A nonenzymatic electrochemical nanoprobe is described for the fast determination of hydrogen peroxide (H2O2). A sputtered indium tin oxide electrode with a nano-hierarchical 3D gold structure is used. The nanoprobe was characterized by SEM, EDX, TEM, SAED, and electrochemical techniques. Figures of merit include (a) a fast response time (≤ 1.0 s), (b) two linear dynamic ranges that extend from 10−12 M to 10−10 M and from 10−10 M to10−5 M; and (c) a low limit of detection of 9.8 × 10−13 M. The nanoprobe works in the clinical range and was applied for trace analysis of H2O2 in spiked blood samples, and recoveries ranged between 90 and 96%. It has negligible response (p < 0.001, for n = 3) toward glucose, citric acid, ascorbic acid, uric acid, glycine, and alanine. The shelf-lifetime is found to be 12 weeks.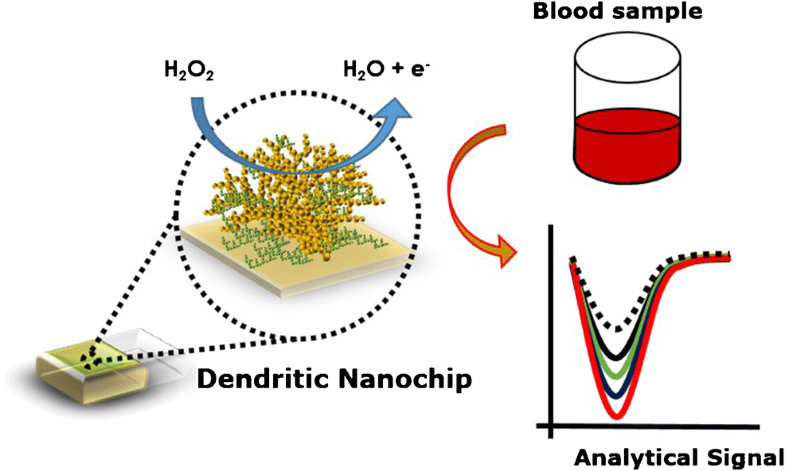 Keywords
Nanoprobe 
Nanozyme 
Ultrafast H2O2 detection 
Indium tin oxide 
Free radicals 
Nano engineering 
Notes
Acknowledgements
This work is supported by DST Ramanujan Fellowship (SB/S2/RJN-042/2015) awarded to Dr. Pranjal Chandra. BP, KM, and AK acknowledge the Ph.D. fellowship from IIT, Guwahati. The authors acknowledge the instrumentation facility provided by CIF, IIT Guwahati.
Compliance with ethical standards
The author(s) declare that they have no competing interests.
Copyright information
© Springer-Verlag GmbH Austria, part of Springer Nature 2019