One-step synthesis of N-doped carbon dots, and their applications in curcumin sensing, fluorescent inks, and super-resolution nanoscopy
Abstract
Nitrogen-doped carbon dots (N-CDs) with fluorescence excitation/emission maxima at 365/450 nm were prepared by a one-step hydrothermal approach. The dots possess remarkable photostability, fluorescence blinking and good biocompatibility, and this favors utilization in stochastic optical reconstruction microscopy (STORM). A spatial resolution down to ~60 nm was achieved when imaging HeLa cells using 647-nm laser excitation. This opens new possibilities for various super-resolution techniques based on stochastic optical switching. The remarkable optical properties of the N-CDs also enable them to be applied as invisible security ink for use in patterning, information storage and anti-counterfeiting. Further, it is found that the fluorescence of the N-CDs can be quenched by curcumin with high efficiency due to a combination of inner filter effect and static quenching. Based on this, a fluorometric assay with a detection limit of 21 ng mL−1 was developed for the determination of curcumin.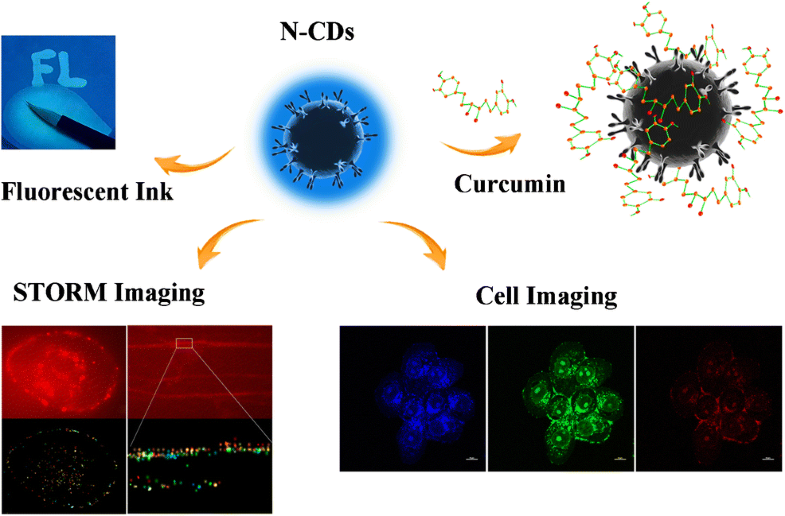 Keywords
Carbon dots 
Blinking 
Super-resolution imaging 
Fluorescent ink 
Cell imaging 
Fluorescence detection 
Curcumin 
Notes
Acknowledgements
This work was financially supported by the National Natural Science Foundation of China (No. 21708007 and No. 21277110) and Natural Science Foundation of Hunan Province (No. 2018JJ3030). The authors would also like to thank Mr. Zhou Chunyuan for assistance in super-resolution microscopy data.
Compliance with ethical standards
The author(s) declare that they have no competing interests.
Ethical approval
All procedures performed in our studies were in accordance with the guidelines of the National Institute of Health, China, and approved by the Institutional Ethical Committee (IEC) of Hunan University. We also obtained informed consent for any experimentation with human urine samples.
Copyright information
© Springer-Verlag GmbH Austria, part of Springer Nature 2019