Water-dispersed silicon quantum dots for on-off-on fluorometric determination of chromium(VI) and ascorbic acid
Abstract
Water-dispersed silicon quantum dots (SiQDs) with the quantum yield of 25% was prepared using aminopropyltrimethoxysilane as the silicon source and ascorbic acid (AA) as the reduction reagent. The SiQDs display blue fluorescence with excitation/emission peaks at 350 nm/440 nm. The synthesized SiQDs are shown to be a viable "on-off-on" fluorescent probe for the detection of Cr(VI) and AA. Cr(VI) ions exert an inner filter effect on the fluorescence of the SiQDs which results in a reduction of fluorescence (off-state). On addition of AA, Cr(VI) is chemically reduced to Cr(III) which weakens the inner filter effect and restores fluorescence (on-state). The method has low detection limits for both Cr(VI) and AA (0.16 μM and 0.57 μM, respectively). It was applied to the analysis of spiked lotus seeds and human serum samples.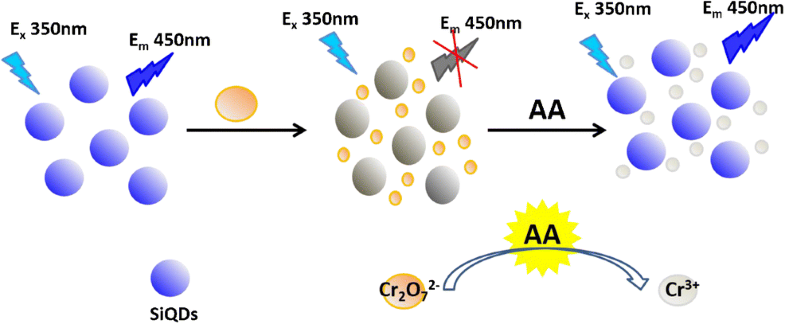 Keywords
Silicon quantum dots 
Ascorbic acid 
Fluorescent nanoprobe 
Cr(VI) 
Notes
Acknowledgements
This project was financially supported by NSFC (81773894, 81872990 and 21305014), the Natural Sciences Foundation of Fujian Province (2018 J01871, 2016 J01396). Huifeng Xu also thanks the Natural Science Funds of Fujian Province for Distinguished Young Scholar (2019 J06021). Wen Xu also thanks the School Supervision Subject of Fujian University of Traditional Chinese Medicine (X2017010, Chen Zhongwei).
Compliance with ethical standards
The author(s) declare that they have no competing interests.
Copyright information
© Springer-Verlag GmbH Austria, part of Springer Nature 2019