Non-conjugated polymer carbon dots for fluorometric determination of metronidazole
Abstract
Non-conjugated polymer carbon dots (PCDs) with a 9% fluorescence quantum yield were synthesized by a pyrolytic method using polyethyleneimine as the sole precursor. The PCDs have an average size about 2.1 nm and a blue fluorescence, with excitation/emission maxima at 380/457 nm, that is quenched by the drug metronidazole. The method has a linear response in the 0.06–15 μg mL−1 metronidazole concentration range and a 20 ng mL−1 detection limit. Milk samples were spiked at two levels (0.6 and 5.0 μg mL−1), and the recoveries of metronidazole are in the range of 96.7–102.2%.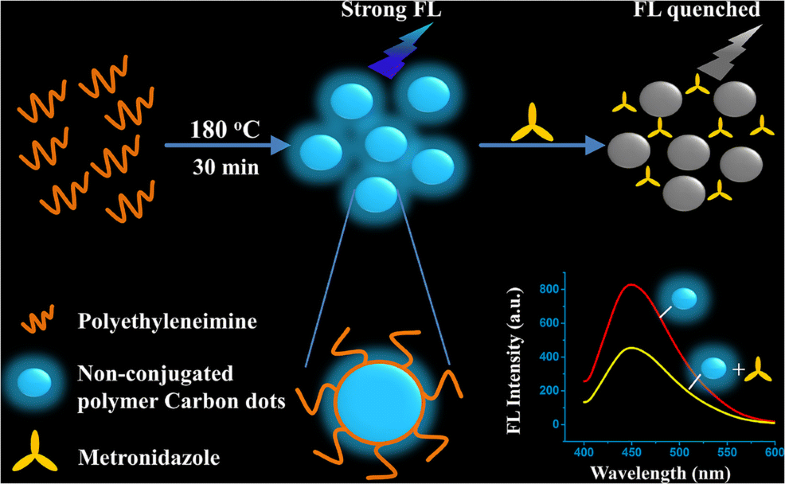 Keywords
Fluorescent material 
Fluorescent probe 
Inner-filter effect 
Polyethyleneimine 
Antibiotics 
Milk 
Metronidazole 
Notes
Acknowledgements
This work received the support of the Development Program of the Ministry of Science and Technology of Jilin Province, China (Grant number 20180201011GX).
Author contributions
The manuscript was written through contributions of all authors. All authors have given approval to the final version of the manuscript. ‡These authors contributed equally.
Compliance with ethical standards
The author(s) declares that they have no competing interests.
Copyright information
© Springer-Verlag GmbH Austria, part of Springer Nature 2019