Fluorometric determination of nitrite through its catalytic effect on the oxidation of iodide and subsequent etching of gold nanoclusters by free iodine
Abstract
A method for sensitive detection of nitrite is presented. It is found that the red fluorescence of gold nanoclusters (with excitation/emission maxima at 365/635 nm) is quenched by traces of iodine via etching. Free iodide is formed by oxidation of iodide by bromate anion under the catalytic effect of nitrite. This catalytic process provides a sensitive means for nitrite detection. Under the optimal conditions, fluorescence linearly dropos in the 10 nM to 0.8 μM nitrite concentration range. The limit of detection is 1.1 nM. This is a few orders of magnitude lower than the maximum concentration allowed by authorities.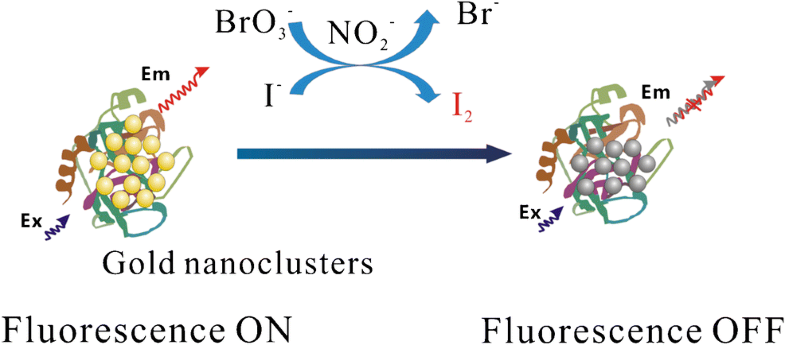 Keywords
Nitrite 
Gold nanocluster 
Fluorescence quenching 
Iodine 
Water samples 
Kinetic fluorescence 
Notes
Acknowledgements
This work was supported by the National Natural Science Foundation of China (No. 21305100), the Project of Scientific and Technologic Infrastructure of Suzhou (SZS201708) and the Priority Academic Program Development of Jiangsu Higher Education Institutions (PAPD).
Compliance with ethical standards
The authors declare that they have no competing interests.
Copyright information
© Springer-Verlag GmbH Austria, part of Springer Nature 2019